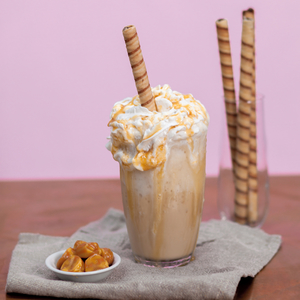 DIY: Caramel Frappuccino
There is no doubt that Starbucks offer some the finest and delicious coffees worldwide but for some it's not affordable to get one from there on regular basis especially when you're a cold coffee lover. What we recommended is that you make your own icy caramel frappuccino according to your preferences in terms of ingredients and enjoy the greatness of iced coffees at your convenience. Also frappuccino is one of the favorite drinks of summer for most. All one needs to do is add all the following ingredients in the blender and then blend it for approximately 30 seconds. Furthermore it is recommended to use a heavy duty blender of an ice blender to get a better of taste of frappuccino.
---
Ingredients: Caramel Frappuccino
Single person serving
1 cup large ice cubes
2 shots espresso, cooled (or 1/3 cup strongly brewed coffee, cooled)
½ cup milk, cold
1 tablespoon caramel sauce
3 tablespoons caramel syrup (45ml)
Xanthan gum, optional
Required Appliances:  One decent coffee machine and a blender 
---
(Approved By: Espresso Gurus)

Black & Decker 5-Cup Coffeemaker (Under $12)

Ninja Master Blender (Under $35)
---
To Serve: Caramel Frappuccino
Whipped cream
Caramel sauce
* When large ice cubes are used, there will be less than 10 cubes for each drink.
Instructions: DIY Caramel Frappuccino
There are two ways to make caramel frappuccino e.g. coffee-based and cream-based. But we will learn to make coffee-based frappuccino for now.
First take a blender and add 1 cup of ice cubes and 2 shots of cooled espresso. You can also use 1/3 cup of strongly brewed coffee. If you want to use nespresso capsules then it is recommended that you use capsules of mild intensity. Then add ½ cup of cold milk of any brand you desire. After that, add 1 tablespoon of caramel sauce. It'snot necessary to get a branded caramel sauce from the market as one can make it home also. There are plenty of simple recipes available on the web to make it. Having done that, add 3 or 4 tablespoons of caramel syrup depending on your liking. Also you can add a pinch of xantham gum which is optional. Xanthan gum is actually a byproduct of fermenting glucose and sucrose. When added to our caramel Frappuccino, it will form the gum which will thicken the drink. This can also be used in milkshake, ice cream and gluten-free cooking. Now pulse and blend the drink which should take around 30 seconds to do it.
Voila! Homemade Caramel Frappuccino In Minutes!
What you have now is a convenient and inexpensive homemade Starbucks caramel frappuccino. For finishing touch you can add whipped cream on top and drizzle homemade caramel sauce. So you see you don't need to be a professional barista after all, to make your favorite caramel frappuccino at home.




How to make a caramel frappuccino at home: Video Guide





---
WHAT TO READ NEXT:
6 Coffee Cocktail Recipes You Must Know
World's 5 Most Expensive Coffees
Need a coffee machine, perhaps a grinder or anything else? Use the Amazon search tool to order what you need and have it delivered the same day to your door step.