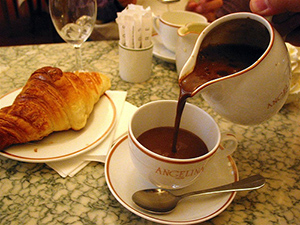 DIY: French Hot Chocolate




If you have never been in France then that's fine cause now you can have a little piece of it at home by making a very delicious and simple to make French hot chocolate. It'll probably take couple of minutes and the drink will hopefully lighten you up. Intense and rich are some of its qualities one will experience while drinking this hot chocolate similar to that found in Paris cafes. The following recipe is also based off a famous café in Paris.
Ingredients: French Hot Chocolate
1 1/2 cups whole/full cream milk
1/2 cup heavy cream
2 teaspoons powdered sugar
1 shot espresso
225g/8 ounces dark chocolate, at least 70%




Instruction: French Hot Chocolate
French hot chocolate is plain and simple to make. Get a pot on the stove on medium heat and then pour 1 ½ cups of whole milk followed by half a cup of double/heavy cream or whipped cream. Then drop 2 teaspoons of powered or confectionery sugar. Now this is completely optional but it is highly recommended to drop 1 shot of espresso. It is imperative that espresso is made not too light or hard. Espresso shot will surely add the extra kick and give a fine taste to the eventual drink as well. Now mix the pot so that sugar dissolves properly. It's better to use an electric mixer so that the mixture is properly stirred and whisked. Continue the process till it approaches a slight simmer. Make sure not to boil it which would curdle the milk. As the mixture just starts to simmer then that's the point to turn off the heat. Now put 8 ounces or 225g of dark chocolate in the pot. Make sure the chocolate is 80% dark chocolate. Since the heat is off therefore stir the mixture till the chocolate completely dissolves. Now the drink is ready so pour it in a glass. According to preferences, one can add whipped cream on top of the drink and add sprinkles of dark chocolate. You have just made French hot chocolate in minutes all without leaving your kitchen.
French Hot Chocolate Leftovers: Don't Waste
Leftover need not be wasted and let it cool down to room temperature. Put it inside an airtight container e.g. jam jars, and then refrigerate it. When needed, it can be heated again in a microwave or in a saucepan with light heat. Your French hot chocolate will be just like new again.
Voila! French Hot Chocolate In Minutes!
Now you are ready to enjoy a very easy, simple, delicious and chocolaty French hot chocolate. Once again the coffee is optional but if you're a coffee lover then the drink will serve you fantastically with the coffee.
If you found this article interesting please like, share and follow us for more awesome ideas.
---
You might be interested in:
1. How To Make Kahlua – Frozen Mudslide At Home?
2. Best Espresso Machines Under 100 Dollars
3. Best Espresso Machines Under 500 Dollars
4. Best Coffee Machines Ranked
7. 10 Proven Health Benefits Of Coffee
8. Coffee Cake Recipe – Step-By-Step Guide
---
DIY: French Hot Chocolate Video Guide

Want to make French hot chocolate at home but don't have the ingredients available? Use the Amazon search tool below to order what you need and have it delivered to your door steps today!