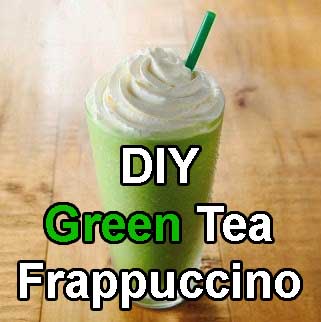 DIY: Green Tea Frappuccino
Green Tea Frappuccino
Green tea with Frappuccino would be wonderful idea for summers with or without whipped cream added on top. The drink that you will learn to make is very simple and will take around 10 minutes to make it. Although this drink is widely available at Starbucks but why go all the way to Starbucks for purchase when you can simply make it at home. All one needs to do is just add the following ingredients in a heavy-duty blender and then blend the entire mixture. What you'll get is a marvelous boost of energy and taste.
Ingredients – Green Tea Frappuccino
1 cup large ice cubes (less than 10 cubes)
1 scoop vanilla ice cream
1 cup milk (240ml)
1 tablespoon + 1 teaspoon granulated sugar
2 teaspoons matcha (green tea powder)
⅛ Teaspoon of pure vanilla extract (a dash)
Xanthan gum, optional
---
Green Tea Frappuccino – Matcha

Matcha Green Tea Powder (Click To Order)
---
How To Make: Green Tea Frappuccino
First of all add 1 cup of large ice cubes in a blender. Preferable add less than 10 ice cubes. Add one scoop of vanilla ice cream and then 1 cup of milk. Then you will add 1 tablespoon and 1 teaspoon of granulated sugar in the mixture. Then add 2 teaspoons of matcha. Matcha is a ground powder and is also known as specially grown and processed green tea. It is known to give many health benefits. Also one can also use regular green tea but then the taste wouldn't be as awesome as it would be with matcha green tea because matcha has a distinctive, deep taste that makes it widely different from other green teas. Moving forward, add 1/8 teaspoon of pure vanilla extract, which is just a dash of vanilla. And if you have a xanthan gum then add in just a little bit of it. A pinch would be enough. Although Xanthan gum is optional but it makes the drink very delicious in taste. It also helps to prevent any sort of crystallization in sorbet and ice cream. So now pulse or blended thoroughly until its completely blended.
Green Tea Frappuccino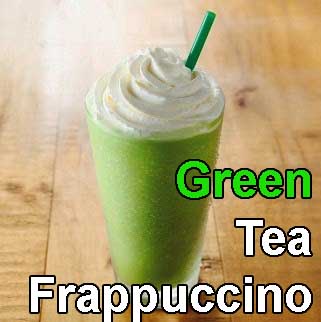 Congrats! You have got yourself a delicious cup of Green Tea Frappuccino to cool off your summer season. According to preferences one can add whipped cream on top of it but even without it, it's still a great cup of cool drink. So if you are a fan of Green Tea Frappuccino then by all means do try this at home. It definitely is a life saver!
---
How To Make Green Tea Frappuccino – Video



---
Green Tea Frappuccino – Green Tea Matcha

Matcha Green Tea Powder (Click To Order)
---
WHAT TO READ NEXT:
4 Iced Coffee Cocktails For Adults Only!
10 Proven Health Benefits Of Coffee
Best Espresso Machines Under 200 Dollars Ranked
Best Coffee Machines Ranked 2017
Best Coffee Shops In USA Ranked 2017
---