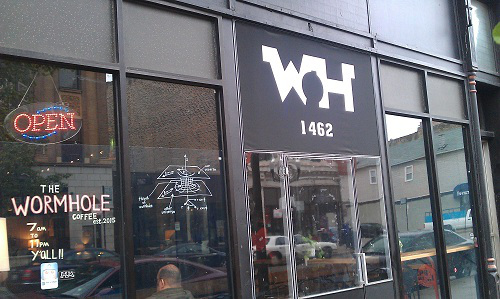 Review: Illinois's Best Coffee

got half-wit? Red Handle 11oz Coffee Mug
Halfwit coffee brought by The Wormhole coffeehouse has done splendid in doing extensive survey on coffee for both the baristas and consumers alike. Since its inception, they have been studying the science behind great coffees with the arts of service and generosity. Expert roasting with seasonally selected coffee is one of the trademark sign of Halfwit Coffee. They have global ambition with local focus in the industry by building on a foundation of knowledge from diverse perspectives. Another strategy of Halfwit which orders might fail to understand is that Halfwit are willing to take it slow and not let growth be the ultimate goal. It is understanding the customers' needs and wants that matters the most to them.
Halfwit has this unique quality to represent each bean as a unique place with its own culture, its own methods of doing business and its own great flavors. Coffee is believed to be a culinary art much like the wine and it is also very much seasonal like the rest of agriculture. Halfwit understands the fact that great coffees in the globe are not grown on the stroke of luck but on hard work and commitment of expertise and cultivation. It is the practices in place of coffee birth which differentiates great coffee from ordinary coffee in terms of quality, price and transparency between commercial and craft sectors. Halfwit are known to adhere to such practices. They further rely on financial security in the form of fair price and social responsibility towards those people who work hard at the farm.
Halfwit performs a 15 minute chemistry experiment for roasting purpose where the tools of time and temperature are used to take a hard, green seed and then convert it into the great roasted coffee that it produces. They make sure that only fresh coffee is introduced in the process and every batch is tasted for quality. Halfwit uses a 12 kilo Dietrich machine, in ten pounds batches and three times a week.
You don't get to be number 1 as a coffee company by just selling coffee. It's also about what you contribute for the industry and the neighborhood which makes the coffeehouse a success. Halfwit goes out of the way to provide a little extra to the coffee growers so that great coffee can be extracted from the field. Halfwits last secret for their delicious coffee is the richness of their relationship with the entire staff.