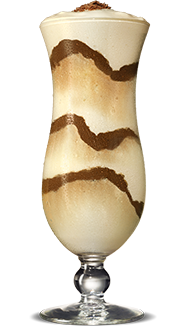 Frozen Mudslide – Kahlua
Easy step-by-step Instructions to make Kahlua
For whoever loves coffee and coffee recipes, there's nothing like making a delicious drink from a variety of different Kahlua recipes that you can find. Anyone who has ever drank coffee as well as mixed drinks knows Kahlua and the fact that it can be used for a variety of different things from just drinking it alone, creating wonderful coffee flavored beverages to even food Kahlua recipes, it even tastes great simply mixed with milk.
Kahlua – History
As much as Kahlua might sound Hawaiian, it's not, it originated in Veracruz, Mexico. Kahlua was first created back in 1936 by four men by the name of Senior Blanco, Montalvo Lara and the Alvarez brothers who got together one night and decided to actually follow their gut feelings when one of their friends came up with a great idea of creating a rum and coffee liqueur. The actual name Kahlua is said to be from ancient Arabic languages and is suppose to be slang for coffee. It was only four years after they created this coffee liqueur that they took a leap of faith and took it to the United States in 1940.




Kahlua & Coffee Recipes Became A Hit By 1949
Kahlua and coffee recipes were beginning to make a hit by 1949 and one of the first Kahlua recipes to be created in the United States was the Black Russian. The drink was actually named after a famous hostess who threw great after hour parties in Brussels in 1948 for important people and you could say that the rest is true history. Once those recipes started coming Kahlua easily grew into a household name over the years for making some of the best tasting coffee recipes around. Through the years more Kahlua recipes were added such as the White Russian, the B-52 Shot, Kahlua Sour, Dirty Mother, Mudslide, Brave Bull, Colorado Bulldog and the one we have here the Frozen Mudslide.
Frozen Mudslide: Kahlua Recipe
The Frozen Mudslide is one of those Kahlua recipes that makes you feel like a kid when you drink it, even though it's a pretty powerful adult beverage it takes you back to your childhood because it brings back the days when as a kid you'd slurp down those good old milkshakes. This is one of those Kahlua recipes that turns those sometimes boring coffee recipes into something fun and adventurous. It's a coffee drink that let's you know that milkshakes aren't just for kids, at least not this Frozen Mudslide version of a grown up milkshake.




The Frozen Mudslide is a wonderful combination of the world's favorite coffee liqueur with Absolut Vodka and some great tasting Irish cream all combined together with vanilla ice cream. This is one of those coffee recipes that will have you forgetting that it's actually an alcoholic beverage it's so yummy. It's a wonderful coffee recipe that is great for any hot summer day sitting alone in the shade or great to offer up to friends and adult family members at a BBQ or even as a dessert beverage at an evening party you might be giving. Any kind of affair you serve it at it is definitely going to end up being one of everyone's favorite coffee recipes.
---
Here is what you will need to make one serving of the Frozen Mudslide:
(This is best served in a hurricane glass or at least a tall glass)
Ingredients:
1 Part Kahlua
Kahlua Gourmet Ground Coffee, Original, 12 Ounce
1 Part Absolut Vodka
1 Part Irish cream liqueur
Kate Kearney Irish Cream Liqueur Fudge Bag

3 Scoops vanilla ice cream
Haagen-dazs Vanilla Ice Cream (8 Pints)

Chocolate syrup
Ghirardelli Squeeze Bottles – Caramel, Chocolate & White Chocolate – Set of 3

Chocolate shavings
Crushed ice
Whipped cream
All you need now is to grab your blender for this coffee recipe and mix the Kahlua, Absolute Vodka, Irish cream liqueur, vanilla ice cream and crushed ice and blend until nice and creamy. Take your glass and pour a layer of the Frozen Mudslide into the glass then drizzle in some chocolate syrup, then pour another layer of the Frozen Mudslide into the glass, drizzle in some more chocolate syrup, pour more Frozen Mudslide, drizzle a final layer of chocolate, top with some delicious whipped cream and then top that off with some shaved chocolate, add a straw and you are going to feel like a kid all over again drinking this wonderful and fun coffee liqueur beverage.
Don't have a blender then take a quick look into our blenders page and find the perfect fit for your kitchen.
---
KAHLÚA – The Original Spirit of Veracruz | Video
---
WHAT TO READ NEXT:
Best Home Espresso Machines Under 300 Dollars
Best Coffee Machines Ranked 2017
How To Loose Weight With Coffee
Opening A Coffee Shop? Learn How Not To Fail!
---
If you enjoyed our "Kahlua Recipes: Frozen Mudslide" then please like, share and follow Espresso Gurus for more great content.