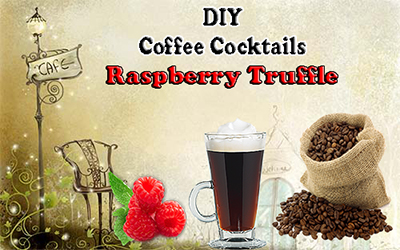 Making Coffee Cocktails At Home
Coffee isn't just for breakfast as a lot of us might think and it's not just for a quick afternoon pick me up either. No, coffee can be used in a variety of different ways for a variety of different reasons. One great way is for entertaining guests at an afternoon or evening party by turning our morning kick start into coffee cocktails like the Raspberry Truffle. This is a great little coffee cocktails recipe that includes several different interesting flavors including coffee liqueur. You can buy coffee liqueur but let's include a recipe here for making your own liqueur to add to this great coffee cocktail recipe.
Making Coffee Liqueur At Home Is Easy
Yes it would probably be easier to get the coffee liqueur like Kahlua or Tia Maria but what fun would there be in that? And why not impress your friends when you tell them that this coffee cocktail recipe has your own homemade coffee liqueur in it? Besides, making coffee liqueur at home is actually pretty easy, is inexpensive and tastes great and it can also be made from ground coffee, instant coffee or decaffeinated coffee. All up to your own personal preferences.
The key to making a good coffee liqueur is to make some really strong coffee with sugar, then you add some vanilla and liquor of your choice. The key here however is that it needs to age some and it should be at least one month, so make sure that you plan your party accordingly. Liquor recommendations for this would be vodka, rum, dark rum, brandy or any combination of these.
Ingredients for coffee liqueur for Raspberry Truffle recipe
¾ C of ground coffee of your choice
2 C water
2 C of brown sugar
1 teaspoon vanilla extract
2 C (vodka, rum, dark rum, brandy or combination)
Now brew some really strong coffee, the ideal way to do this is use a French press if you have one. Once you have brewed this coffee you need to pour it into a glass jar. Add your brown sugar and stir until the sugar is dissolved totally. Next let the coffee cool down for a few minutes and then you can add the vanilla and whatever alcoholic beverage you decided upon. Stir this mixture well and seal the jar.




Now you want to age your coffee liqueur so that you can use it later for a variety of different coffee cocktails including the Raspberry Truffle we'll get to shortly. You should take your jar of coffee liqueur and store it in a cool place that is away from any kind of sunlight and this should be done for at least one month. So your coffee cocktails will have to wait unless you want to go out and get a little bit of coffee liqueur from your local liquor store if you can't wait. However, you might find it worth the wait. You need to also remember to take a wooden spoon and stir the contents at least once a week while you are aging it. After a month has gone by you can then stir the coffee liqueur and find a cool bottle that you can pour it into for serving at your next party.
If you're like me then you might need a visual: here is a quick video to show you how to make coffee liqueur
Just in case your not in the mood of making your own coffee liqueur at home and want a quick fix, then here is our pick for you.


DaVinci Gourmet Sugar Free Syrup, Coffee Liqueur, 25.4 Ounce (Click Here To Order)

Now that you have your own homemade coffee liqueur to use for coffee cocktails you can proceed to make this delicious Raspberry Truffle coffee cocktail that everyone should enjoy.
Ingredients for Raspberry Truffle (for one serving)
1 ounce Blue Ice Vodka (or your favorite vodka brand)
¾ ounce raspberry liqueur
¾ ounce of your own homemade coffee liqueur
Take a cocktail shaker with ice and combine the vodka, raspberry liqueur and coffee liqueur together. Shake the ingredients and strain it into an attractive champagne. Finally garnish with whipped cream and semi-sweet chocolate shavings and you have a delicious dessert like drink that everyone will be raving about.
This is one of many coffee cocktails that can be made with your homemade coffee liqueur that you, your family and friends will enjoy. This coffee creation can also make a wonderful gift for the person who loves to entertain and serve their own coffee cocktails.




So, what do you think of this recipe. Do you have your own suggestions for this recipe? We would love to hear your thoughts. Please leave your comments below in the comment section. If you like this article please follow and like us.
In case your in hurry and just don't have the time to make this recipe at home then use the Amazon search below to order your ingredients instead.