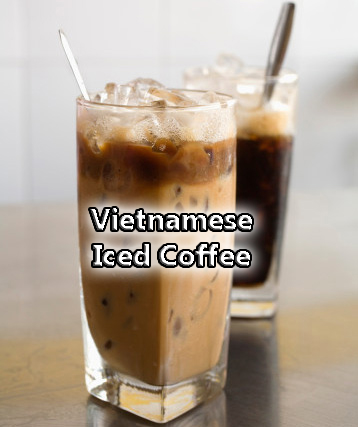 How To Make Vietnamese Iced Coffee At Home: DIY Cold Brew Coffee Recipe
Not everyone enjoys cold brew coffee since often they prefer your standard hot cup of coffee, but, if you do like the taste of iced coffee and looking for an interesting cold brew coffee recipe that doesn't require the use of a French Press then you'll like this Vietnamese Iced Coffee cold brew coffee recipe.
What is Cold Brew Coffee?
Cold brewed coffee is coffee that is brewed very slowly in cold water and you'll discover that this kind of brewing will make the coffee less acidic than it's hot brewed cousin. You can use any cold brew coffee recipe once it's done and pour just the concentrate right over ice or you can add some half and half to it for your own quick custom brew. However if you want something a little different try this Vietnamese Iced Coffee cold brew coffee recipe.
To start off you will first need to make your standard cold brew coffee recipe and below are the ingredients you will need.
Ingredients for coffee:
½ pound of coarsely ground coffee beans
4 ½ cups of cold water
Cheesecloth
Coffee filters
Plastic wrap
Instructions for coffee:
Make sure to have a large container like a pitcher or a large bowl and put the coffee grounds in the container. Then take the cold water and slowly pour it over the coffee grounds.
Now cover the bowl or the pitcher with some plastic wrap and let it steep at room temperature for 18 to 24 hours.
Once the coffee is ready you will want to take a strainer and line it with a few layers of cheesecloth and put this strainer on top of a pitcher or a bowl. Once you have done that take the coffee and strain it through the cheesecloth into your pitcher. Throw away the grounds. If you want an even clearer brew you might want to strain the coffee one more time through some coffee filters. Once you are happy with your brew refrigerate it until ready to use.
Now the Vietnamese Part Of The Coffee




Now comes the Vietnamese Iced Coffee part of the cold brew coffee recipe that makes it the delicious and interesting part. This is a strong coffee that has sweetened condensed milk in it and is chilled over ice and is a great Southeast Asian treat. Even for people who prefer their coffee black will still like this little recipe. It's great for hot summer days or as a nice evening treat.
It can't get much simpler than this. You take the cold brew coffee recipe you have on hand, warm up however many cups you want and then take coffee cups and put two tablespoons of sweetened condensed milk on the bottom then pour the heated coffee over it and stir till milk is dissolved. Take the cups of coffee to your guest and then give them tall glasses that have three to four ice cubes in them with a long handled spoon. Tell the guests to pour their hot coffee mixture over the ice cubes, stir quickly and enjoy.
Leftovers Are Not A Problem!
What's really good about this little cold brew coffee recipe is that if you have any of the coffee left you can drink it later as it is as a cold iced coffee or use it for yet another interesting cold coffee drink later on. You can keep your cold brewed coffee good and fresh for up to five days in the refrigerator so that it is available for other uses later on in the week.
Most cold brew coffee recipes do take a while to make up to a day overall however, depending upon what you do with it and what you add to it will make it all worth the time and effort it took to make this kind of coffee. It's always nice to add a twist to your every day coffee to shake things up again and cold coffee often is a good alternative to the usual fair you often drink during the hot days of summer and early fall.
So the next time you want to come up with something different at your next BBQ or outdoor party don't be afraid to go out on a limb and come up with some sort of cold brew coffee recipe.




Feedback, Feedback, Feedback. We love to hear your feedback. Leave your comments or suggestions below. If you like what were brewing up at Espresso Guru then don't forget to follow and like us.
If you're like me then you also love to have visuals with your instructions. Here is a short video on how to make Vietnamese iced coffee.
If your looking for a quick fix and just don't have the time to make everything at home then use the Amazon search below to order everything you need.