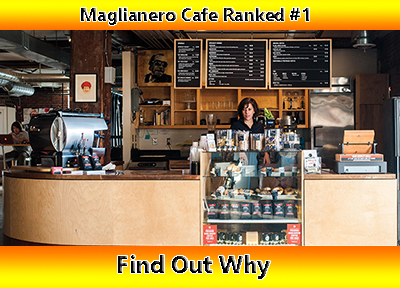 Maglianero Ranked The Best Coffee Shop in Vermont, Find Out Why?




Ice cream fans, beer aficionados and maple syrup fanatics flock to Vermont to get their fix. But never panic caffeine addicts Burlington offers plenty of bean shops and cafés just for you, too. Whether you want to spend your day sipping a latte and relaxing or maybe you are interested in seeking a decadent espresso while hanging out with friends, Maglianero Cafe has you covered.
This coffee shop is situated in the south end of Burlington VT. It is a bicycle-themed café. It was opened in 2011 in the basement floor of a prior grocery store. It has since relocated to the ground floor. Here it shares an open space with The Karma Bird House art gallery. Maglianero fascinates an artistic crowd. This makes sense as the building also houses a renowned marketing group, a bicycle designer and other creative types. For the people who bring their canine friends, feel free to stop on by. Well-mannered dogs are welcome, though they won't be given any coffee!
Their aim is to deliver the highest quality coffee, pastry and company as possible. Coffee beans roasted by Counter Culture Coffee, tea from Stone Leaf Tea, pastry from Barrio Bakery and Jambakery, and special items from Tomgirl Juice Co. are used in this coffee shop.

It is an art café. It has lots of open space, bike parking, natural lighting and just good vibes.There is a fierce freshness to Maglianero that put off as many people as it attracts.It is a slim coffee shop with organized menu. The customers here are often working on laptops, reading books or hanging out with friends and also enjoying the high quality brew. High ceilings and gigantic square footage make the experience feel more soothing than some of Burlington's narrower, tighter and congested coffee shops. You can park your bike INSIDE-That's awesome right?
Maglienaro Cafe is a clean place where barista work hard to serve super tasty and delicious products. They are one of the best. Well-crafted pour over coffees are served here. Prices are fair, not unreasonable for the effort and are comparable to other coffee houses in the town. They offer several coffee choices. Tom'Girl which is like an intermediate between chai and a latte is best. It is a must try. Cappuccinos are good too. Very tasty and flavorsome.
If you are in Vermont you must try Maglianero coffee shop, check out some local art, see their awesome "vault" and enjoy some great coffee!




What do you think of Maglienaro being ranked the best coffee shop in Vermont? We would love to hear your comments below. If you like our article please supports us by liking and following us.
Barista Jam at Maglienaro: Video

If you love coffee like us, then why not use the Amazon search below to order your favorite today.


---
WHAT TO READ NEXT?
Espresso Equipment:
Coffee Equipment:
Coffee Grinder Equipment:
Commercial Use Coffee & Espresso Equipment:
---