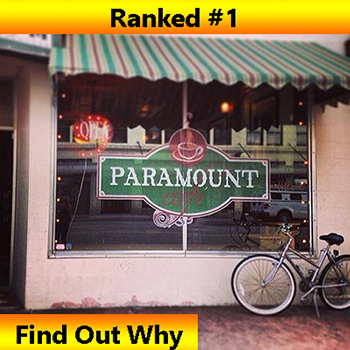 Paramount Cafe Ranked The Best Coffee Shop in Wyoming. Find out why?
Are you looking for an amazing local café, with an extraordinary variety of caffeinated drinks, or just a noiseless point for a lunch break? Paramount café has you covered. It is a specialty coffee shop that serves the best drinks and food. Look no further because Paramount cafe has been ranked the best coffee shop in Wyoming.
It is locally owned and operated by Renee and Jon Jelinek. This coffee shop is located in an ideal spot in downtown Cheyenne, Wyoming. It is in an old Paramount theater and absolutely has that desirable vibe. It displays local art. Their building retains its vintage charm. You can enjoy local music on Friday and Saturday evenings. You can also pick up their guitar or play their piano.
Locally Roasted Coffee
Their coffee is roasted locally in Northern Colorado. Their custom espresso gold roast combines beans greeting from Columbia and Brazil along with an additional top secret aged bean in the mix. It is this sneaky bean that is responsible for the smooth coffee.
Coffee shop that truly offers variety
Paramount offers a selection of hot and cold coffees, teas, lattes, espressos, cappuccinos and smoothies. What's great is that this is the only place in town to get a delicious Bubble tea which is a smoothies type drink with tapioca bubbles of flavour.Their Casa Bonita which is a honey and cinnamon latte with almond milk is really tasty. They serve the best dirty chai. It is an espresso drink made of a shot of espresso mixed into a chai tea. Cinnamon rolls are also worth trying. All of the drinks are wonderful and the baristas add a little aesthetic value. If you are not a coffee fanatic, don't you worry; they offer other drinks as well.
Paramount Cafe has one of the most polite staff around.
Paramount has polite staff and plenty of seating inside. Paramount coffee shop is actually unmatched. They serve great coffee with decent prices. When you enter the doors of this really old building –you experience a modern taste in coffees, food, music, and humor. This place offers a unique and scrumptious experience. The environment is very cozy and inviting with great art work. It is a quaint coffee house in a historic building with great original art of western leads hung on the wall. The café also highlights an artist each month and the gallery gives people a chance to look at some interesting artwork.



Paramount is indeed a fantastic café. They are doing a wonderful job both in maintaining the quality of their drinks as well as genuinely creating vibrant, exceptional and youthful atmosphere. Go there and experience excellence in a cup! For this reason there is no doubt that Paramount coffee truly is the best coffee shop in Wyoming.
What do you think of Paramount being ranked the best coffee shop in Wyoming? We would love to hear your thoughts and suggestions for future posts. If you like our work please like, follow and share. Spread the love and keep sipping great coffee.
Paramount Cafe ranked the best coffee shop in Wyoming: Live Music Video

---
What To Read Next?
Espresso Equipment:
Coffee Equipment:
Coffee Grinder Equipment:
Commercial Use Coffee & Espresso Equipment:
---
Ref: Paramount Cafe