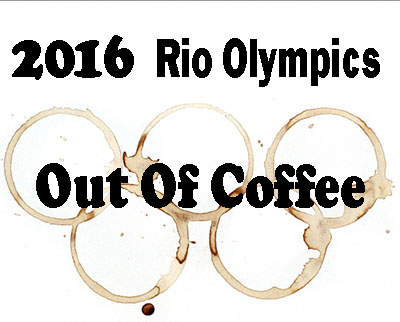 2016 Rio Olympics: Sorry were out of Coffee!
---
Try Coke, Rio Olympics Forgot The Coffee
How on earth did the people on the Rio Olympics committee ever think any of the competing athletes were going to be able to get out of bed without that morning cup of Joe? What were they thinking? Taking coffee away from those bright young stars of track and field, did they not know that it would cause an Internet blowup that would even have people boycotting Coke because they believe that Coke was behind it all!
Boycotting Coca-Cola: Since There's No Coffee
Believe it or not, when people who heard the rumor that the only thing you could get at the Olympic Village were Coke products, they started freaking out. You'd think they'd just banned the entire Russian team of athletes from the games. Oh, wait, they did do that and we didn't see as much unrest as we did when they heard there was no coffee being served! Are you serious? Freaking out over reports of no coffee for the athletes and then going on to say they were going to boycott Coca-Cola for the whole mess.




Olympics has always banned caffeine
Truth be known, caffeine itself has always been banned from the Olympics. That's right, that is one of the drugs that they screen for when they give athletes their drug tests. Seems some of those sneaky athletes have been known to pop a few caffeine pills before the games, or who knows maybe just hooked themselves up to an IV of strong espresso before competing.
No coffee stories spread like wildfire
Stories about no coffee started spreading like wild fire after there was reported to be an alleged shortage of coffee came from the Egyptian archer Ahmed El-Nemer saying there was no coffee at his village apartment or at the sports venues, just Coke products.
And the internet went crazy!
That just enraged the people who read this on the Internet and they went right after Coke for this injustice to coffee. However, reps from Coca-Cola reported there was plenty of coffee at the Olympic Village and I quote "This was misreported, there is absolutely coffee in the Olympic Village, it's just not a Coca-Cola brand," Kate Hartman, of Coca-Cola said to the Business Insider.
At Last: Coffee Triumphs!
So, if you look further into this scandal, you will see that not only are there tons of Coke products available, after all they are one of the biggest sponsors for this event, you will find that there are several coffee machines located in the cafeteria, lounges and different common areas all through the village. In addition to the vending machines, if you just go outside the village you will find plenty of coffee shops including Starbucks more than willing to serve you or anyone a hot cup of coffee.