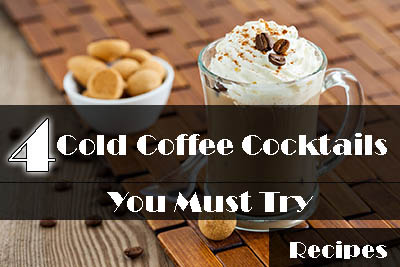 Cold Coffee Cocktails That Will Turn Your Day Into A Heavenly Breeeeeze!!!
Anyone who loves coffee knows there is more than one way to enjoy your coffee. One way in particular would be to serve up cold coffee cocktails for yourself, family and friends. Coffee can add a wonderful twist to a variety of cocktails and you can enjoy a few of those recipes by following the instructions in these relatively easy to make cold coffee cocktails. These cold coffee cocktails can be prepared with cold coffee or coffee liqueur.
---
4 Cold Coffee Cocktails With Recipes
1. White Tea Creamy Vanilla Caramel Freeze – Cold Coffee Cocktails
This is a great one for those who love both tea and coffee and is one of those cold coffee cocktails that is ideal for entertaining on a hot afternoon or evening with your family and friends in your backyard enjoying the day with family and friends.
You will need to have one half cup of boiling water. Three Lipton Vanilla Caramel Truffle Pyramid tea bags, two tablespoons of sugar, one cup of vanilla ice cream, two tablespoons of coffee liqueur and about one cup of ice cubes.
Once your water has come to a boil you will want to pour the water over your tea bags and let brew for five minutes. Then remove your tea bags and squeeze them getting all the moisture out. Stir in your sugar and then chill.
After the tea has chilled put the tea in your blender with the ice cream and the coffee liqueur. Add the ice cubes, making sure you do this one cube at a time and then blend until the mixture is fully blended together. Take some tall glasses and pour the cold coffee cocktail into the glasses and garnish with whipped cream and if you want you can drizzle some caramel topping on top of the whipped cream. Serve immediately to your guests. They will no doubt add this to their lists of favorite cold coffee cocktails.
2. Horchata Iced Coffee Cocktail – Cold Coffee Cocktails
If you are looking for one of those cold coffee cocktails that is both simple as well as super easy to fix, you've found it right here. It doesn't get much simpler when it comes to preparing and serving one of these cold coffee cocktails.
You will need a half of a cup of iced coffee that is not sweetened, one quarter cup of Daily's Horchata Cinnamon and Cream, some ice and whipped cream.
Take the coffee and the Horchata and combine in a cocktail shaker. Add the ice and shake the mixture to combine it. Pour the cocktail into a glass, top it with whipped cream and sprinkle with some cinnamon if you like.
That's all there is to it, one of the simplest yet delicious cold coffee cocktails you can make.




3. Spiked Iced Coffee – Cold Coffee Cocktails
This is one of those cold coffee cocktails that will have people wondering if this is a dessert coffee or a cocktail, because it is a little of both you might say. This is a great beverage that you can serve at a nice brunch or any time during the summer. If you like iced coffee as well as desserts and cocktails this one is for you. It's also a great one to serve your friends at your next backyard party.
You will need three ounces of ready made cappuccino, two ounces of chocolate liqueur, one ounce of coffee liqueur, three ice cubes and crushed ice.
Take a cocktail shaker and add the cappuccino, chocolate liqueur, coffee liqueur and the three ice cubes. Shake the ingredients for thirty seconds then strain into a chilled stemless glass that has crushed ice in it. It's as simple as that and you have your cold coffee cocktail ready.
4. Iced Coconut Coffee – Cold Coffee Cocktails
This is one of those cold coffee cocktails that not only tastes good but is one that will help quench your thirst. You will need two and a half ounces of coconut milk, one ounce of coconut water, one and a half ounces of vodka, a half ounce of Galliano, two ounces of espresso, sweetener if you like and ice.
In your blender you will want to blend the coconut milk, coconut water, vodka and the Galliano. Then in a tall glass with ice pour in the espresso, sweeten to taste and then add the coconut mixture to the coffee and ice. You can double the recipe easily for two drinks, or increase the recipe for however many drinks you want to serve. This concludes our list of 4 cold coffee cocktails. If you have a recipe of your own share it with us in the comment section and we will make sure to feature it in our next list of cold coffee cocktails. Don't forget to like, share, and follow us for more great recipes and ideas.




---
Need something for your recipe? No worries! Use the Amazon search tool below and have it delivered to you today.