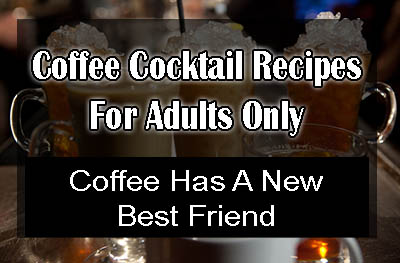 Iced Coffee Cocktails That Will Turn A Boring Day Into A Party!
If you enjoy a refreshing glass of iced coffee but would also like to provide a more adult touch to your iced coffee and perhaps share them at social gatherings you might want to consider some iced coffee cocktails instead of the normal cocktails that most people are use to when they go to a party. Here you will find some of the best iced coffee cocktails that will surely please you and any guests that you might have over on a warm summer night. Lastly, always remember to drink responsibly. What are you waiting for dive right in and maker yourself one of the iced coffee cocktails below and turn your boring day up a notch.
---
4 Awesome Iced Coffee Cocktail Recipes
Mocha Coconut Iced Coffee Cocktail
This is one of those iced coffee cocktails that is rich and delicious and gives you a feeling of being in the tropics. You will need five ounces of cold brewed coffee, a half of a cup of coconut milk, three tablespoons of chocolate syrup, one teaspoon of vanilla, one teaspoon of sugar, two tablespoons of toasted coconut, a can of coconut milk full fat and an additional two tablespoons of sugar. Take a bowl and add cold coconut milk and sugar. Take an electric hand mixer and beat until peaks begin to form and it resembles whipped cream. Now till the bottom of a glass with one to two tablespoons of chocolate syrup, add some ice cubes, pour in your coffee, then some coconut milk, then the vanilla and then more sugar and mix well with a spoon. Add some toasted coconut and then add some of the whipped coconut cream on top of the drink and drizzle with some chocolate syrup and enjoy.
---
Biscotti Iced Coffee Cocktail
This is one of those iced coffee cocktails that has a nice nutty flavor you should enjoy if you like almonds and biscotti. You will need four and a half ounces of ground coffee, three and a half cups of cold water this is for the coffee. For the cocktail part you will need two cups of cold water, eight ounces of Amaretto that is chilled, two ounces of Pernod that is chilled, some ice and milk for serving.
For the coffee you will need to put your coffee in a two quart pitcher, add the water and stir. Cover the pitcher with some plastic wrap and let it stand at room temperature for 12 hours to 24 hours. Once the coffee is ready you will want to take a strainer and put int a coffee filter and then put the strainer over a medium bowl. Take the coffee and slowly pour it into the coffee filter until all the liquid is in the bowl then throw the coffee grounds away. Clean out the pitcher and put the strained coffee back in it and chill at least two hours before you make your cocktail.
When you want to serve your cocktail just add the water, Amaretto and the Pernod to your coffee and stir to combine well, serve over ice and offer milk to add to the drink. Now go ahead and enjoy your biscotti iced coffee cocktail and let us know all about it in the comments sections below.




---
Dublin Iced Coffee Cocktail
This is one of those iced coffee cocktails that is a wonderful mix of caffeine and liquor making it almost dessert like. You will need two ounces of some strong cold brewed coffee, two ounces of dark ale such as Guinness, one and a half ounces of Irish whiskey, three quarter ounce of simple syrup, half an ounce of heavy cream and freshly grated cinnamon stick. Take and mix the coffee, dark ale, whiskey and simple syrup in a highball glass and then add ice to the top of the glass. Then take the cream and gently pour it in so it slowly sinks into the coffee mixture then sprinkle with grated cinnamon. We would love to hear how your Dublin iced coffee cocktail turned out in the comment section.
---
Salted Caramel Iced Coffee Cocktail
This is one of the more simple iced coffee cocktails you'll find, but is still very delicious. You will need one part Salted Caramel liqueur, three parts coffee and some caramel sauce. Combine coffee with the Salted Caramel liqueur and mix well. Add a tablespoon of the caramel sauce in the bottom of a cocktail glass, add some ice and pour the coffee mixture into the glass, stir well and enjoy your salted caramel iced coffee cocktail. Don't forget to share your experience with us in the comment section below.
If you enjoyed this post please don't forget to share, like and follow us. If you have your own iced coffee cocktail recipe and would like to share it with us please do so in the comment section. If it meets our adults only criteria we will add it to our next post. Now don't waste time and try all 4 iced coffee cocktail recipes and let us know which one you enjoyed the most.




---
Read Next:
1. How To Make An Iced Coffee?
2. Coffee Brewing: For Dummies
3. Worlds 5 Most Expensive Coffees Ranked
5. Best Coffee In Each State Ranked
---
Want a complete recipe book for iced coffee cocktails. Try the Amazon search tool below and find recipe books, ingredients for your iced coffee cocktails or even a coffee machine.