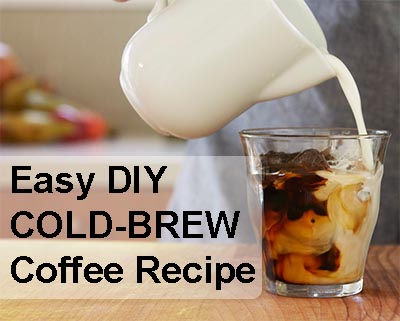 ---
Easy Cold Brew Coffee Recipe
Cold Brew Coffee!
If you are craving a really good tasting cold brew coffee, especially during the summer and early fall months, but, you hate the way some of your attempts have left you with watery iced coffee or even coffee that is way to bitter, worry no more. There is a solution for this problem, a good recipe for cold brew coffee is your answer. This recipe for cold brew coffee will guarantee you a smooth brew that will give you a delicious iced coffee or even other coffee drinks.
You Don't Have To Be An Expert To Make Cold Brew Coffee At Home!
The recipe for cold brew coffee isn't any big secret and it doesn't require that you be a well trained barista in order to make really good cold brew coffee. In fact you don't even need any kind of special or fancy equipment other than a big container like a big pitcher for making your coffee and a strainer.
Only Thing Needed For Cold Brew Coffee Is A Coffee Grinder
Here is how this recipe for cold brew coffee works. You will either need your own coffee grinder or you can go to your local store and use one of their coffee grinders and grind up some coarse coffee. Once you have the coffee ground you will combine your coffee with some room temperature water and let it steep anywhere from 12 to 24 hours. If you want to purchase your own coffee grinder then you might want to take a look at our Top Home & Office Grinder Reviews page. We have done the hard work of researching the most popular home and office grinders for you. Just pick the one that meets your needs.




Cold Brew Coffee In The Mourning!
While the recipe for cold brew coffee is steeping the coffee which will slowly infuse into the water and this makes a very strong and concentrated brew. In the morning you are ready to get your cold brew coffee going by straining it.
Slow Infusion: The Secret To Great Tasting Cold Brew Coffee
This recipe for cold brew coffee has a few advantages to it. This slow infusion of the coffee will pull all the wonderful flavor of the coffee from the beans and it leaves behind most of the other compounds that often make the coffee taste sour and bitter. However, cold brewed coffee is really smooth and it has almost a sweet taste to it. This makes the ideal iced coffee.
Controlling Your Cold Brew Coffee: Strong Or Weak?
This recipe for cold brew coffee allows you to adjust the concentration of your coffee which means you can make it stronger or weaker according to your own personal taste. This will take some trial and error but eventually you'll be able to figure out how much water you need to weaken it after it has been brewed.
DIY: Cold Brew Coffee Cost – About $0.20 Cents A Cup!
This recipe for cold brew coffee saves you money (cost is about 20 cents a cup) and we all know how much one cold brew coffee would cost you at a coffee shop. It also can save you time because it allows you to fix big batches of cold brew coffee that you can store in your refrigerator for days. This means that you can easily pour yourself an already brewed serving of iced coffee whenever you want as well as using it for other beverages that call for cold brewed or iced coffee.




A Cold Brew Coffee Recipe Which Is Versatile!
This recipe for cold brew coffee is versatile because of the fact it can be used as an addition to other recipes or you can serve it over ice or it can be heated up and served piping hot. It's all up to you and what you and how you want to use it.
Reminders Before Brewing This Recipe for Cold Brew Coffee
Make sure that your coffee beans are ground coarsely. Grounds that are powdery, the kind for drip coffee, often will result in an over infused kind of coffee and this will make the strained coffee somewhat muddy and gritty. The ground coffee you use should resemble coarse cornmeal.
Use bottled or filtered water if you can. This is good advice for making any kind of coffee. This will give your coffee a much cleaner and sweeter flavor.
Make sure that you steep this recipe for cold brew coffee no less than 12 hours. The coffee needs this time to be able to completely infuse the water. If you strain it too soon you will get a much weaker cup of coffee. Also, don't over steep it either. This can cause the coffee to become bitter.
---
Recipe for Cold Brew Coffee
Ingredients – Cold Brew Coffee
One cup or 4 ounces of whole beans
Four cups of water
Equipment Needed – Cold Brew Coffee
Coffee or spice grinder (or have it ground at the store)
Two quart container or pitcher (it can be glass, ceramic or plastic)
Small strainer
Large bowl
Cheesecloth or coffee filters
Bottle or a jar for storing the coffee (optional you can always reuse the pitcher after you clean it out)
Steps – Instructions For Cold Brew Coffee
Grind the coffee
Put the coffee in the pitcher and add the water and stir to make sure the coffee is soaked with water
Steep for 12 to 24 hours
Strain the coffee by lining the strainer with cheesecloth or coffee filters and then put it over a large bowl and then pour your coffee through the strainer
Pour the coffee into a container like a large jar or clean out the pitcher and pour it back into your pitcher
Serve your delicious cold brew coffee over ice and add milk if you like or serve it hot, the choice is yours
---
If you enjoyed reading Easy DIY: Recipe For Cold Brew Coffee then please follow, like and share. You may also be interested in the following:
5 Iced Coffee Ideas, The Family Will Love You For!
4 Iced Coffee Cocktails For Adults Only!
Best Coffee In Each State Ranked!