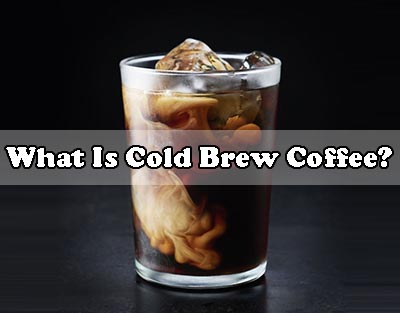 ---
What is Cold Brew Coffee?
Cold Brew Coffee Demystified
It seems right now, cold brew coffee is the latest coffee sensation or craze and is really becoming part of the mainstream for coffee drinkers. But, what is cold brew coffee? Sure it is cold coffee but it simply isn't just another glass of regular iced coffee.
Iced Coffee Vs. Cold Brew Coffee
What is cold brew coffee and what makes it so different from the normal iced coffee? Well, it is coffee that is either brewed with room temperature water or with cold water. The brewing time takes anywhere from 12 to 24 hours before it is ready to be served and it usually comes out with a more mellow flavor and the tastes are more rounded out. This means there is more of a full body taste and it is far less acidic than your run of the mill iced coffee you might be use to drinking.
Who Makes Cold Brew Coffee?
What is cold brew coffee and what companies offer it? This is a coffee that is steeped much like tea and then you end up with some really strong coffee concentrate that you then need to weaken down with cold water so that the mixture is a 50/50 mixture and that is what cold brew coffee is. Some of the more popular brands of cold brew coffee include Blue Bottle Coffee, Stumptown Coffee Roasters and Starbucks. However, there are a lot more coffee shops that are starting to create their own versions including Cafe Grumpy. They have even come up with a New Orleans style cold brew that is created with chicory which gives it a little bit of a spicy kick.
Starbucks & Cold Brew Coffee
Starbucks has a version of cold brew coffee that has some chocolate and light citrus tones to it and the brew time for this version of cold brew coffee takes about 20 hours of brew time. What it is, is their traditional iced coffee that is created by brewing the coffee double strength and then pouring it over some ice. Their goal was to create a coffee that was rich and dense with a slightly sweet flavor.
Make Your Own Cold Brew Coffee At Home
You can make your own cold brew coffee yourself and save on money by doing so. Here are some easy directions on just how you can make your own cold brew coffee.
---
How To Make Cold Brew Coffee At Home
Instructions – Cold Brew Coffee
1. Steep the Coffee Grounds – Cold Brew Coffee
Take your favorite coarsely ground coffee and put it into a big pitcher. Then take and fill the pitcher up with room temperature water. If you are using a two quart sized pitcher you will need to use 1 ¾ cups of ground coffee and 3 ½ cups of water. Next cover your pitcher with some plastic wrap and let it steep anywhere from 12 hours to 24 hours at room temperature.
2. Strain Your Coffee – Cold Brew Coffee
Once you are satisfied that it has steeped for long enough you are going to want to strain your cold brew coffee. Take a coffee filter and put it inside of a fine mesh sieve and then hold this over a big mixing bowl. Next take the pitcher of coffee and pour it slowly through the coffee filter and into the big bowl. You will want to stop when all of the solid grounds are at the bottom of the pitcher and start falling into the sieve. Throw away the remaining grounds out of the sieve and pitcher.
3. Chill Your Coffee – Cold Brew Coffee
Take your pitcher you used earlier and clean it out and make sure there are no left over coffee grounds in it. Now take the bowl with the strained coffee and carefully pour it back into your pitcher and put the pitcher in the refrigerator. You should chill your fresh made cold brew coffee for no less than two hour and can be kept up to five days. When you want to serve your homemade cold brew coffee you can dilute individual glasses with milk, creamer or water. Make sure you pour over ice when serving.




Other Cold Brew Coffee Recipes
Your cold brew coffee can also be used to create a variety of different types of cold brew coffee drinks from refreshing cold brew iced coffee to dessert coffee beverages as well as cold brew coffee cocktails that you can serve at parties and other adult social gatherings. If you enjoyed this article please don't forget to share, like and follow us.
---
If you enjoyed What Is Cold Brew Coffee? then you might be interested in the following.
Read Next:
Easy DIY: Cold Brew Coffee Recipes
4 Iced Coffee Cocktails Recipes For Adults Only!
5 Iced Coffee Ideas, The Family Will Love You For!
The Secret To Starting A Successful Coffee Shop Business
The Right Way To Make Iced Coffee
---