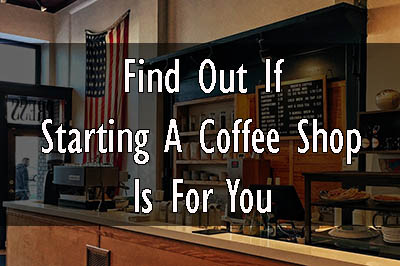 Before You Start A Coffee Shop Business
Coffee shops are probably one of the fastest growing companies around. However, that doesn't mean it's easy to do so and if you are thinking of trying your own hand at it, you will want to make sure that you are ready for it and that it's something you really want to do before going off and doing it.
Is it Really Right for You?
This is the very first thing you must ask yourself about starting your own coffee shop. It can sure have a huge appeal that's for sure especially when you consider the benefits:
Have freedom to make your own decisions
Gives you financial independence
Gain respect in the community
Feeling of satisfaction for providing quality products to customers
Offer a social environment that brings others together
Get to drink all the coffee you want (LOL)
What more could you want right? Well, let's add a little bit of reality to the list as well:
Have to work long days as much as 14 hours and 6 to 7 days per week
Hard physical work day in and day out
Having to cover for sick employees on your only day off
Putting up with angry and picky customers
Paying bills
Paying payroll
Keeping up with health and safety regulations
And I could go on. So, you see you need to be ready to handle both the good and the bad when owning your own coffee shop.
Have a Good Business Plan That Includes a Good Budget
You will need a good business plan and a budget you can follow. Unless you have enough money to set up your place on your own you will more than likely need money to back you and they will want to see that business plan of yours before giving you any of their money.
Your business plan must have well defined plans and goals. You will need to define what you hope you will achieve and how you plan on doing that. You need to have a well planned budget as well so that those who might be loaning you money will know where their money is going to be spent. Your budget should include:
Cost of location
Size of the coffee shop
Design complexity
Equipment needed
Inventory
Employee costs
Other local factors regarding the market
Always make sure to be conservative with the projection of your income and more generous with how much you are going to have to spend. Your budget should include 12 to 18 months of costs because it can take that long if not longer before you might even begin to see profit of any kind.
Although it takes far more than a business plan and a budget to get started, these are two of the most important things you need to start off with when it comes to planning your own coffee shop. If you need further detailed guidance on starting your own coffee shop business then you might be interested in the following books.