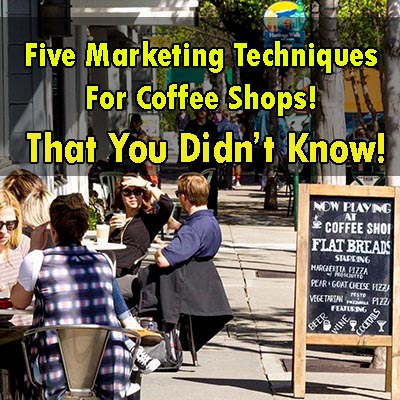 Coffee Shop Marketing
---
5 Marketing Techniques You Didn't Know!
Opening up your own coffee house is one thing but getting coffee lovers to come is another thing altogether. This is where a good marketing plan comes in handy. When you market a business it will usually involve some advertising, word of mouth and some promotional ideas. In order to be really successful you should combine each of these elements in order to reach the most customers possible.
---
1# Creating Signs

You should have a portable A-frame type of sign that you can put out in front of your coffee shop every day when you open up. This is a way to remind people that you are there and open for business. It should be the kind of sign where you can change the colors on it so it can be a chalkboard type of sign or a whiteboard type of sign. You may also want to add colorful balloons and crepe paper streamers on it too so it will catch the attention of not just people walking by but those who drive by as well.

Royal Consumer Poster Board, Black, 22 x 28 Inches, Pack of 25 (Click To Order)

Modern A-Frame Wood Chalkboard Stand, Sidewalk Memo Board, Cafe Board (Click To Order)
---
2# Use Promotional Tools

Sometimes you have to spend a little to get a little back in return so it's always a good idea to use promotional tools to bring in customers. Whatever it is, it needs to be a promise to the customer they will be rewarded for stopping by. You can offer a free cup of coffee after every 6 cups purchased. You might give them a little key chain card that when shown to an employee will give them a 10% discount off any purchase every time they use it. You can also give away free coffee mugs that have your coffee house name and logo on it for customers that come by several times a week. There are a lot of different things you can do that can help keep the customers coming back. The important thing here is to be creative without breaking the bank doing it. Whatever you do, make the customer feel as if they are getting something for their loyalty.

Epson Expression Home XP-430 Wireless Color Photo Printer with Scanner and Copier (On Sale)
---
3# Mainstream Advertising 
Coffee Deal Ads: Video

You always need to advertise even if you've had your coffee shop open for years. It's always a good idea to put advertisements that are strategically timed in local newspapers, on local radio stations and even on TV. You can use the ads to promote a special coffee blend you are offering or maybe that you offer free Wi-Fi in your coffee shop. You also might want to add the incentive that if anyone mentions the ad when they come in will receive a 10% discount on their order.
---
4# Items With Logo

Your coffee shop might want to have a variety of different items in the shop that have your logo stamped or imprinted on them. These could be things you sell or give away such as coffee mugs, pens, coasters and other items. You can even have your bags of ground coffee placed in foil pouches with your coffee shops logo on it. In fact everything that you sell to go should have your logo on it somewhere.

34″Cutter plotter Heat Transfer Press A3 Printer Ink Paper T-shirt Start-up KIT

15×15″ Flat Heat Press A4 Epson Printer Paper Ink CISS Start-up KIT T-shirts
---
5# Uniforms

Make sure that the employees you have working for you have attractive and comfortable shirts that are branded with your coffee shop's logo. These should be free to your employees for them to wear during their shifts. If they are attractive enough you might even want to have them available for sale to your customers.
That's all for this edition of coffee shop marketing techniques. If you think we missed an important coffee shop marketing technique or if you have a proven idea of yourself then don't forget to mention it down in the comment section. If its note worthy we will make sure to include it in our next post of coffee shop marketing techniques. In the mean while you might want to read the following post.
---
Read Next:
2 Steps To Find Out If Starting A Coffee Shop Is For You 
The Secret To Starting A Successful Coffee Shop Business
Successful Cafe Business Secrets Revealed
How To Start A Cafe: Step By Step Guide