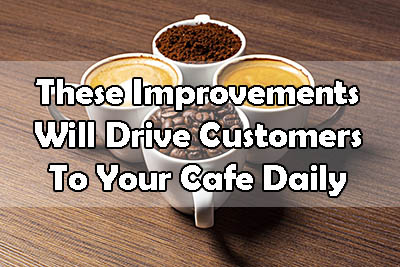 Increase Cafe Customers
If you have just opened up your own coffee shop, cafe, or drive-thru you will find that in the beginning it can be slow at building up customer loyalty. But there are ways that you can market to those coffee lovers out there.
There are plenty of coffee lovers out there that buy lots and lots of coffee and coffee products from ground coffee to beans to even coffee cups. The coffee shop industry is a huge industry and has over $10 billion in sales a year and you need to be able to tap into that. So you need to attract these people to your business so you can increase sales.
---
You may be interested in this awesome book. "The Daily Grind" provides in-depth information on how to open and run a cafe business profitably. Click the link below to order.

The Daily Grind: How to open & run a coffee shop that makes money (Click To Order)
---
1# Offer a Loyalty Program
People love to be rewarded for being a loyal customer. It seems almost every business in town from the local grocery store to the corner sandwich shop has some sort of loyalty program available to their customers. Coffee lovers don't expect to be treated any different and they expect to be rewarded for their loyalty as well. So, you need to do some research and see what kind of loyalty programs other coffee shops are offering their customers and make sure that the program you offer is better than theirs. For example if a coffee shop in your same area offers a free cup of coffee after every 6th paid cup then consider making yours after every 4th or 5th paid cup they receive a free one. You might also consider offering half off on all coffee drinks for a month after they've bought 20 cups in one month. Whatever it is, make sure that it's always better than your competition's loyalty programs.
2# Offer Coupons
The whole idea for coupons are to bring new customers or to bring back customers you haven't seen for awhile. The whole trick here however, is to make sure that you don't irritate the loyal customer base that you have. So, never make coupons that say "for new customers only", always make sure that anyone can use the coupons that you offer. Not only can you attract new customers with enticing coupons but you are also rewarding your loyal customers by offering them the same deal.
3# Stage Events
Consider having special events take place at your coffee shop and consider having those events connected to some local charity to not only help a good cause but to help give your coffee shop more exposure. You can start with as something as simple as filling a glass jar with coffee beans and each customer can pay $1 per guess and the winner gets for example one free cup of coffee a week for a certain amount of time or a pound of coffee per week for a certain amount of time and the money goes to the charity you chose to work with. There are a lot of different events you can conduct at your coffee shop that both you and local charities can benefit from.
4# Use the Internet
Do research to discover the most popular coffee websites or blogs and send them samples of your coffee, coupons, and other promo stuff, ask to be interviewed on blogs. Take a video of your coffee shop in action and post it on Youtube and other social media sites. All of these things and more can help drive traffic to your coffee shop.
If you found this article interested then please support us by liking, sharing and following. If you think we left something out or if you have a great idea of yourself that is proven then please let us know down in the comment section.
---
Read Next
International Space Station Gets It's First Coffee Machine
How Do Coffee Pod Machines Work?
7 Coffee Facts You Didn't Know
Find Out If Starting A Coffee Shop Business Is For You