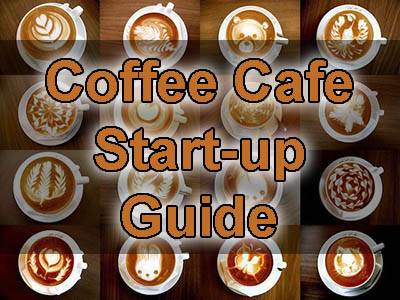 Coffee Cafe
Checklist
A coffee cafe would be a little bit different than the typical coffee shop or coffee house. Often these will serve breakfast and lunch and make for a great little meeting spot for people in both urban and suburban areas. These little cafes often will attract a variety of different customers that can range anywhere from students to white collar executives. Their menus often offer a variety of lighter meal options that might include sandwiches, bagels, salads, muffins, cookies, and different beverages especially coffee. In order to open up your own coffee cafe there are quite a few steps you will have to take beginning with a business plan all the way through processing the grand opening. Here is just a sample checklist of start-up requirements that give you an idea of the work involved with starting up your own coffee cafe.

The Modern Cafe (Click To Order)
---
All Equipment Needed
Coffee cafes and coffee shops all need a wide variety of equipment in order to prepare and serve their customers a variety of different products. Some of the things you may need are:
Coffee machines
Cappuccino machines
Espresso machines
Refrigerated and non-refrigerated display cases for a variety of different foods
Tea brewers
Coffee grinder
Blender
Various kitchen tools
Stove
Microwave
Cash register
Ability to handle credit cards
Furniture
Supplies from napkins to paper cups and lids and coffee, other beverages and a variety of foods

How to Start a Business Without Any Money (Click To Order)
Do Market Research
Before opening up your coffee cafe it's important that you understand the local market where you are thinking of opening up your cafe. If you know the market which includes existing competitors and potential customers then you will find it easier to cater to those people and get them to come visit your cafe. You should pay close attention to how well other similar businesses do in the area to give you and idea of how good you might do. Always check the Bureau of Labor Statistics for population info in the area so you can estimate what the income might potentially be in your target market.

The Art of Startup Fundraising: Pitching Investors, Negotiating the Deal, and Everything Else Entrepreneurs Need to Know (Click To Order)
Don't Forget Licenses & Permits
All businesses such as a coffee cafe require they have both food and beverage licenses at local and state levels. You will need to get local permits as well. So make sure that you find out all the different licenses and permits you will need and tackle those as soon as you can.
Market Your Business
Once you have everything in place then it's important that you find a way to lure customers to your new cafe. You should do a variety of different marketing activities before you open your doors. You should include some if not all of the following:
Come up with a loyalty program
Place grand opening advertisements in local newspapers and magazines, radio and TV
Send out discount coupons all through the community
Create attractive grand opening signage
Advertise on social media
Give away free gifts during your grand opening
Make Social Media Work for your Business: The complete guide to marketing your business, generating leads, finding new customers (Click For Price)
---
Read Next: