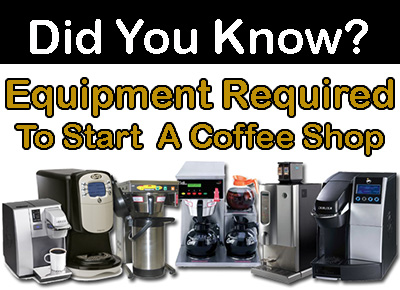 ---
Equipment Required For A Coffee Shop
Coffee Shop Equipment: There are a lot of people who probably dream of opening up their own coffee shop. Sounds like a great idea when you first sit down and dream about it, doesn't it? However, when you come back down to reality, you will soon discover that owning a coffee shop will end up costing you quite a bit of money to get started. So, before you seriously sit down and make out a business plan for one, make sure that you know all the different kind of equipment you are going to need in order to open up and start serving coffee and other items to customers. So if your seriously thinking of opening a coffee shop then "Type of equipment required to start your own coffee shop" is one post you can't afford to miss.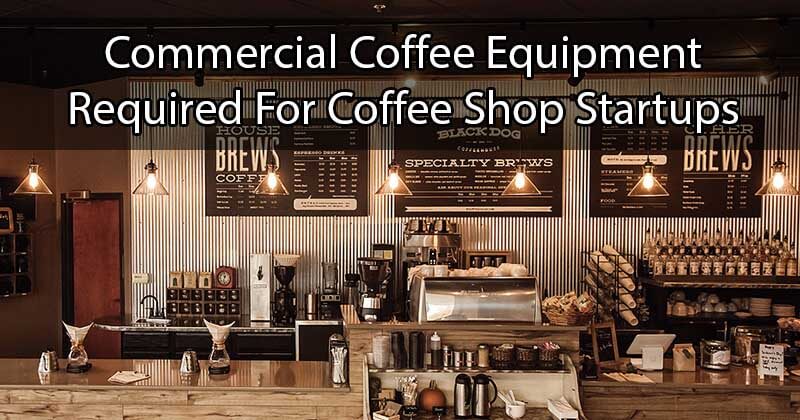 Espresso Machines Required For Coffee Shop
No matter what kind of a coffee shop you are thinking about opening up, in today's market no coffee shop is truly complete unless it also offers different kinds of espresso drinks. Customers don't just want traditional drip coffee, they are going to want lattes, cafe mochas, espresso shots and other drinks like Americanos. In order for you to be able to offer your customers what they want you are going to need a good espresso machine that is designed to make just these kinds of beverages. You will also more than likely want other equipment that goes with it like a grinder to grind your own beans to ensure your customers get the freshest coffee you can give them. You will also want a tamp that is needed to push your espresso into place and you'll need demitasse cups or shot glasses to be able to hold the espresso shots before you put them into the drink. Some people also use metal jugs for the milk before, during and after the steaming process.
If your interested in finding out what are the most popular commercial espresso machines in the market, you can take advantage of our commercial espresso machine reviews list. This list includes full reviews of
popular commercial espresso machines
with prices and comparisons. Click the link below for commercial espresso machine equipment reviews.
Regular Coffee Equipment
The coffee makers seen in a coffee shop rarely resemble your Mr. Coffee you have sitting at home in your kitchen. A coffee shop needs to have coffee makers that are commercially designed to make and store huge amounts of coffee in their coffee shop. You will also want to make sure that you have some good coffee mugs and not just to go cups to serve customers who prefer to sit and sip their coffee in your coffee shop.

If your wondering whats the difference in commercial coffee equipment and home coffee maker, then you might want to head to our commercial coffee equipment reviews page. We have assembled full reviews with prices and specs of the most popular commercial coffee makers for you. Click the link below to read the commercial coffee equipment reviews now.
Coffee Shop Furniture
Unless you plan on opening up a little coffee shop that is strictly "to go" only all you'll need is some counter room to prepare the coffee. But if you are opening up a coffee shop where people can stay and drink their coffee if they like you will want to make sure that you have plenty of comfortable tables and chairs for them to enjoy their coffee at. You also might want to make sure that you provide a few tables and chairs outdoors for warmer weather as well.


Want a complete guide on how to open and run a coffee shop? A coffee shop that makes money? Then you might be interested in "The Daily Grind". This is a great book that includes in depth step by step information a new or potential coffee shop owner will need. Click the link below to order or get further details now.

The Daily Grind: How to open & run a coffee shop that makes money(Click To Order)
Plumbing & Electrical Needs
You are going to also want to make sure that all of your equipment is fitted with the correct electrical and plumbing requirements. Your espresso machines have different electrical needs more like that of a stove or refrigerator and you coffee brewer is set up differently than the one you would use at home. On top of that all of your commercial coffee equipment will need special drainage and water softeners installed in the water lines to prevent any mineral build up in your equipment.
---
Commercial Coffee Equipment Required For Coffee Shops
What To Read Next?
Espresso Equipment:
Coffee Equipment:
Coffee Grinder Equipment:
Commercial Use Coffee & Espresso Equipment:
---
Commercial Coffee Equipment Manufacturers List
Ref: Rancilio Commercial Espresso Machines – Nuova Simonelli Commercial Espresso Machines – BUNN-O-MATIC Commercial Coffee Machines – Bloomfield Commercial Coffee Machines – KoffeeKing Commercial Coffee Equipment – Coffee Shop Startups