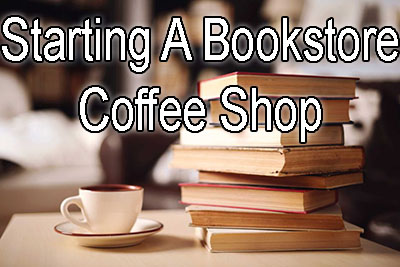 ---
Bookstore Coffee Shop Tips
If you enjoy a good cup of coffee and a good book to read and you know there are many others like you who enjoy the same, you might want to think about opening up not just a coffee shop but a bookstore coffee shop. After careful research and talking to many startup owners in the field we have assembled a list of carefully picked tips for starting a bookstore coffee shop for you. So go ahead and get your self a cup of hot coffee and sit back and relax while reading through our tips for starting a bookstore coffee shop.
Since your reading this post, we thought you may be interested in this book.

12 Steps to Cafe Success: Simple Steps to an Extraordinary Business ($4.99)
---
Why A Bookstore Coffee Shop?
The atmosphere that usually generates from a bookstore is usually very inviting and it offers customers a way to relax and browse the different books you might have to offer. Then when you add a delicious cup of hot coffee and a pastry to the mix makes for an interesting combination. Bookstore coffee shops are around but they aren't as prevalent as regular coffee shops so you might be able to make an entire different type of customer happy in the community where you live.
Find a Good Location & Give It a Good Name
When considering your bookstore coffee shop make sure it has a catchy name and one that will be easy for customers to remember. Make sure that it's short and expresses what you offer. When it comes to the location you need to make sure that it is located in an area that gets a lot of foot traffic so that you don't have to worry about a lot of parking. A good place might be in a shopping mall or near a business complex where there's already plenty of parking. Inside of the shop you want to make sure there are plenty of areas in the shop that re well lit and that there's plenty of shelves with a variety of books for customers to explore. You will want to make sure that the seating is ample and is comfortable enough for your customers to relax, sip on some coffee and go through books they might be interested in buying or have already bought.
Build Relationships With Book Vendors and Others You'll Need Supplies From
When it comes to the bookstore part of your coffee shop you will want to figure out if you want to sell just new books, only used books or make it a combination of both and then find vendors you can easily work with that will give you fair prices on the books you want in your bookstore coffee shop. You will also want to make sure that you find fair vendors for your coffee, pastries and other equipment and supplies you'll need for your customers. Before opening make sure that you have plenty of books on the shelves and that there are plenty of variety of topics for customers to choose from.
Make it Comfortable
Besides your inventory, comfort is probably one of the key things you need to focus on for this kind of coffee shop. So make sure there are plenty of different types of seating available. You'll want a few tables with comfortable chairs that are near the area where you serve your coffee and pastries. You will also want to make sure that you have over-sized chairs and coffee tables as well as perhaps a love seat or two set up around the bookstore so that those customers who want to stay awhile and relax with a cup of coffee and a good book can do so.
Hire a Graphic Designer
If you don't have any talent at graphic design then it's probably in your best interest that you find a friend or a family member who does to help out or actually hire a professional who can help you put together the right concept for your bookstore coffee shop and then let them work on several different designs so you can choose the one that best suits you. The design for your logo and business name is something that people are going to remember, so it's important that you come up with a good one.




Make it Family Friendly
By making your bookstore coffee shop family friendly will open you up to a wider base of customers. To do this you might want to consider scheduling regular story hours for kids and their parents. Find people you know who would love to be a storyteller to read books to the kids or even to make up stories to tell them while their parents shop around or sit and enjoy a cup of coffee.
You also might want to offer your bookstore coffee shop as a meeting place for different community book clubs or writing groups. This will give them a place that has the ideal atmosphere for these kinds of meetings.
---
What To Read Next:
---
---