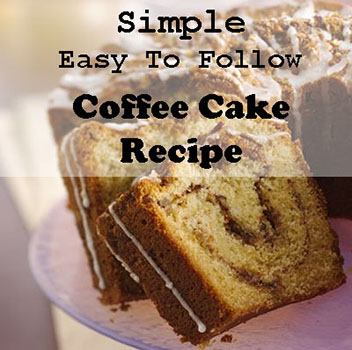 Coffee Cake Recipe
When it comes to a coffee cake recipe one would think that because the word coffee cake is in the title that there should be coffee in the coffee cake recipe. More times than not, coffee cakes don't have an ounce of coffee in them and they are just made to eat along with a delicious cup of coffee. A lot of people might think then they should be called something else but that's not the case. However, if you are looking for a coffee cake recipe that really does contain coffee then you won't be disappointed, because they do exist.
This particular coffee cake recipe is actually called "Coffee Coffee Cake":
---

Coffee Cake Recipe: Ingredients
Streusel Ingredients:
¾ cups of pecans or walnuts
¾ cup of sugar
1 teaspoon of cinnamon


Cake Ingredients:
3 1/3 cups flour
1 ½ teaspoons of salt
2 teaspoons of baking powder
1 teaspoon of baking soda
¾ cup of buttermilk
¾ cup of cold strong coffee
2 teaspoons of vanilla
1 ½ sticks of unsalted butter
1 ¾ cups of sugar
3 large eggs
Optional Glaze Ingredients:
¼ cup of strong coffee
1 ½ cups of powdered sugar
---

Coffee Cake Recipe: Instructions
How to Make this coffee cake recipe:
The day before you should brew your strong coffee for this coffee cake recipe and put it in the refrigerator overnight.
The next day take your walnuts or pecans and finely chop them up or put them in a food processor and pulse several time. After you've done this, mix them with cinnamon and sugar for the streusel. Set aside to use later.
Take and mix together all your dry ingredients for this coffee cake recipe and mix well.
Take your cold coffee and mix it with the vanilla and the buttermilk using a whisk and then set this aside for the time being.
Your oven needs to be preheated to 350° F. If you happen to be using a special bundt pan then you should butter it lightly and dust it with some flour to make it easier to get your cake out when it's done.




Now use either a stand type mixer or a hand mixer and beat the sugar and butter that's been softened together until the mixture is fluffy and light. This usually takes five minutes with a stand mixer and about 10 minutes with a hand mixer. Then add and mix in one egg at a time mixing on low.
Once you are done you then will add all the dry and wet ingredients in this order and making sure to stir after each time. Add 1/3 of the dry mix, then ½ of the wet mix, 1/3 of the dry, and then the rest of the wet mix and finally the rest of the dry mix. Finally, mix it all together one more time and scrape off the sides of the mixing bowl making sure it's completely combined.
Pour half of the coffee cake recipe batter into your baking pan then add all of your streusel mix. Pour the rest of the cake mixture on top of the streusel.
Put in the oven and bake about an hour or test by poking a toothpick into the cake to see if it comes out clean. If it does then it's done. After taking out of the oven let your cake cool off for about 10 minutes before you try to take it out of the pan.
Once out of the pan let the cake cool completely and if you are using the glaze drizzle it on after the cake is totally cooled off. After the glaze is hardened it's ready to serve up. Voila, you have baked your own coffee cake using our simple and easy to follow coffee cake recipe. Please like, share and follow us.




---
WHAT TO READ NEXT:
Top 5 Coffees From South America
6 Coffee Cocktail Recipes You Must Know
World's 5 Most Expensive Coffees
---
REF: Coffee Cake Recipe