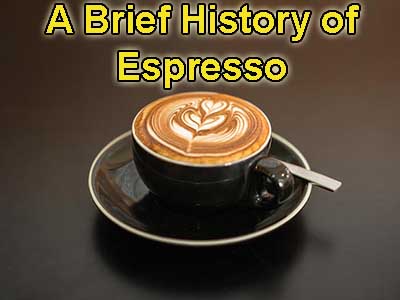 ---
History Of Espresso
Before we dive into "A brief history of espresso" we recommend you grab yourself your favorite cup of espresso drink to truly feel espresso history to its core. It will bring a smile to your face when you realize your reading the history of what your drinking at the moment. So with further ado, Espresso Gurus brings to you a brief history of espresso.




Italy – The Birthplace of Espresso
When it comes to coffee, espresso which is the base of all non-filter coffee is coffee in it's purest form. It's also the important key to actually understanding the coffee culture that exists in Italy. By introducing us to espresso, Italy was responsible for redefining what coffee meant. To truly understand why drinking coffee in Italy is totally different from the rest of us there is a need to understand how the modern type of espresso came to be and how it also shaped the culture and identity of Italy.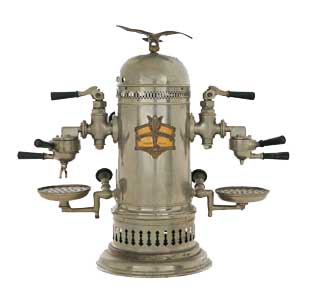 The First Espresso Machine
It all started back in 1901 when the very first version of the espresso machine was first conceived. It's conception can be attributed to the Industrial Revolution in Europe at that time. The very first espresso machine didn't look anything like what we know now, but it was a start.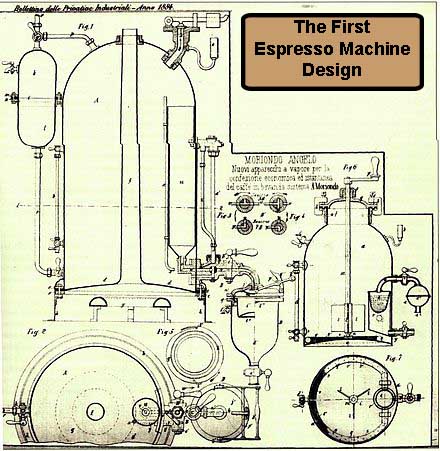 Original Concept Design Of An Espresso Machine
Espresso's original concept was a beverage that could be fixed very quickly. This is why they named this coffee drink espresso because in Italian espresso literally means "express". A Milanese inventor named Luigi Bezzara came up with the first idea for an espresso machine. He registered the patent for the machine that had a few recognizable group heads that had portafilters that contained coffee that was clamped. This was the very first time that any kind of coffee was prepared especially for the customer in mind.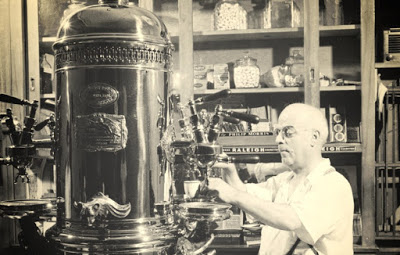 Ideale – First Production Of A Commercial Espresso Machine
In 1905, the espresso machine patent was purchased by Desiderio Pavoni. He then took this patent for the espresso machine and immediately put it into production creating the very first commercial espresso machine which was called the Ideale.
At this time, this espresso machine still didn't look very much like the modern espresso machines we have grown to know over the years. This espresso machine had group heads that could reach temperatures up to 284° F with a much lower 1.5 bar of pressure than the modern 9 bar espresso machines. The shots it produced were extracted in just 45 seconds and the espresso had more the consistency and the taste of our modern filter coffee and not so much as today's espresso.
Term "Espresso" First Appears In Alfredo Panzini's Italian Dictionary In 1920.
It wasn't until about 1920 that the actual term espresso first became part of the Italian language. This is when it first appeared in the Alfredo Panzini's Italian dictionary and this is what it said: "Caffe espresso, is made by using a machine that's pressurized or a filter, which is now commonplace."

Originally it was said that the 19th century coffee houses were very tranquil places to be. By the dictionary edition of 1935, its then noted that coffee houses were rapidly becoming bars for workers. It seems as the strength of the espresso grew it seemed to encourage working men to start going to coffee houses often to get a stronger caffeine hit.
Term "Barista" Emerged In 1938.
It was in 1938 when barista emerged as a word related to espresso. Sorry to say, it was not Starbucks that came up with this term. Before the term barista you would more often hear the term "barman" as being the fashionable word to call those who served coffee. During the time of Mussolini and their Fascist movement a nationalist campaign all over Italy developed wanting to "Italianize" their common words and they thought "barman" was too American and that is why they began using barista instead. This then made espresso even further entangled with Italian identity.
Francisco Illy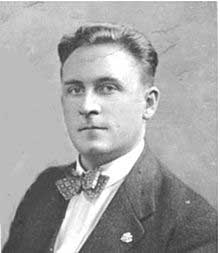 During the 1930's and 1940's coffee consumption in Italy saw a decline. This was first because of the restrictive polices that was set on importing products and then it simply became scarce during World War II. However, during this time the espresso machine had several improvements done to it by big names like Francisco Illy and Achille Gaggia.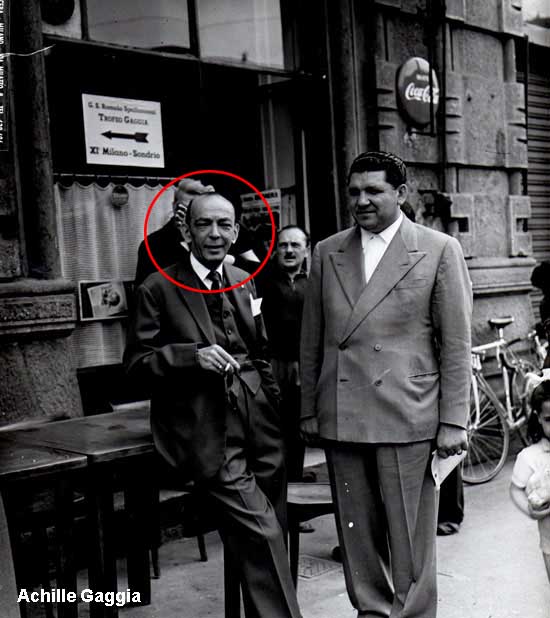 First Great Development Of The Espresso Machine – 1947
By 1947 the first great development was done: Gaggia's hand pumped espresso machine. This machine could produce a lot more pressure over the coffee puck. This meant that the essential oils and the colloids could be squeezed through. This resulted in the "crema" which is now a very important part of today's espresso.
Hand Pump Espresso Machine
Ernesto Valente Purchases Gaggia Espresso Machine – 1948
Gaggia's espresso machine was bought by Ernesto Valente in 1948. This company is still synonymous with cafes even now. Gaggia and Ernesto Valente did not agree on what market should be the focus. Gaggia thought his machine should be a luxury item and to be enjoyed only by higher end establishments. But, Valente belived otherwise. So, what he did was to make cheaper espresso machines so all size coffee houses could afford them.
Faema E61 Espresso Machine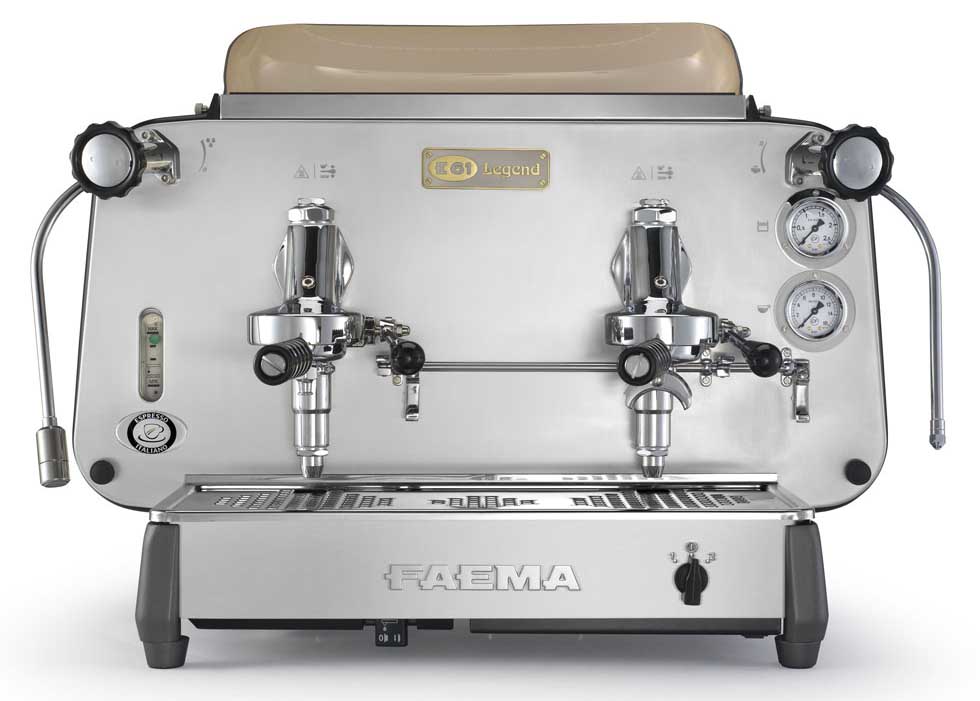 Faema E61 – Father Of The Modern Espresso Machines
In 1961, Valente released the now world famous Faema E61. This espresso machine is the "father" of today's more modern machines. This was the very first semi-automatic espresso machine that didn't require any "elbow grease" from it's operators and it let the barista manage the parameters of each extraction. The internal boiler was put in horizontal instead of vertical. This helped to convert the average cafe bar into a totally different social space where customers and the baristas could chit chat while the espresso was being pulled. This led to an explosion of the neighborhood espresso bar and cafe in Italy.
Italian Cafe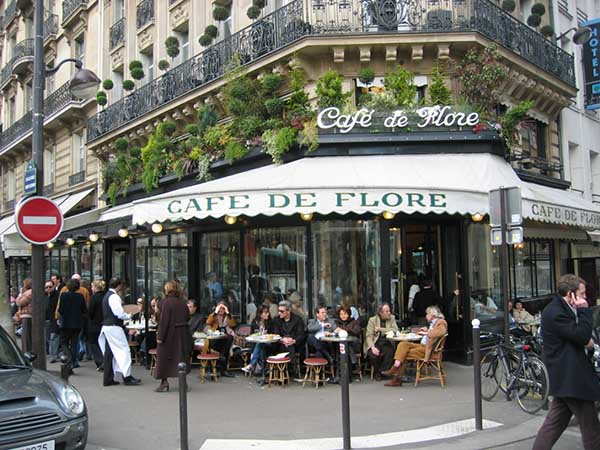 Italy Still Has The Same Coffee Culture From The 40's 
If you were to visit Italy today, you would immediately see that the coffee culture that was created back in the 40's is pretty much the same as the one you see today in Italy. For Italians, their coffee is important to them and they love going to their local cafes, order their espresso, refuse to pay high prices for it, drink it and head off to their next appointment or stop.

For a lot of us who drink espresso, it means we are tasting some excellent coffees with very complex flavor profiles, but often not obscured by adding sugar or milk. But for many Italians, espresso conjures up tender memories of sitting in a quaint neighborhood piazza and sipping on a latte on a warm afternoon. It's a culture to them, not just a drink. It involves going to a local cafe or neighborhood bar and grabbing a robusta lined espresso shot for extra adrenaline boost before going to work or a mid-afternoon pick me up. Espresso is a sense of place, being part of the local environment and enjoying life at it's simplest.
Italian coffee culture stays pretty much the same and seems to be unaffected at all by the globalization of their beloved espresso. But one could say that the global coffee culture we know today has been extremely affected by the coffees of Italy. The huge exportation of espresso has been extremely successful from Seattle, Washington to Sydney, Australia. In fact this Italian extraction is what forms the basis for the majority of all the coffees we drink.
Espresso The National Drink Of Italy
Espresso is so important to the Italian people that they consider it to be their national drink and this is one of the reasons why big chain coffee brands and specialty coffee houses from outside of Italy have not been able to find success. There was even one time the Italian government tried to convince the World Trade Organization to restrict the use of "Italian Espresso". Even though this failed, Italian Parliament to this day will send inspectors all around the world to make sure that the coffee produced to make espresso lives up to Italian standards of quality.
History Of Espresso Continues As We Make More Advances In Technology That Further Enhance Our Favorite Drink.
That brings us to the end of "A Brief History Of Espresso". The next time you're having your favorite cup of espresso drink you will be happy to know that you're part of a long history. In fact you are having a drink that has a long history in the making. We would love to hear your thoughts on the history of espresso. If you think we left an important fact out or have comments we would love to hear them down in the comment section.
Source: A Short History of Espresso in Italy and the World in 2008
---
WHAT TO READ NEXT:
How to Lose Weight With Coffee?
Opening a Coffee Shop? Find Out How Not To Fail!
Coffee Cake Recipe – Simple Easy To Make