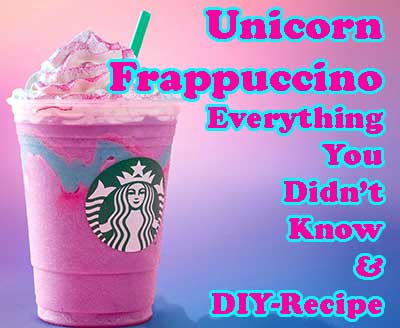 What is a Unicorn Frappuccino?
According to Starbucks – the coffee king, Unicorn Frappuccino is a "flavor & color changing creation" it's made with a dusting of pink powder blended into a mango creme Frappuccino & layered with a sour powder topping.
Quick Fact: Unicorn Frappuccino's color transforms from purple to pink and the flavor changes from sweet & fruity to tangy & tart when the drinks is stirred.
Unicorn Frappuccino was brought to the spot light by Starbucks but they are not the only ones serving up this mystical drink. Independent cafes have been serving this drink as well and every coffee shop has its own secret recipe for the famous Unicorn Frappuccino. In fact it was recently reported by CBSNEWS that Starbucks has gotten sued over the drink by a independent coffee shop for trade mark infringement. Sounds like the coffee king – Starbucks was not the first one to come up with the Unicorn Frappuccino idea after all. Starbucks just made the Unicorn Frappuccino one of the most popular drinks in recent history but didn't invent it. We'll just have to wait and see who comes on top in the lawsuit to see who actually owns the Unicorn Frappuccino.
Unicorn Frappuccino – Taste Test
The Unicorn Frappuccino can actually give its consumer a taste of different flavors in a single drink all depending on how the consumer stirs and mixes the drink with the straw. The drink can taste both sweet & sour. In our taste test the Unicorn Frappuccino tasted pretty sweet to start off with and that was without stirring it at all, but once mixed it started tasting tangy & sour and not to mention the color change. Other members on the taste test team of Unicorn Frappuccino said it tasted fruity & sweet, like mangos & cotton candy combined together. No wander it's called a Unicorn Frappuccino. The Starbucks Frappuccino that we tested had a dusting of pink power on top with mango syrup and layered with a generous amount of sour blue drizzle. The drink was finished off with vanilla whipped cream & sprinkle of sweet pink & sour blue powder as a topping.
Unicorn Frappuccino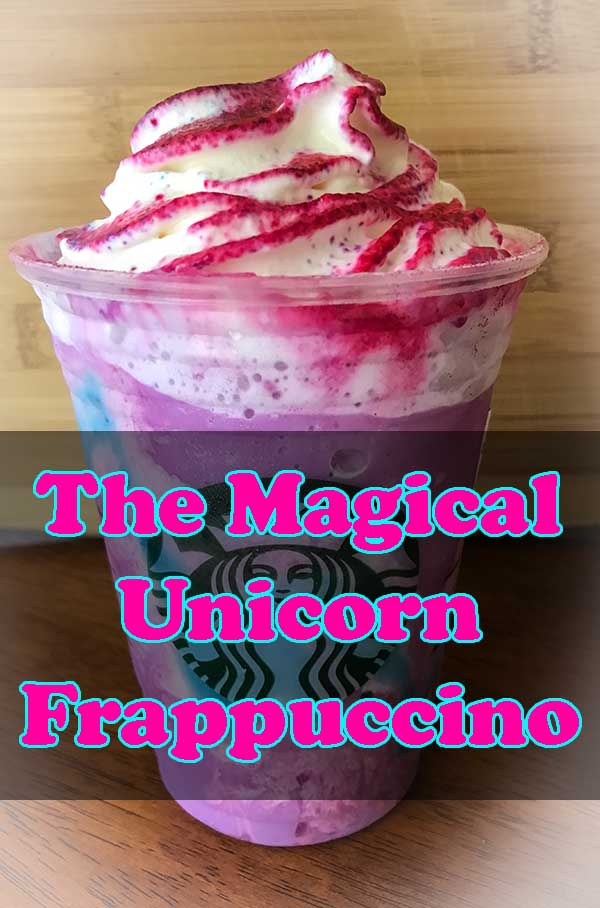 The Verdict: Unicorn Frappuccino
The drink with its hype in the consumer market meets with the actual drink's presentation and taste. We recommend getting one to try for yourself from your nearest independent coffee shop. See for yourself what the craze is all about.
Note: Starbucks has discontinued the Unicorn Frappuccino. If you're lucky one of your coffee shops nearby may be offering them (At Premium Price Off Course:)
Where To Get A Unicorn Frappuccino?
Sadly, Starbucks discontinued its poplar drink "Unicorn Frappuccino" and most people late to the party are scratching their heads as to where they can get their hands on one now. Starbucks Unicorn Frappuccino party started on April 19 and ended on the 23rd. After the Unicorn Frappuccino went viral there seems to be independent coffee shops all over popping up offering their own version of one. If you're lucky there is one nearby. With a little luck and some googling online you will be able to find one. Off course you can all ways go back to The End Brooklyn which claims it's the source of the magical drink "Unicorn Frappuccino", but you would have to be in the area. For the rest of us we'll just have to make it our selves at home. Lucky for you we've got you hooked up today. Read our "How To Make Unicorn Frappuccino At Home" section below to learn to make the drink at home and not be left out of the party even if you arrived late.
How To Make Unicorn Frappuccino At Home?
You're in luck since Espresso Gurus got our hands on the recipe video for the popular drink Unicorn Frappuccino. If you were wondering how the magical drink was made since you can't get one at Starbucks anymore or maybe your corner coffee shop is charging an arm & Leg for it we've got just what you need. Watch this video "How To Make Unicorn Frappuccino At Home" video and make the craze at home all for a fraction of the price.
Require A Blender? Consider These There On Sale Now!


Important Note: You will need a good home blender for the task.
DIY Unicorn Frappuccino – Video

Want another video for DIY Unicorn Frappuccino We have You Covered! Look Below!
How To Make Starbucks Unicorn Frappuccino At Home Video

---
WHAT TO READ NEXT:
Easy DIY: Recipe for Cold Brew Coffee
Best Espresso Machines Under $100 | Ultimate Buying Guide
Best Coffee Machines Ranked | Buying Guide
How To Make The Best Coffee Cake | Recipe
4 Iced Coffee Cocktails For Adults Only!
Best Home Use Blenders Ranked & Reviewed | Buying Guide
How to Lose Weight With Coffee?