DIY Starbucks Unicorn Frappuccino Recipe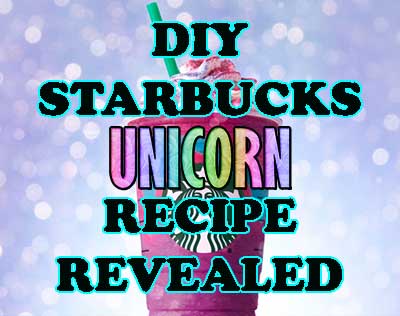 Starbucks Unicorn

Frappuccino Recipe

So you want to make Starbucks Unicorn Frappuccino at home? Lucky for you we have just what you were looking for. Thanks to HellthyJunkFood you will now be able to make the magical Unicorn Frappuccino at home. As many Starbucks Unicorn Frappuccino fans have realized the magical Unicorn Frappuccino was discontinued soon after it was launched (Reason: Unknown – It's so good why would they only offer it for couple of days). You may have also gotten wind of the fact that Starbucks was being sued over their Unicorn Frappuccino by a New York based independent coffee shop. So by now all of the fans of the vastly popular Unicorn Frappuccino had lost their hopes of ever getting to taste the goodness. This is why Espresso Gurus thought it would a great idea to research and find the best possible recipe for the magical Unicorn Frappuccino for all the late comers to the party. We know you're in a hurry so we will get right to it and not waste anymore time.






---
Unicorn Frappuccino Recipe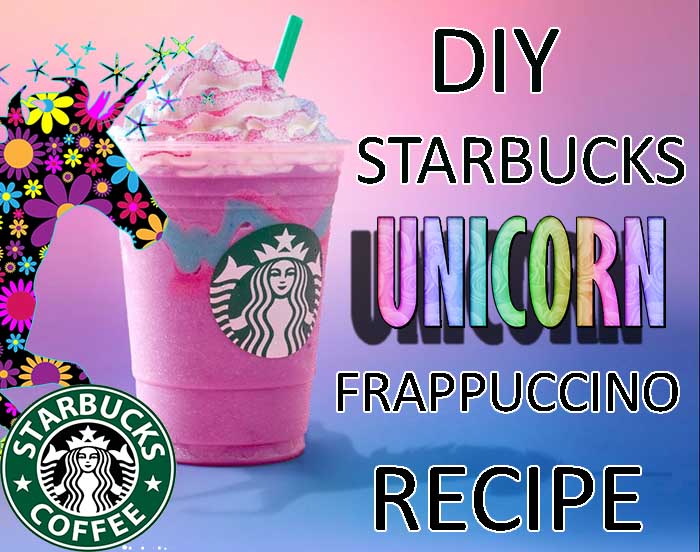 ---
Starbucks Unicorn Frappuccino Recipe
Prep Time: 5 Mins
Cook Time: 10 Mins
Unicorn Frappuccino: Estimated Nutritional Values
HellthyJunkFood Recipe = 480 Calories
Starbucks = 410 Calories
Equipment Required: Unicorn Frappuccino
1. Blender
Ninja Professional Blender (On Sale: $79.99)

2. Extra Wide Straws
EXTRA LARGE Milkshake Straws 1/2 Inch Wide 8 1/2 Inch Long (BUY NOW)

3. Smoothie Clear Glass
Gibson Embossed Glass 12 oz Milk Shake Glass ($19.99)

4. Decorator Piper
Wilton Dessert Decorator Plus (Buy Now)
Unicorn Frappuccino Ingredients
1 Pint Glass Of Ice
1 Cup Milk
1/4 Cup Heavy Cream
3 Tbsp Condensed Milk
1 Tbsp Mango Syrup
Monin Mango Syrup – (Buy Now)

2 Tbsp Pink Sour Sugar
Pucker Powder Topping Assortment Pack(Buy Now)

2 Drops Edible Pink Food Dye
Whipped Cream
Blue Syrup: Ingredients
1 Cup White Chocolate
2 Tbsp Blue Sour Sugar
2 Tbsp Heavy Cream
1 Tbsp Citric Acid
Milliard Citric Acid – 100% Pure Food Grade NON-GMO (Buy Now)
---
Unicorn Frappuccino Recipe Instructions
You need to make your blue syrup first. Melt the white chocolate in a pan or microwave whichever is easier for you.
After the white chocolate has been melted, stir the blue sugar, heavy cream and citric acid until the consistency is syrup like. Remember the more citric acid you add the more sour the syrup will become so keep it at something you can enjoy. Keep this syrup mix on low heat while stirring occasionally while you prepare your Frappuccino.
Now you will need your blender. Start blending the ice, milk, heavy cream, sweetened condensed milk, mango syrup, pink sour sugar, and finally the pink dye. If you want to make your Frappuccino more sour you can add some citric acid in your blender as well.
Now put your blue syrup that you had prepared earlier in the decorating piping and make round lines inside your clear glass.
Now put your Frappuccino which you have blended in the blender in the glass.
To top it off use whipped cream and generously top it and sprinkle the pink & blue sour sugar.
Finally grab your extra wide straw and start drinking your unofficial copy of the popular Starbucks Unicorn Frappuccino.
Now you can sit back and enjoy the unofficial copy of Starbucks Unicorn Frappuccino. If you like you can also invite friends over and showoff your connections within Starbucks and how you can get anything from Starbucks even if it's been discontinued. And don't forget to ask your friends as to why this awesome Unicorn Frappuccino has been discontinued but you still can get it (Just to rub it in:)
Just in case you need a video to get things done, We've included HellthyJunkFood's video for the Unicorn Frappuccino recipe. 
DIY Starbucks Unicorn Frappuccino Recipe Video
---
WHAT TO READ NEXT:
Best Espresso Machines Under $100
Espresso Machines | Ultimate Buying Guide
Best Coffee Makers Buying Guide 2017
Best Home Coffee Grinder Reviews
4 Iced Coffee Cocktails For Adults Only!
Is Coffee Good For You? The Final Word!
Tips For Starting A Coffee Shop
KONA French Press Coffee Tea & Espresso Maker Review
Kahlua Recipes: Frozen Mudslide
---
REF:
Mashable – HellthyJunkFood – Starbucks
Disclaimer: Nutritional facts are estimated | Espressogurus.com is not liable or responsible if the reader decides to use this recipe. Use this recipe at your own risk. This recipe is only a guessed copy of the popular Starbucks Unicorn Frappuccino. It may not be the same exact recipe as the original Starbucks Unicorn Frappuccino recipe. This recipe is from HellthyJunkFood.com
Please follow and like us: