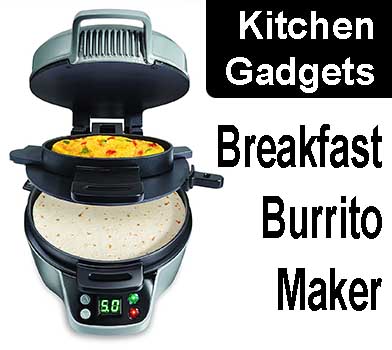 Breakfast Burrito Maker
Love breakfast burritos but don't want to go out to a restaurant to buy one? Well, problem solved with this nifty little breakfast burrito maker made by Hamilton Beach. This could end up being one of those "I can't live without" appliances you'll want in your kitchen!
Convenient and Easy to Use
This convenient little appliance is extremely easy to use because it basically does all the cooking for you whenever you're in the mood for a great tasting breakfast burrito. This breakfast burrito maker will make it difficult to want to skip breakfast or head out to the local drive-thru to pick up a breakfast burrito that might not even be what you want. The most difficult part about this breakfast burrito maker is trying to figure out what ingredients you want to put in your breakfast burrito!
Helps Your Right Along
You won't be left guessing with this breakfast burrito maker because as soon as it's preheated the preheat light comes on letting you know it's time to layer all of your favorite things like the tortilla, eggs, peppers, ham, onions, cheese, you name it, you can easily add it. You'll never have to stand around and wait endlessly because the timer that's built in sounds off when the entire breakfast burrito is done and ready to remove.
You'll be enjoying your own creative breakfast burrito in just five minutes using all your favorite fresh ingredients right out of your own refrigerator. This handy breakfast burrito maker even comes with its own cookbook that has some really fun and easy recipes to make.
It's Not Just a Breakfast Burrito Maker
Even though this handy little appliance was designed for you to make breakfast burritos, it doesn't stop with just that. Not only can you create wonderful burritos, this machine will also allow you to create delicious pancakes that are stuffed, great tasting omelets, personal pizzas, crepes and much more.
Breakfast Re-Invented
Having this great kitchen gadget in your home you almost feel like you're re-inventing breakfast. With all the things you can do with it and how quickly it cooks each item, you'll be able to give everyone in your home a quick and delicious breakfast every single day no matter where they are going or how much time they have to eat breakfast. It's a great item for a busy family with kids who tend to try to rush off out the door before eating the most important meal of the day. It's so quick and easy to use that even as they rush out the door, you can hand them something that's warm, healthy, and good tasting to get their day started off on the right foot.
Easy Cleaning
Finally, one of the best things about this breakfast burrito maker is that not only does it help you create quick and easy meals, it's extremely easy to clean as well. This is because all of the cooking surfaces on the machine are nonstick and the parts that are removable are easy to take off and pop right in the top rack of your dishwasher. So, there's never any messes to worry about cleaning up either.
To Purchase The Breakfast Burrito Maker By Hamilton Beach Click The Link Below
---
WHAT TO READ NEXT:
Drinking Coffee In Space! International Space Station Gets Its First Coffee Machine Delivered
How do coffee pod machines work? Pros and Cons
The Best Coffee Shop in Wyoming Revealed
Cold Brew Coffee Recipe: Vietnamese Iced Coffee
Coffee Cocktails: How To Make Raspberry Truffle At Home
Top Espresso Machine Reviews – Home & Office Use
Espresso Machine Buying Guide | For Beginners
Popular Coffee Maker Reviews – Home & Office Use
Home & Office Coffee Maker Buying Guide | For Beginners
Top Coffee Grinder Reviews | Home & Office Use
Popular Blender Reviews – Home & Commercial Use
---
Ref: Hamilton Beach