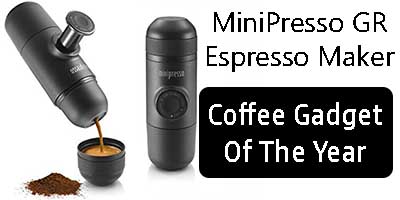 MiniPresso GR Espresso Maker
Portable Espresso Maker
Love espressos but you can't take the time to go to a coffeehouse to get one? Are you off on a camping trip and there is no place near to get your espresso fix? Well, those days are over now with this MiniPresso GR Espresso Maker by Wacaco. You'll be amazed at this tiny little coffee gadget and how simple and easy it is to have espresso no matter where you are.
High-Quality Espresso Anywhere Anytime
If you are a true espresso lover and can't go a day without at least one cup of this great tasting stuff, then you are going to love the MiniPresso GR Espresso Maker. With this espresso maker you'll be serving up great tasting espresso anywhere you might be. No matter what your schedule might look like, this mini espresso maker will allow you to pull delicious shots whenever you have a craving for a cup of espresso.
You can now, with this unique coffee gadget take your espresso on the road and well beyond the restrictions of your local cafe. Whether you're out camping in your tent, staying in a hotel, at work, or at home, this portable espresso maker has your espresso fix covered and you'll never have to go without your morning pick me up.
---
---
Compact & Portable Espresso Maker
Quick, Easy, and Less Money
You'll be able to enjoy a great cup of espresso or even two if you want in the same amount of time that you waste standing in line at your local coffee shop and it's not even going to cost you nearly the same amount of money you've been dishing out for those coffeehouse shots. Also no more putting up with that horrible tasting coffee coming out of that office coffee pot.
Simple and Straightforward Design
It doesn't get much simpler in design than this MiniPresso GR Espresso Maker. This little gadget is powered by hand and there is no electric cord to get in the way and you don't even need batteries in order for it to work. So no matter when or where you get the urge for some espresso all you need is some ground coffee and hot water and before you know it, you'll be sipping away on that cup of java.
There is a total of six pieces that make up this little
portable espresso maker
which includes even a scoop for perfectly measured extraction and it also has its own shot cup so you don't even have to worry about what you're going to pour your espresso into.
This little gadget measures just 6.89 inches, weighs 0.8 pounds and has 116 PSI or 8 bars of pressure to produce your espresso with. Not too shabby for such a tiny espresso maker. It's small and light enough to carry in a small backpack or even your purse.
Where Do You Get the Hot Water From?
Basically, you can get your hot water from anywhere. You can get it from a pot of heated water, from a hot water dispenser, insulated water bottles, warm it up in a microwave, ask a flight attendant for hot water when on a plane, at the fast food drive-up window, you name, you'll find it.
Portable Espresso Maker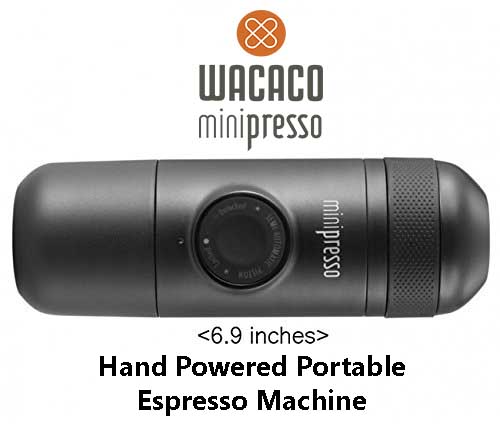 Want To Buy A MiniPresso GR Espresso Maker? We Have You Covered!
MiniPresso GR Espresso Maker Price (Click The Link Below)
MiniPresso GR On Sale Now!
Price & Order Info Click Here
---
WHAT TO READ NEXT:
Best Espresso Machines Under $100
Best Espresso Machines Under $200
Best Espresso Machines Under $300
Best Espresso Machines Under $500
Best Espresso Machines Under $1000
Best Drip Coffee Makers Ranked
Home & Office Coffee Grinder Reviews
---
Ref: Wacaco