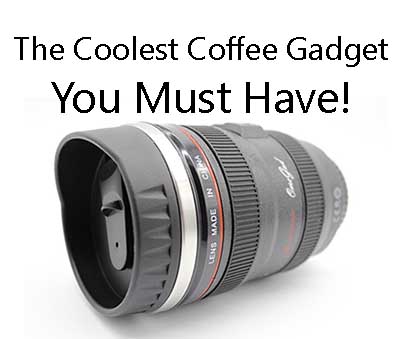 The One Coffee Gadget You Must Have!
Here's a coffee gadget that is not only clever but really fun to drink your coffee out of. This coffee mug looks exactly like a lens for a camera. This can be a great mug to drink out of if someone is a huge photography buff or a great coffee mug gift. It's a whimsical way to drink your morning coffee or even to play a joke on someone who might think you're really drinking out of a camera lens and you've kind of lost it.
Realistic and Great for Travel
This coffee mug is ideal for any kind of travel whether it's commuting to work, going out for the day, traveling on vacation or wherever. It's one that will definitely get people talking as you casually walk into work sipping your coffee or other favorite beverage. This mug especially from a distance, is so realistic you'll be enjoying all the curious looks you'll be receiving. This coffee mug is made to scale with a real camera lens with it made to look like a real lens that's 24-105mm f/4 L IS Lens, which includes all the real details one would find on this kind of a camera lens. It's really hard to tell the difference between this mug and a real camera lens.
High Quality | Coffee Mug
This coffee mug is one that is made with high-quality thermos materials and both the stainless steel and the plastic are made from food grade materials making the mug extremely safe to keep your beverages in. The stainless steel interior is meant to keep all your hot beverages warm for a very long time and will cut down on the possibility of getting scalded from really hot coffee or other hot beverages. It will also keep your cold beverages cold.
Versatile Mug
This lens coffee mug is also very versatile. Not only can you use it as your favorite travel coffee mug, but you can use it for your favorite tea, hot or iced. You can also use it for other beverages that require something to keep them cold like iced coffee, water, juice, or sodas. It also makes for a great little decorator piece when you aren't using it to carry your favorite beverage in. No need to keep it stored away with your other mugs. This is especially true if you're a camera buff and want to display it with your camera or even to accent some of your favorite framed photos.
Good Size & Sturdy | Coffee Mug
This coffee mug is a good size for those who want to make sure that they get enough coffee to start off the day. It holds about two regular cups of coffee, or 12 ounces which is a nice size for a travel mug. It also is extremely sturdy so if it gets knocked over or even onto the ground you don't have to worry about it breaking upon impact.
See Through Lid
The lid screws on nicely and a great feature it comes with is that you can see through the lid, not only making it look more like a real camera lens, but it also allows you to keep an eye on the level of your coffee that's in the mug. An added bonus is the carry bag that comes with it that resembles the same kind of a bag that carries a real camera lens.
OmeGod Coffee Mug Customer Ratings

Want To Purchase The OmeGod Coffee Mug? We Have You Covered. Click The Link Below & Get It At The Lowest Price Right Now!
---
WHAT TO READ NEXT:
Best Espresso Machines Under $100 Ranked
Best Espresso Machines Under $300 Ranked
Staresso Portable Coffee Maker Review
7 Best Cuisinart Coffee Makers Ranked
Best Drip Coffee Makers Ranked
Home & Office Coffee Grinder Reviews
Home & Commercial Blender Reviews
---
[pt_view id="a669ee8t7h"]
REF: OMEGOD