Make Life Simpler With These Kitchen Gadgets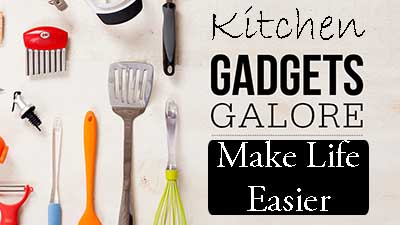 Kitchen Gadgets For A Simpler Life Style
In today's busy world we're always looking for ways to make life simpler so why not start in the kitchen? After all, a lot of our time is spent there it simply makes sense that we have gadgets in the kitchen that can help us simplify our time spent there. Here are just a few kitchen gadgets we think you might find helpful in the kitchen.



---
Kitchen Gadget #1
Chef'n Cob Corn Stripper
Not everyone has an easy time eating corn off the cob but, it doesn't seem fair that they should miss out on the great taste of fresh corn on the cob. Well, here's one of those kitchen gadgets that can easily solve that problem.
It's the Chef'n Cob Corn Stripper. This nifty little gadget is compact and easy to use. The stainless steel blades of this corn stripper make quick work of removing the kernels from the cob and you can strip an entire cob of corn in just seconds.
---
Kitchen Gadget #2
YIJIA Onion Holder Vegetable Potato Cutter Slicer Gadget
We all know how much of a pain it can sometimes be to stand there slicing an onion and trying to make sure that the slices are all about the same size. Well, this gadget is one that will make life a lot easier when it comes to slicing those onions.
This kitchen gadget has stainless steel prongs that hold the onion in place and guides you as you slice the onion. You can also use this little gadget to slice tomatoes, potatoes, carrots, cucumbers and even boiled eggs!
Easily Cut Tomatoes
---
Kitchen Gadget #3
I-Choice Biscuit Egg Molds
Now, who gets tired of those eggs spreading all over the skillet when you're trying to cook them? Most people don't and in fact, find it annoying. Well, with this piece egg mold set, problem solved.
Not only are these mold great for cooking the perfect shaped egg for a breakfast sandwich but they come in round, flower, heart, and star shapes so you can add a little fun to breakfast. These molds are also good for potato pancakes, pancakes, scrambled eggs and more. Wonderful kitchen gadget to have around.
---
Kitchen Gadget #4
Ziggler Citrus Sprayer Lemon Lime 3 Piece Set
Hate it when a recipe calls for a few squirts of fresh lemon, lime, or other citrus fruit and then half the time you waste the fruit that's left over? Well, you don't have to worry about that anymore with little gadget. All you need to do is just pop the mister right into the fruit and you can immediately spray in fresh citrus into any recipe.
This little gadget includes two different sized misters for the best extraction of juice. A longer one is ideal for bigger fruits like oranges and grapefruit. The shorter one is great for smaller fruits like limes and tangerines. It also comes with a small pedestal dish so you can rest the used fruit and mister on it when you are not using it. With this great kitchen gadget, you won't be wasting any more of that fruit.
All of these great little kitchen gadgets are perfect for making life easier and simpler in the kitchen and who doesn't want that?
---
WHAT TO READ NEXT:
Please follow and like us: