Coffee Expert Spills The Beans On 6 Things Every Coffee Lover Should Have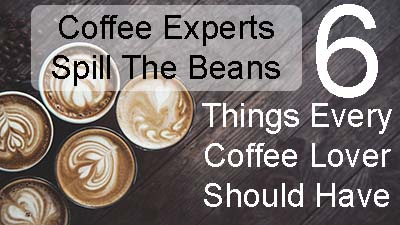 Coffee Expert Advice On The Art Of Coffee
I'm not alone when I say that I'm like a zombie until I've had that morning cup of Joe. Getting up everyday brushing the gems and finding something with fat to eat in the morning is something I might forget to do but drinking my energy drink (Coffee) is something I never dare forget. But as with everything else in life there is a better way of drinking coffee. This is where the coffee expert "Paul Toscano" comes in. In a recent article on business insider, Paul Toscano, chief marketing officer of Joyride Coffee, explained 6 things he thinks most coffee lovers might be missing and should have in their cupboards.



I've listed below the 6 things that every coffee drinker should have according to the coffee experts. You might want to get yourself a cup of coffee before you go through this eye opening secret. Paul not only named the things but also the reasoning behind it. I will stop here, and let you see for yourself what your missing in your kitchen. However if you do have the following then congrats to you for not only loving coffee but for also knowing the art of coffee.
---
Expert Advice For Must Have's For Every Coffee Lover
---
Chemex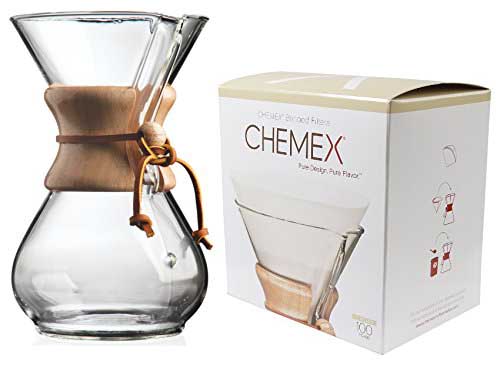 A Chemex
Paul's first pick is a Chemex because he says the best home setup is the pour-over. Unless you routinely have large gatherings at home, it's the best coffee setup that will provide you with consistent and rewarding coffee experience overall.
His favorite is the Chemex, because this tried & true method dates back to the 1940's. Invented by a German chemist, its not only a great functional method but also looks amazing. When brewing with a Chemex your sure to feel like a true barista at home. The aroma of coffee flying all around you will take you a step above in the love for coffee. FYI: MOMA's (Museum of Modern Art) permanent collection has included Chemex. If you're wondering where you can get this coffee experts pick from below is a link to get your hands on one now.
Expert's Pick

Chemex Classic Wood Collar and Tie (Check Price)
---
Gooseneck Kettle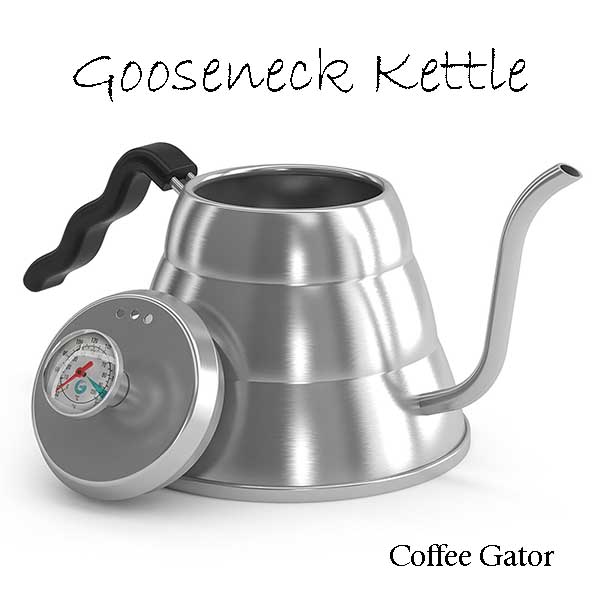 A Gooseneck Kettle
Since you know pour-over or hand-crafted brew method is the choice of experts then a gooseneck kettle is a must. It allows you total control of pouring, which I remind you is the essence of pour-over methods. A normal kettle with its wide pour spout is far too imprecise for the delicate art of pour-over coffee.
Expert's Pick

Gooseneck Coffee Kettle 1L by: Coffee Gator (Check Price)
---
Aeropress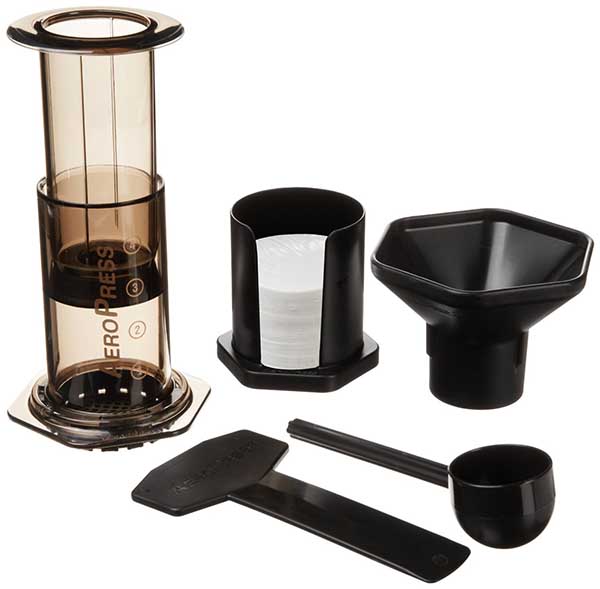 An Aeropress
If your into making one cup of coffee at a time there is no better choice than V60 or Aeropress, to truly let your coffee fumes marinate into your soul. All you need to do is brush up on your brew methods and pick a few filters and grab yourself a Aeropress coffee maker. To truly experience what the coffee experts feel every day don't just use any Aeropress, use what the experts use themselves.
Expert's Pick

Aeropress Coffee and Espresso Maker (Check Price)
---
---
Acaia Professional Digital Coffee Scale
A Digital Scale
Ah the trust worthy scale. Often overlooked but an integral part of coffee art. To be precise you will always run into needing a precise & professional scale. The Acaia scale is what just the doctor ordered. It is appealing to the eyes, extremely precise and also connects to your mobile device for added functionality. This kitchen gadget has a built-in timer, which is very important for hand-brewing methods. It's a bit pricey and may not fit into your budget so you can try a simple gram scale with a phone timer which will also do the trick. However we've listed both of the picks by the coffee expert below.
Expert's Picks

Acaia Interactive Coffee Brewing Scale (Check Price)

Nourish Digital Kitchen Food and Coffee Scale + Timer: (Check Price)
---
Coffee Grinder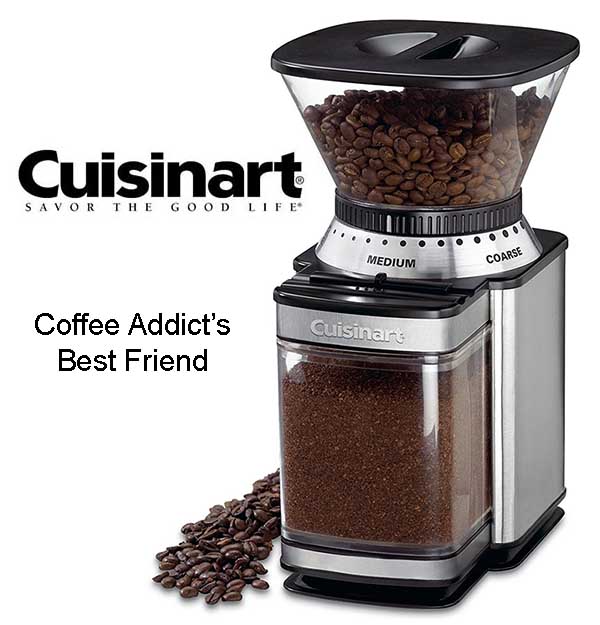 A Grinder
An obvious member of the coffee clan, but often overlooked by the coffee layperson. Most stores offer grinding services or you might even think of taking the hassle out by buying pre-ground coffee but then you won't fit into the definition of coffee lovers. A true coffee lover always grinds his own fresh coffee according to the method he is going to use to brew it. It's common knowledge pre-grinding will quickly dull the coffee and exposure to air will cause it to go stale much faster. For the best coffee experience it is highly recommended to grind your coffee immediately before brewing. The aroma of fresh coffee grounds should be enough for you to seriously consider getting yourself a good coffee grinder. Below you will see what our coffee experts recommend when grinding coffee.
Expert's Pick:

Cuisinart DBM-8 Supreme Grind Automatic Burr Mill (Check Price)
---
Coffee Thermometer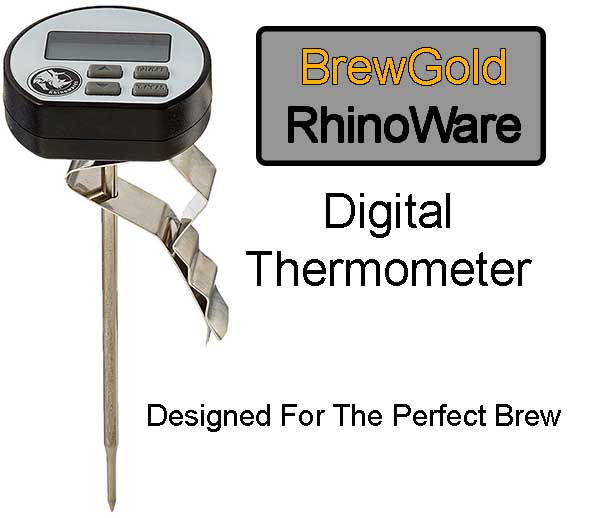 A Coffee Thermometer
Yes, the thermometer. Often overlooked but this little kitchen gizmo is very important in hand-brewing methods. It's all about temperature when it comes to the art of hand-brew coffee, or any coffee brewing method for that fact. This is why a thermometer is very important. But, not any thermometer. An instant digital thermometer can be your best friend when brewing coffee. Brewing at the right temperature can be the difference between drinking the best possible coffee you ever had or drinking the lame coffee you're use to at home. Below you will find what the experts recommend when it comes to the best thermometer for brewing coffee.
Expert's Pick

BrewGlobal Rhinoware Digital Thermometer (Check Price)
---
WHAT TO READ NEXT:

REF: Business Insider
Please follow and like us: