Brew Coffee the Smart Way With Mr. Coffee Wi-Fi Smart Coffeemaker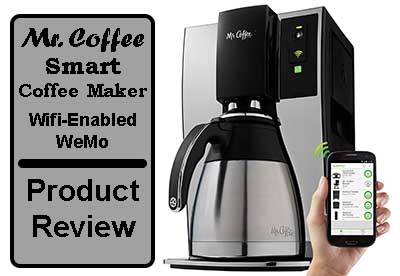 Wi-Fi Enabled Smart Coffee Maker
There's nothing like waking first thing in the morning to a freshly brewed pot of coffee. If you have a coffeemaker that can be programmed the night before that makes it possible to wake up to your favorite cup of coffee. But, what if you forget to program it the night before and there's no doubt this happens, then what? Well, Mr. Coffee has the answer for that problem with their Wi-Fi Enabled Smart Coffeemaker.



---
Wi-Fi Enabled – Smart Coffee Maker

WiFi Enhanced Coffee Maker
No more issues with forgetting to program that coffee maker anymore because this coffee machine by Mr. Coffee gives you the ability to manage your coffee maker from anywhere by using your WiFi connection on your smart device. This is easily done with the free WeMo app that you can download onto any smart device and you will be connected to your Mr. Coffee Smart Coffeemaker from anywhere. Couldn't get much more convenient than that.
---
WeMo Enabled Smart Devices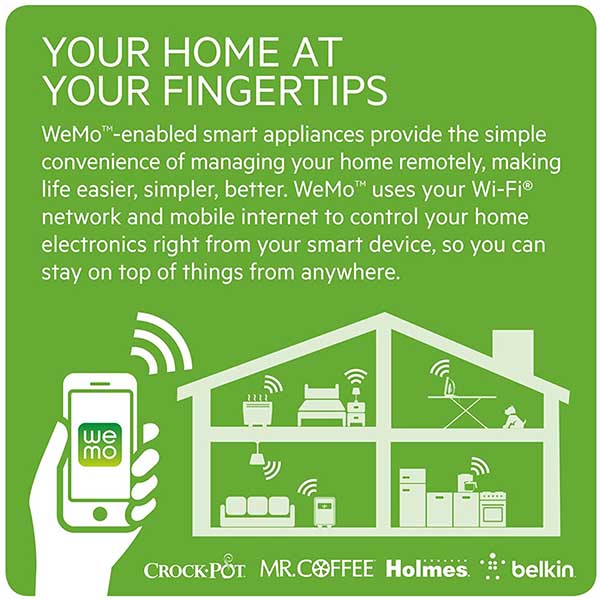 ---
---
Easy to Set Up
Nobody wants to buy a coffee machine that's going to be complicated and difficult to set up, there's just not enough time in the day to worry about those kinds of things. Not to worry. This coffee machine is user friendly and super easy to set up. Just plug in the machine, download the WeMo App to your phone and sync your coffee maker with the app on your phone. That's all there is to it and you're ready to have access to the machine at any time and from anywhere.
Mr. Coffee Smart Coffee Maker Easy Access
Schedule, Monitor & Modify
It can actually be kind of fun making coffee with this little machine. You can get into the app and set up weekly brewing schedules that go along with your busy daily schedule and once you have set up your schedules you can check on the status of the schedule and even make changes to it, even if you are at work. Don't worry about forgetting that you have a pot of coffee scheduled to brew the next day because it will send you a reminder the day before that your coffee is going to be brewed at a certain time and then on top of that it reminds you to make sure that you have the coffee filter filled and fresh water poured into the machine. So, if you are forgetful, like many of us are, your Mr. Coffee Smart Coffee Maker isn't going to let you forget. Now, that's pretty cool.
Mr. Coffee Smart Coffee Maker – Easy To Clean
---
Mr. Coffee Wi-Fi Enabled (WeMo) Smart Coffee Maker Video

CHECK PRICE NOW
---
Key Features
Of course the best feature is the convenience of the app (WEMO) that helps you have complete control over your coffee brewing from anywhere, but there are some other nice things about the machine we'd like to include:
Has an easy to fill and easy to remove side brewing basket for quick and easy cleaning.
The water reservoir is a big 10 cup capacity that's also easy to remove for filling without spills or messes.
Comes with the special Mr. Coffee Optimal Brew technology which means it infuses great artisan style brewing along with the convenience of a coffeemaker that's automatic. It also brews your coffee about 20% faster than other similar coffeemakers.
It lets you easily connect your phone to it over WiFi, 3G, or 4G networks and it's compatible with iOS7 or higher as well as Android 4.0 or higher.
Mr. Coffee | Wi-Fi Enabled Smart Coffee Maker

Mr. Coffee Wi-Fi Smart Coffee Maker Customer Ratings
We all want coffee brewing to be quick and easy especially first thing in the morning. With this machine those issues are taken care of. Not only do you total control over your brewing experience but you get some pretty good tasting coffee out of it too.



If you're wondering where you can get your hands on a Wi-Fi enabled smart coffee maker by Mr. Coffee, Then we have you covered. Click the link below and have this Smart Coffee Maker delivered to your doorsteps today all at the lowest price.
Mr. Coffee Smart Coffee Maker Price
---
What To Read Next:
REF: Mr. Coffee Wi-Fi Enabled Smart Coffee Maker
Please follow and like us: