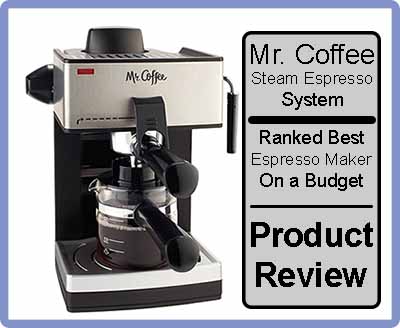 Mr. Coffee Steam Espresso Machine
If you are a coffee lover there's no doubt that you love a variety of different coffee beverages including espresso. It's also probably true that you more than likely waste a lot of your time in line getting that delicious espresso machine. Well, you really don't need to do that anymore. Why not just get your own espresso machine? Wait, hold on you say? You can't afford one of those expensive machines or you don't have any room in your kitchen for one? No worries there, Mr. Coffee has come up with solutions for both of those issues with their four cup steam espresso machine.



---
Budget Espresso Maker
Inexpensive Yet Great Tasting Espresso
Most people think when a product has a cheap price tag attached to it means low quality. That couldn't be further from the truth when it comes to this espresso machine. Even though the price tag is small, the espresso it produces is high-quality. This little inexpensive machine lets you brew up to 20 ounces of delicious espresso and it brews it in its cute little glass decanter so you can then serve one to four cups of great tasting espresso. It also helps you make delicious lattes and cappuccinos. Heck, what more could you ask for?
Mr. Coffee | 3 Perks
Great Little Milk Frother
With this nifty little espresso machine, you can use its frother, that's extremely powerful for its size, and make yourself wonderfully rich cafe style lattes and cappuccinos with light and frothy deliciousness. Just think, no more waiting in long lines and paying an arm and a leg for your favorite espresso beverage! Now you can quickly and easily do it yourself right in your own kitchen.
Mr. Coffee Steam Espresso Maker | Easy To Use
Cute Glass Decanter
This machine comes with its own special glass decanter that is not only cute in looks but is very easy to use with its handle that stays cool, makes it easy to pour, and it even has a drip free spout so there's less mess on your kitchen counter.
Easy to Use and Clean
You don't have to be a professional barista to make some great tasting espresso coffee at home, not with this Mr. Coffee Steam Espresso Machine. This little machine is easy enough for anyone to use. Just put in the water you need and your favorite coffee and the machine does the rest for you. Just wait for the hot steam to force itself through the filter to start brewing up some great dark and rich tasting espresso.
It's just as easy to clean as it is to use too. The drip catcher that helps cut down on drips is easy to remove for quick and easy cleaning. The frother can also be easily removed so that you can easily clean the entire machine quickly so it's ready for its next brew session.
So, if you're tired of those long lines and high prices you might want to consider putting one of these little machines in your kitchen. If you don't need one, they sure make wonderful little gifts for that special someone in your life!
---
Mr. Coffee Steam Espresso System: How To Use Video

CLICK HERE TO ORDER
---
Want the Mr. Coffee Steam Espresso System delivered to your doorsteps today. Want it at the lowest price? Well, we have you covered. We've included a link the the lowest price below. Click on the link below and get this space saver steam espresso system delivered to you today.
Mr. Coffee Steam Espresso System Price



---
WHAT TO READ NEXT:
[pt_view id="a669ee8t7h"]
REF: Mr. Coffee