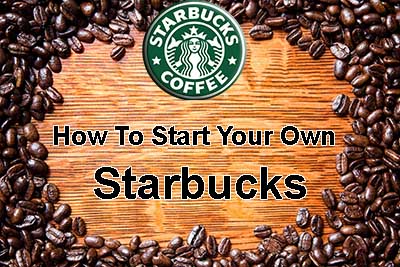 Starting A Starbucks Cafe
Before you get your hopes up, it's important to realize that Starbucks doesn't sell independent franchises to individuals that want to open up a Starbucks cafe. However, they do license businesses that they feel are qualified to open up one of their licensed stores within their own business. A few examples would be places like airports, supermarkets, schools, and other large public businesses.



---

Application for a Starbucks Licensed Store
Unfortunately, Starbucks doesn't make public what the qualifying requirements are for opening up a licensed Starbucks cafe. The process simply starts with an application. If you or you know someone who is interested you would have to go to their website and click on "Apply for a Licensed Store" in order to fill one out. After you've done that Starbucks will then evaluate you and then you'll be notified one way or another.



Even though they may not post their qualifying criteria to the public, you can easily make some kind of educated guess by just looking at existing Starbucks cafes in your area.
No Newbies Allowed Usually
The first thing you will realize when it comes to qualifications is when you fill out the application it starts right off by asking for your company name and any website information. That right away tells you that you need to have an established business right from the start. The application will also ask you to state what your total assets, liabilities, net worth, and your total non-borrowed funds are that could be available for investment. That right there should tell you that to be successful when it comes to the application you need to be an established business person that has an existing business with some pretty substantial assets.
If your thinking of starting a coffee shop then having this book "The Daily Grind" will prove to be a very helpful. This book is a in-depth guide on "How to open and run a successful coffee shop business"


The Daily Grind: How to open & run a coffee shop that makes money
Licensee Profile
As you get further into the application it will also ask you if you have ever applied for a Starbucks cafe license before. They also will want to know if there is more than one site that you want to apply for. Both of these things suggest that Starbucks is definitely looking for those who are experienced business owners and prefer potential owners that have sufficient assets to actually own more than one site.
You Could Try This
If you don't already have a well-established business, there is an ever so slight chance that you could be accepted if you have real estate that is located in very high traffic locations. This would be places like an airport, hotel, grocery store, college campus, healthcare facility, and a variety of retail locations.



You would need to get a loan unless you already have a place ready to set up. But, if not you'd have to get a small business loan. Once you have the loan you'd have to buy some prime real estate or buy out an existing business that might already be doing well. Once you have your money and real estate then you can try and apply for a Starbucks license.
Other than that, there really is no other way in which you can open up your own Starbucks cafe.
---
WHAT TO READ NEXT:
5 Marketing Techniques To A Successful Coffee Shop Business, You Didn't Know!
Tips for Starting a Coffee Shop
[pt_view id="a669ee8t7h"]