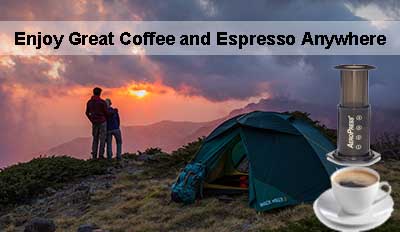 Aerobie | AeroPress Coffee Maker
If you are someone that is the kind of person that simply can't be without your favorite coffee or espresso no matter where you are you won't have to look any further than this AeroPress Coffee and Espresso maker. With this little gadget, you'll be enjoying coffee or espresso in your own home, on the road or in your office at work and without being hampered by electrical cords and taking up a large area to do so.



---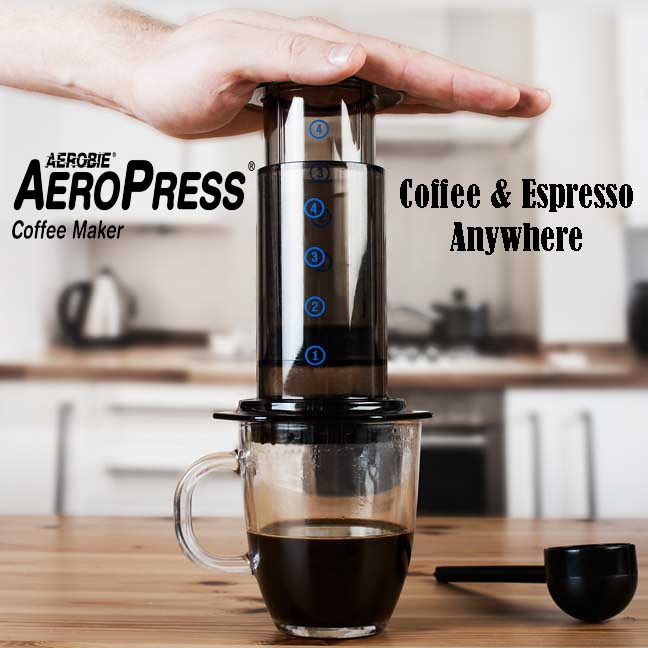 Immersion and Gentle Pressure
The reason why this little coffee and espresso maker makes such great tasting coffee is that it is one that uses the process of total immersion along with gentle pressure to make coffee that simply tastes great producing a really rich flavor you will enjoy cup after cup.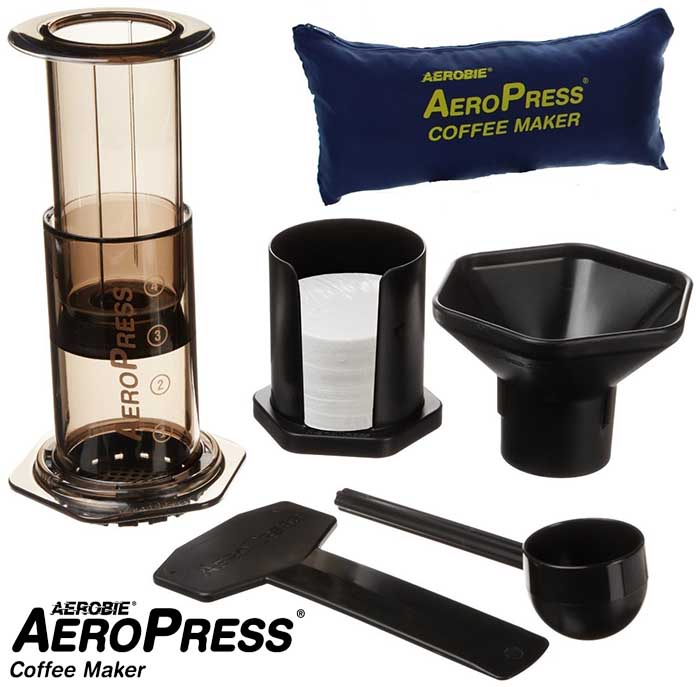 AeroPress Coffee Maker Ratings & Details

AeroPress | Quick and Fast
This should really excite people who love coffee because this little machine is like a coffee press that brews wonderful tasting coffee or espresso with no bitterness at all. What you will really love is the fact that you'll be enjoying your favorite coffee beverage in just one minute. Can you imagine that? That's right in one minute this little coffee and espresso maker will up to four cups of great tasting American coffee or rich tasting espresso. From the moment you add your hot water to when you are ready to drink it, this little machine takes about 30 seconds, amazing because that's like a really fine tuned espresso machine.
When you compare this to the time it takes to fill up a
drip coffee maker pot
or the time it requires to steep with a traditional coffee pressed, you will be amazed. Where it takes minutes with more traditional machines such as these, it takes only seconds for this little thing. Often, the longer it takes to make the
coffee
or
espresso
, the more likely you can end up with acidic and bitter tasting coffee.
Hot Water Not Boiling
What sets this machine apart from other more traditional machines is that you don't need to use boiling water, just some hot water, this is what helps to cut out the bitterness.
Easy and Convenient and Use Anywhere
All you do is use coffee that's finely ground and put it in the special coffee filters which help to prevent any grounds from getting into our coffee or espresso cup. Pour in the hot water and use the press which only takes a total of 20 seconds for this process. It uses the hot water combined with gentle air pressure to make both coffee and espresso that has a very rich flavor with little to no acidity so your coffee never comes out tasting bitter.



You'll never have to be without your favorite coffee no matter where you are. As long as you have access to some hot water you can take this with you when you go to work, on fishing and camping trips or on vacation or a business trip where you are faced with the coffee they offer you in your room. We know how awful that coffee can be.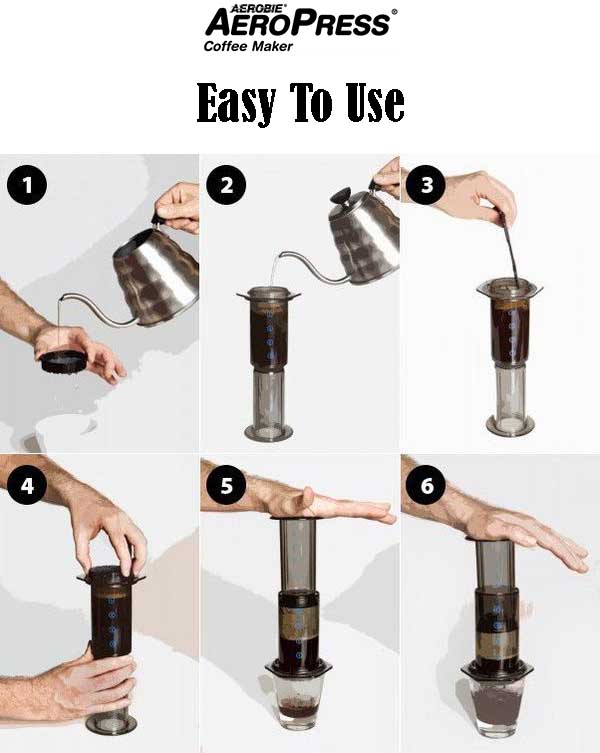 AeroPress Coffee/Espresso Maker Specs & Details
Here's How to Use It for Espresso
Put the micro filter in the bottom of the cap of the chamber and then twist it on tight.
Put two scoops of your favorite coffee into the chamber of the machine.
Stand the chamber on a mug that is sturdy and then pour your water into the chamber.
Stir the coffee and the water with the paddle that comes with it for about ten seconds.
Put the plunger into the chamber and press it down gently about a quarter of an inch and continue this pressure for 20 to 30 seconds.
That's all you do to make a double espresso. To make a latte just add some hot milk.
What a fun little machine to take with you everywhere you go. If your interested in purchasing this amazing little portable espresso maker then we have you covered. Click the link below and have it delivered to your doorsteps today.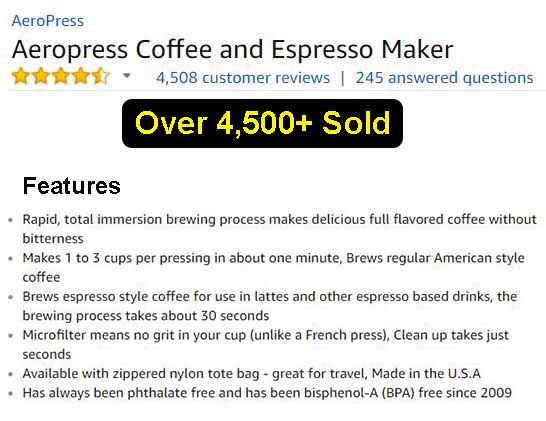 How To Use AeroPress Coffee & Espresso Maker Video

To Order Click Below & Get The Lowest Price

---
WHAT TO READ NEXT:
Bialetti Coffee Maker – Moka Pot – Stovetop Espresso Maker – Review
MiniPresso GR Espresso Maker Product Review
Best Espresso Machines Under 100 | 2017 Detailed Guide
Keurig K55 Coffee Maker Review
Presto Electric Coffee Percolator Review
Staresso Portable Coffee Maker Review
Handpresso Wild Hybrid Portable Coffee Maker Review
Best Coffee Makers Ranked – 2017 Buying Guide
[pt_view id="a669ee8t7h"]
REF: Aeropress