Keurig K250 Review
Looking for something that will add a little class to your kitchen and brew up some great tasting coffee at the same time? Well, if that's the case then you might want to take a closer look at the Keurig K250 coffee maker. This coffee maker has a great slim and sleek design that makes it easy to find a spot for on your counter. It also will be a great addition to your kitchen décor. To read the full review of the Keurig K250 continue below.



---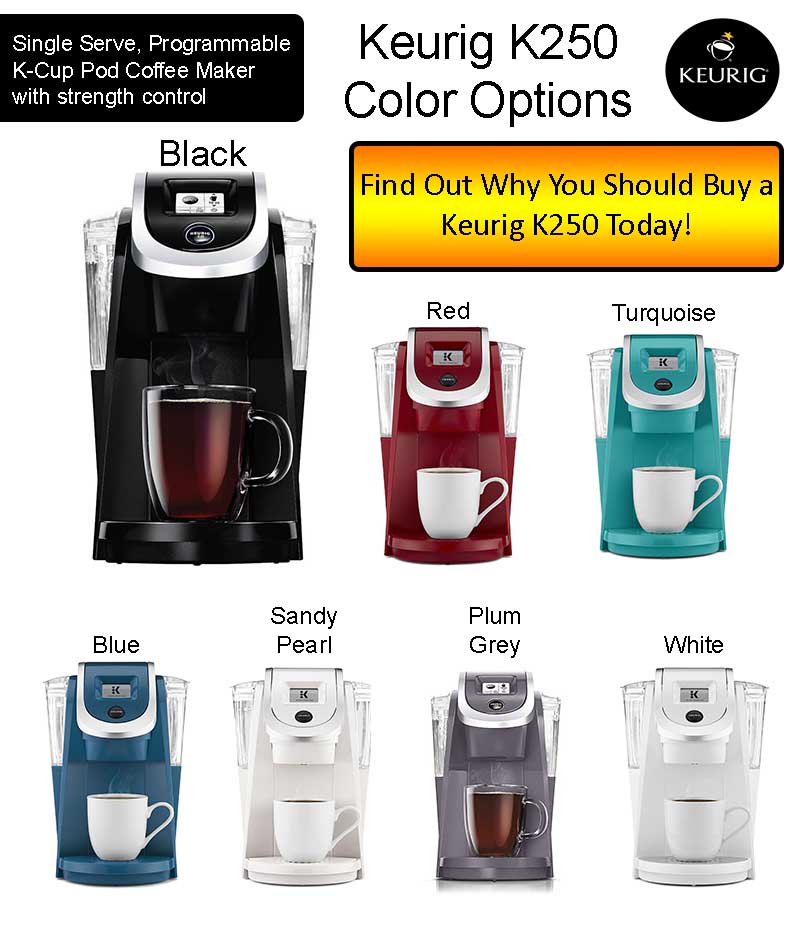 Keurig K250: Color Choices
If you are tired of the same old same old look when it comes to your coffee maker, you'll be happy to know that this Keurig K250 is one that gives you choices even when it comes to the color of the machine. You can choose from several different colors such as:
Standard Black
Imperial Red
Peacock Blue
Plum Grey
Sandy Pearl
Turquoise
White
So, now you don't have to settle for the same old same old. Instead, you can pick a color to make your coffee maker an accent piece in your kitchen.
Keurig K250 – Comes With
This great looking little coffee maker comes with a few extras to get you started the minute you plug it in. It includes four different tasty K-Cup pods, two water filters, a water filter handle, and a bottle of descaling solution that will help keep your Keurig K250 performing for a lot longer by keeping it clean.



Nice Size Water Reservoir
The water reservoir that comes with this Keurig K250 is 40 ounces which makes it the ideal size for a smaller kitchen and for those who like to be able to brew more than four cups of coffee at a time before they have to refill the water reservoir. Yes, it can brew single cups if that's all you want at the time, but it's prepared to brew you more on a moments notice with this nice size water reservoir. It also can be removed quite easily so it makes it easy to refill and easy and quick to clean.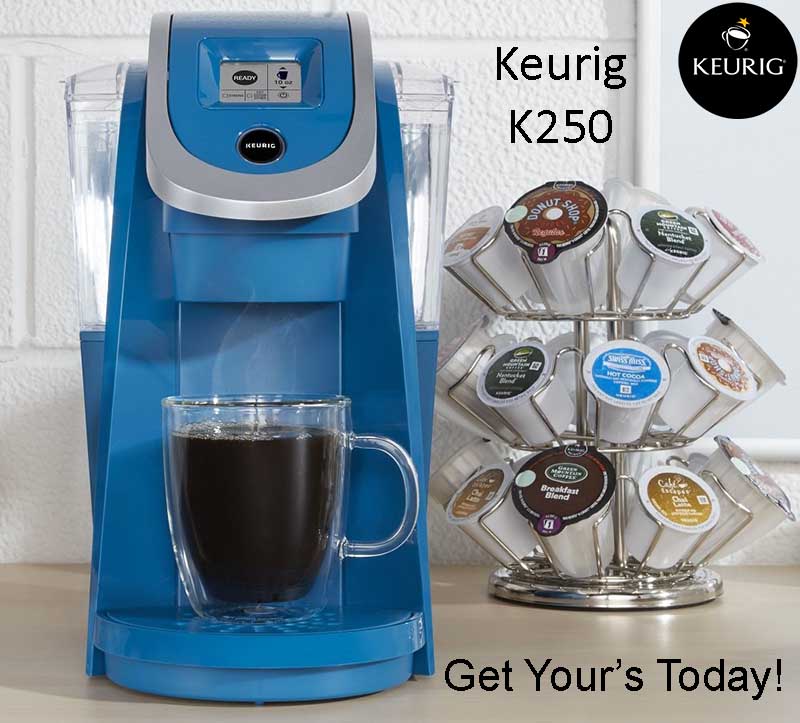 Multiple Brewing Sizes
So that you are not stuck with just one K-Cup pod size the Keurig K250 enables you to be able to brew a variety of different sizes from 4 to 10-ounce cup sizes as well as brewing carafe sizes from 22 to 30 ounces of great tasting coffee. This means that you can serve family, friends, and neighbors great tasting coffee in no time at all.



Hot Water Dispenser
If you're not in the mood for coffee, no problem. The Keurig K250 coffee maker also has a hot water dispenser that lets you brew hot water so that you can brew up your favorite tea or a cup of great tasting hot chocolate. It's really simple, all you have to do is to open and close the brew handle with no pod in it, pick the size you want and you'll have a hot cup of water at the perfect temperature for both your tea and hot cocoa.
Easy to Use and Control
The Keurig K250 coffee Maker has an easy to use touch screen that is easy to see and use to brew whatever size or kind of coffee you want. It also has a strength control on it that lets you brew coffee as strong as you want and in just under a minute.
Pros
Easy to read and use touch screen
Slim and sleek design in a variety of colors
Cup sizes from 4 to 10 ounces and carafes from 22 to 30 ounces
Brews great tasting coffee in under a minute
Cons
Issues with some models getting clogged with coffee grounds
Some have had issues with error codes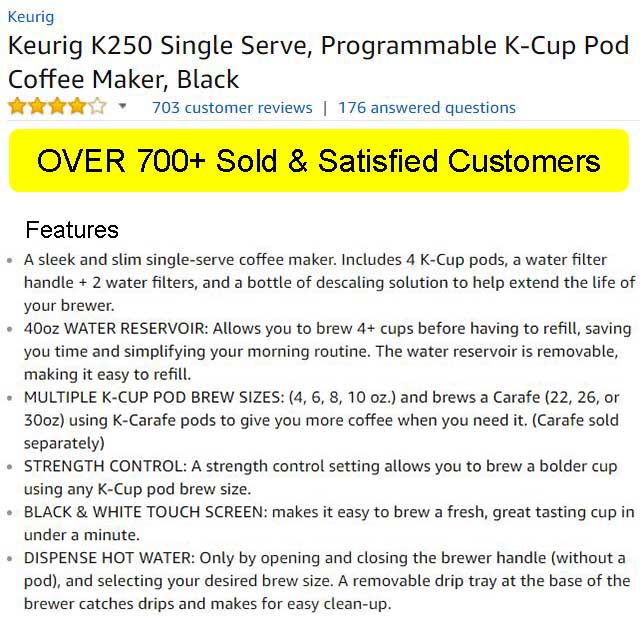 To Purchase The Keurig K250 Coffee Maker At The Lowest Price Click The Link Below. Have It Delivered To Your Doorsteps Today!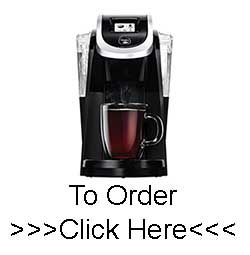 ---
Keurig K250 Coffee Maker Tutorial Video

---


WHAT TO READ NEXT:
Popular Home & Office Coffee Machine Reviews
Staresso Portable Coffee Maker Review
Handpresso Wild Hybrid Portable Coffee Maker Review
Best Coffee Makers Ranked – 2017 Buying Guide
Best Cuisinart Coffee Makers Ranked
Best Drip Coffee Makers Ranked
Best Espresso Machines Under 100 | 2017 Detailed Guide
Best Espresso Machines Under 200 | 2017 Detailed Guide
Best Espresso Machines Under 300 | 2017 Detailed Guide
MiniPresso GR Espresso Maker Product Review
[pt_view id="a669ee8t7h"]
Ref: Keurig