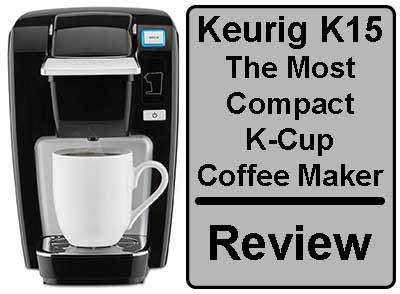 Keurig K15 Compact Coffee Maker
Not everyone has the room for a huge coffee maker in their kitchen and not everyone has the need to brew a ton of coffee up at one time. That's why Keurig offers you a variety of different styles of coffee makers to fit all personalities. If you are looking for a good coffee maker and one that is the perfect size for a small kitchen, the Keurig K15 coffee maker might be the perfect Compact machine for your kitchen.



---
Keurig K15 Compact Coffee Maker (Blue)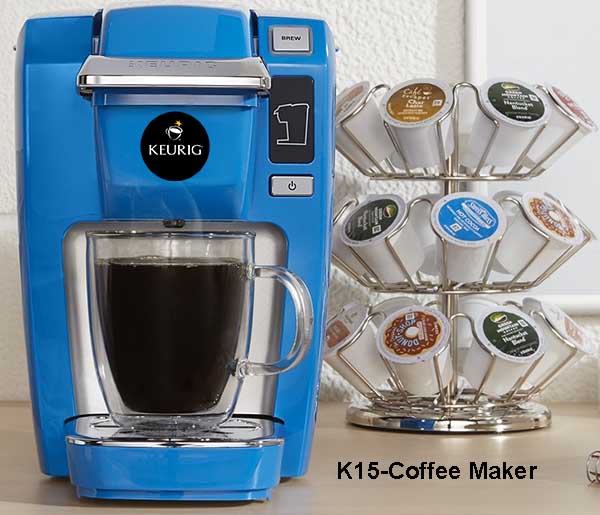 Keurig K15 (Blue) Details & Specs

Small and Personal
The Keurig K15 is the ideal personal coffee maker that is compact enough to fit in any small space and it has a portable design so that you can actually take it and hook it up just about anywhere you want to brew yourself some great tasting coffee. This means you could take it with you on vacation and set it up anywhere in your hotel room, or you can have your own personal coffee maker right on your own desk at work. Which means you don't have to settle with boring old office coffee every single day.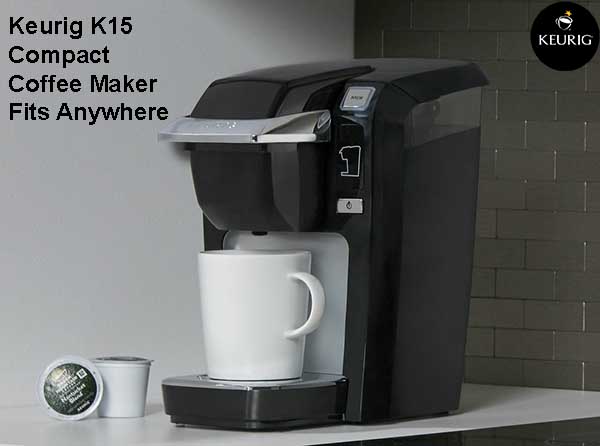 Keurig K15 (Black) Specs & Details

Keurig K15 | Different Cup Sizes
If you don't want a coffee maker that makes a ton of coffee but, are concerned that a single serve style won't make a big enough cup of coffee for you, the Keurig K15 has that covered. Even though it is a single cup machine you can choose cup sizes from 6 to 10 ounces. The six-ounce size can be used for when you are looking to brew a much stronger and bolder cup of coffee.
Keurig K15 Color Options Available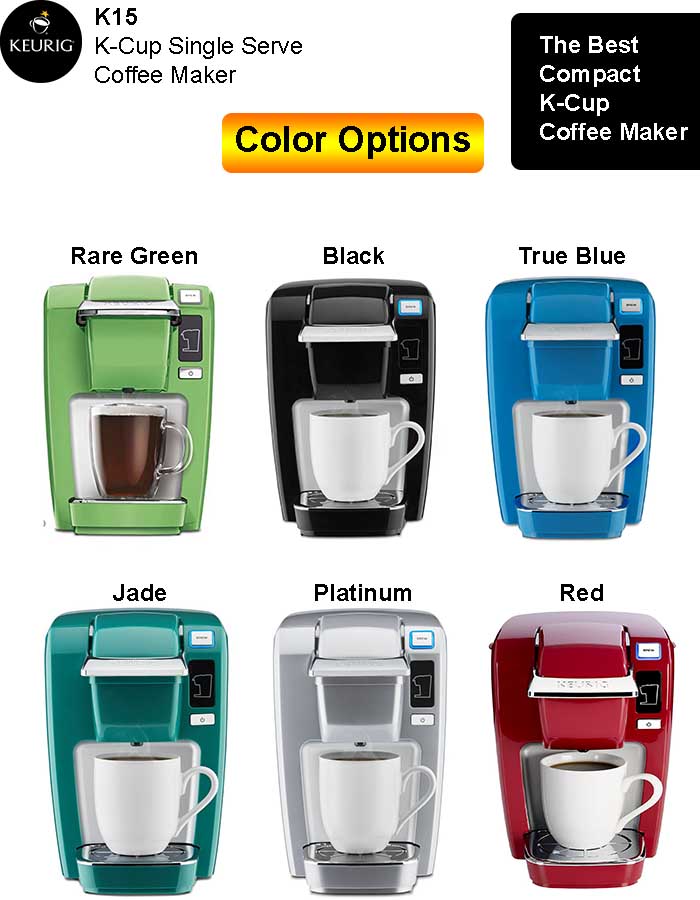 Keurig K15 Color Options  & Current Price

Keurig K15 | Comes in a Variety of Colors
The Keurig K15 isn't just perfect in size for any small kitchen or small office space it also comes in a variety of colors that include:
Black
Chili Pepper Red
Jade
Platinum
True Blue
Black Plum
Greenery
With this variety of colors, it lets you turn your single serve Keurig K15 coffee maker into an accent piece for your kitchen or office.
---
---
Keurig K15 | Water Reservoir
Since this is a single serve machine, there is no need for a big water reservoir that has to be removed and then filled up. With the Keurig K15, all you have to do is just add water to the coffee maker itself. This design was intentional in order to make this coffee machine extremely portable.
Keurig K15 | Energy Efficient
You'll love the fact that the Keurig K15 is extremely energy efficient and it comes with an automatic shut off feature. This means that it turns itself off after each cup that you brew saving you more energy than you think it would.
Keurig K15 | Removable Drip Tray
The drip tray can be easily removed to accommodate for larger coffee cups and for quick and easy cleaning. The drip tray is also big enough to hold an entire cup of coffee should there be an accidental brew. This will cut down on any huge messes on the surface the coffee maker is on.
---
---
Keurig K15 Coffee Maker Pros & Cons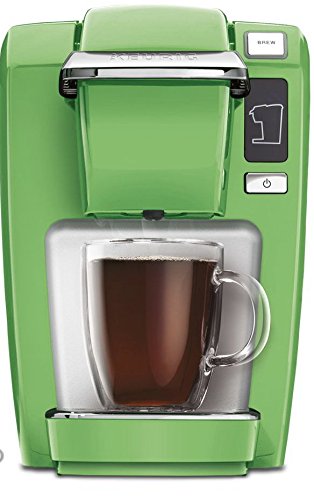 Keurig K15 Rarest Color | GREENERY

Keurig K15 – Pros
Easy to use
Easy to clean
Drip tray cuts down on coffee messes
Can take anywhere
Great for small kitchens, offices, dorm rooms and more
Keurig K15 – Cons
Some users have complained that the water doesn't get hot enough
Some complaints have been that it doesn't brew full flavored coffee consistently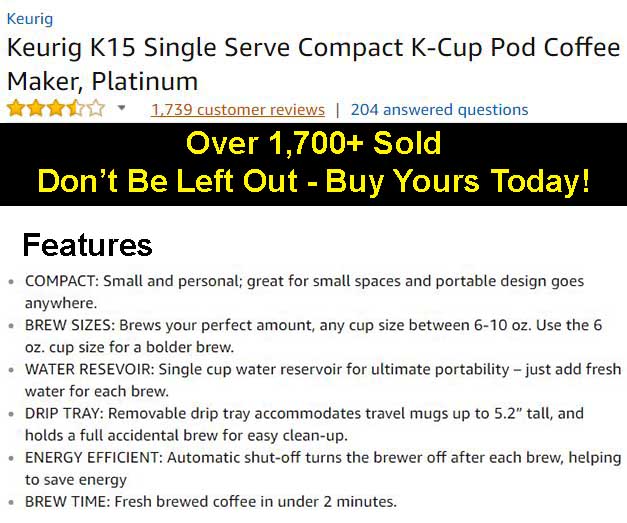 Keurig K15 Compact Coffee Maker Lowest Price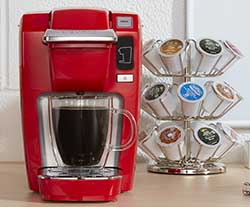 ---


WHAT TO READ NEXT:
Keurig K55 K-Cup Coffee Maker | Expert Review
Keurig K250 K-Cup Coffee Maker | Expert Review
Keurig K575 K-Cup Coffee Maker | Expert Review
Best Home & Office Coffee Grinder Reviews
Top Home & Office Espresso Machines Ranked & Reviewed
Best Espresso Machines Under $100 Ranked
Best Espresso Machines Under $300 Ranked
Home & Commercial Use Blenders Reviewed
Commercial Use Coffee Makers Reviewed
Commercial Use Espresso Machines Reviewed
[pt_view id="a669ee8t7h"]
---
Ref: Keurig – Keurig K15 Specs & Details