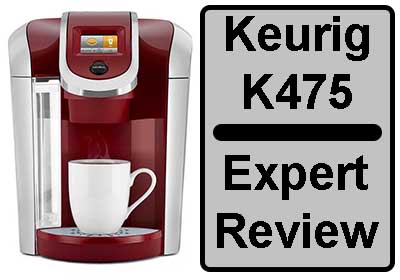 Keurig K475 Coffee Maker Review
If you are a lover of K-Cup pods then you'll love this Keurig K475 coffee maker. It has been designed to produce great tasting coffee made with coffee pods. You'll like this one because it's a premium and customizable coffee maker that makes brewing impressive coffee simpler than you could imagine. So, what are you waiting for? Continue reading our expert review of Keurig K475 coffee maker and find out why every kitchen needs a Keurig K475.



---
Keurig K475 Coffee Maker Expert Review
---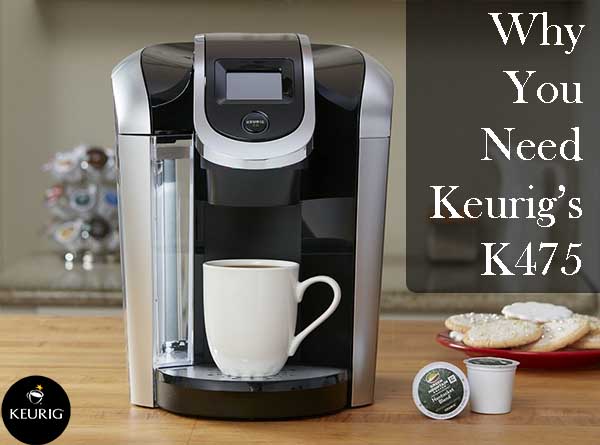 Keurig K475 Coffee Maker Specs & Details

Not Stuck With Just One Size
Even though the Keurig K475 is considered a single serve coffee maker, it's one that offers you a variety of different K-Cup pod brewing sizes that include:
Brews 4, 6, 8, 10, and 12-ounce cups of coffee
Brews 22, 26, or 30-ounce K-Carafe sizes
With this flexibility in different sizes means that you can have little or as much coffee as you want or need. So if you are only in the mood for one cup of coffee, you can choose to brew just one. If you are in the mood to entertain a number of people, you can do that as well.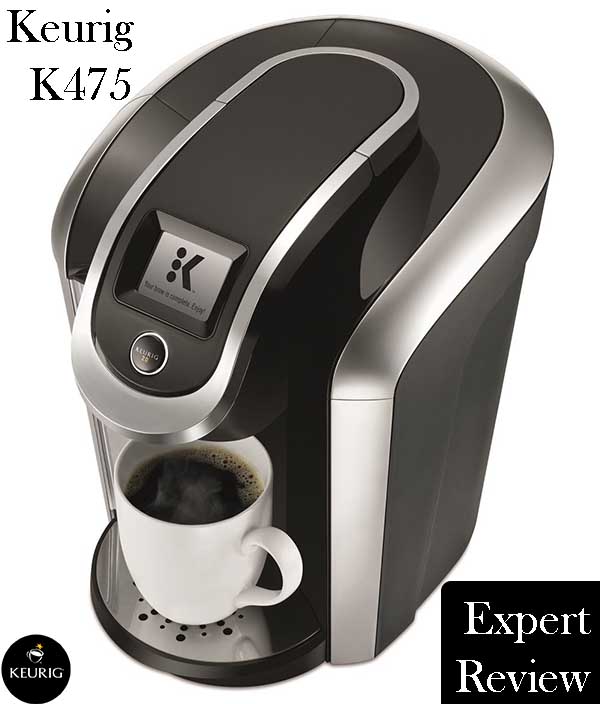 Keurig K475 Coffee Maker Customer Testimonials

Large Water Reservoir
This Keurig K475 comes with a really large water reservoir that holds up to 70 ounces of water which means you won't have to refill the reservoir over and over again in order to serve a larger amount of coffee. This coffee maker makes things simple and saves you time in the mornings. The reservoir is very easy to remove so you can quickly fill it up any time you want.
Keurig K475 Coffee Maker Details

Keurig K475 | Great Control Settings
The Keurig K475 enables you to brew your coffee as bold as you want by choosing from the different K-Pod brew sizes and it also gives you five different temperature settings for you to choose from. This means that you can brew your coffee to the temperature that you prefer and not what the coffee maker deems is the ideal temperature.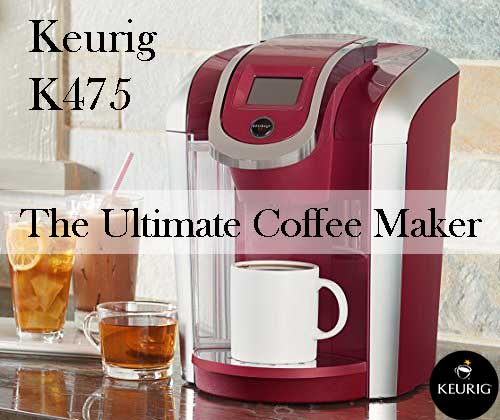 Keurig K475 Coffee Maker Discounted Price

Easy to See and Use Control Panel
You will love the big color touch screen that comes with Keurig K475 coffee maker. The touch screen on this coffee maker has bright colors that make it a lot easier to see and use. With this control panel, you can brew your favorite coffee in less than a minute. You can also program the coffee maker to turn on and off automatically at the time that you want it to. This means you'll have hot coffee waiting for you at whatever time you want. Plus by programming to shut off at a pre-set time you will be conserving energy.
---
---
Keurig K475 | Hot Water Dispenser
You don't have to settle for just coffee with Keurig's K475 coffee maker. It has an easy to use hot water dispenser so that you can brew hot water for any size cup of tea or for a great tasting cup of hot cocoa.
Removable Drip Tray
To help cut down on messes Keurig K475 coffee maker comes with a drip tray that catches all your coffee drips that help keep your kitchen counter clean and makes for quick and easy clean-up.
Keurig K475 – Pro's & Con's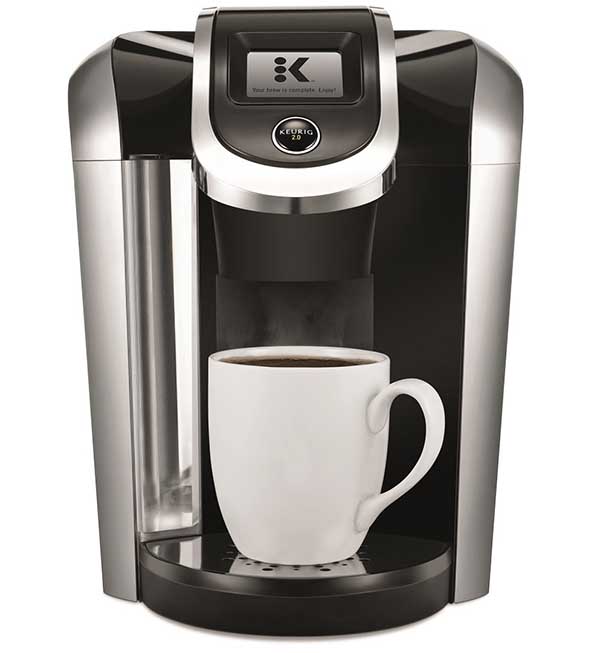 Keurig K475 Coffee Maker Specs & Details
Keurig K475 | Pros
Easy to use
Makes great tasting coffee
Choose from over 75 different flavors of K-Pods
Sleek design looks good in any kitchen
Makes coffee extremely fast
You control temperature of beverages
Keurig K475 | Cons
There are some complaints that touch screen doesn't work good
Some have discovered that not all K-Cups fit in this model
Some complain coffee maker is too loud
---
---
Keurig K475 Coffee Maker Customer Ratings & Testimonials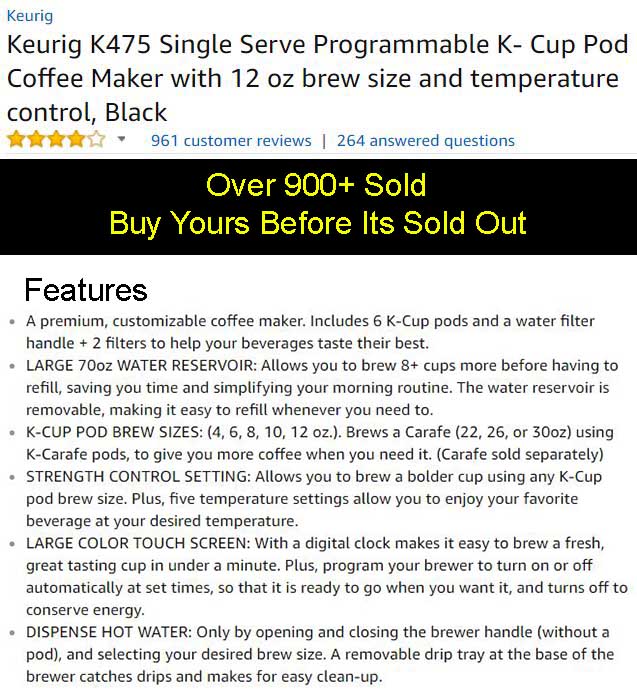 Order Your Keurig K475 Coffee Maker Now! Have It Delivered To You Today!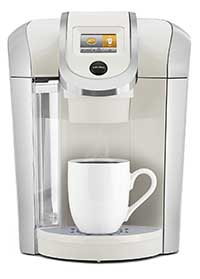 ---


WHAT TO READ NEXT:
Keurig K15 Coffee Maker Expert Review
Keurig K575 Coffee Maker | Expert Review
Keurig K55 Single Serve Coffee Maker | Expert Review
Keurig K250 Coffee Maker Expert Review
Best Espresso Machines Under $100
Best Espresso Machines Under $200
Home & Office Espresso Machine Reviews
Home & Office Coffee Grinder Reviews
Best Home & Office Coffee Machine Reviews
Commercial Coffee Machine Reviews
Commercial Espresso Machines Reviews
Commercial Coffee Grinder Reviews
Home & Commercial Kitchen Blender Reviews
[pt_view id="a669ee8t7h"]
Ref: Keurig – Keurig K475 vs Keurig K450