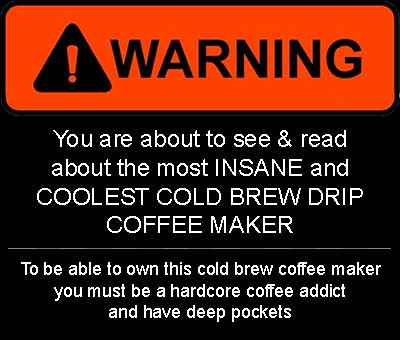 Cold Brew Drip Coffee Maker Tower
 Yama Glass Tower
If you are a big time coffee lover then you probably already know how big cold drip coffee is becoming. You also probably know just how much it costs you to buy it along with standing in line down at your local coffee house. So, why not consider making cold drip coffee at home in the privacy and comfort of your own kitchen? You can do it right now with a really cool coffee maker called the Yama Glass Cold Brew Drip Coffee Maker.



---
The Coolest Coffee Maker
---
Yama Glass Cold Brew Drip Coffee Maker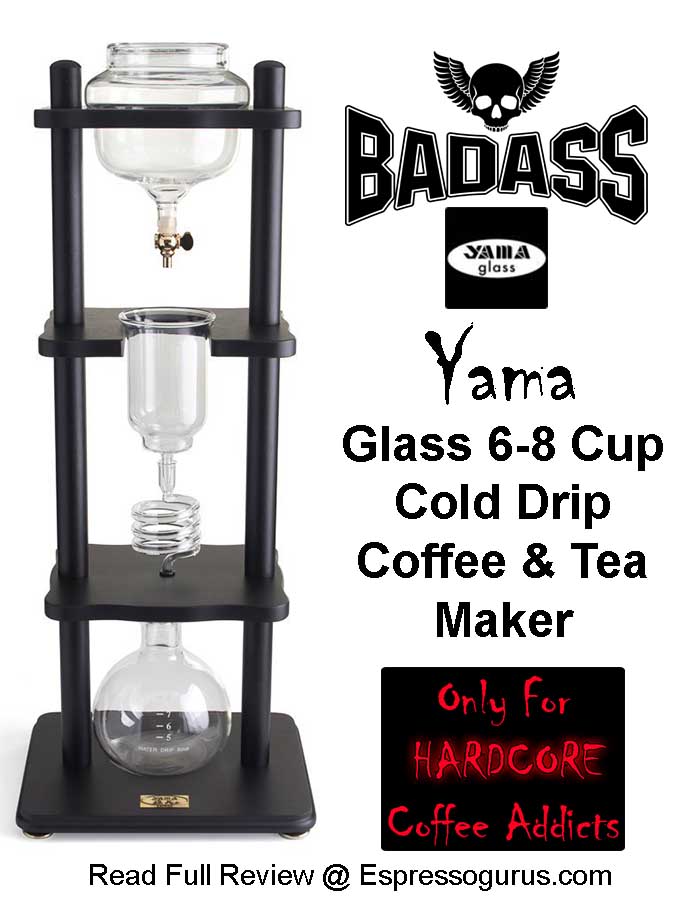 Customer Ratings & Testimonials

Insane Coffee Maker Design
This insane coffee maker has a design that almost looks like something you might use in a laboratory for crazy experiments. The design is quite contemporary with that cool scientific look to it. The frame for this cold drip coffee maker is made of elegant looking black wood and has a variety of different glass beakers that are all used in producing great tasting coffee or even tea if you like.
This cool coffee maker is so cool looking that it almost can be used as a decorator piece when you aren't using it!
---
---
How To Use
Yama Glass Cold Brew Drip Coffee Maker Click Here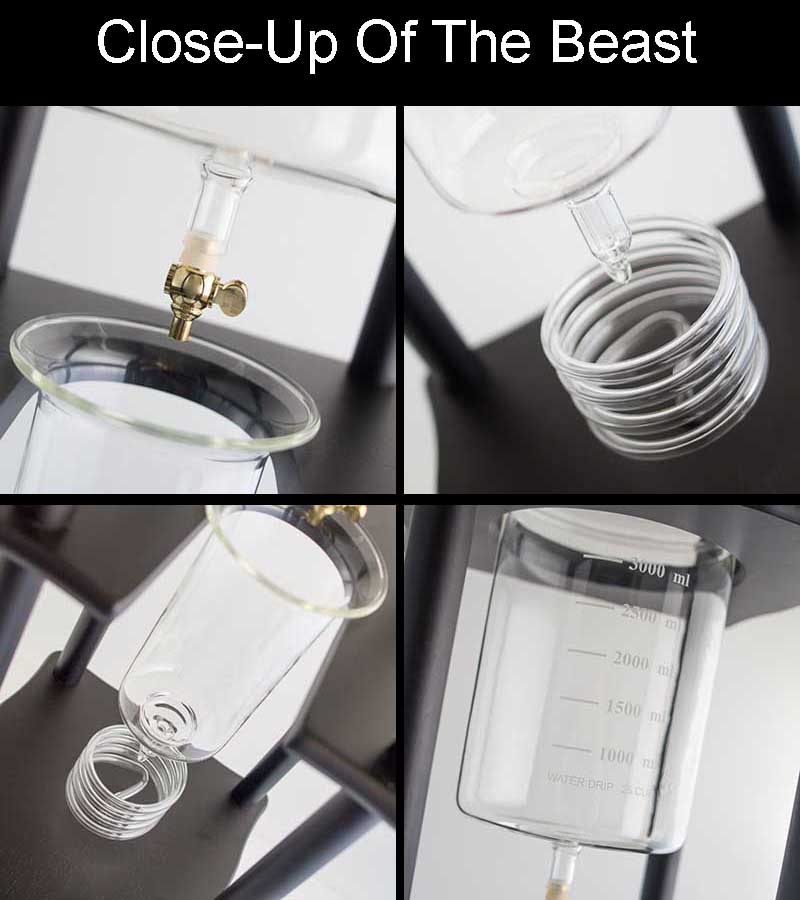 Watch The Full Intro Video Click Here

Very Easy to Use
This insane coffee maker is not only cool looking but it's a cold drip coffee maker that is also designed to be extremely easy to use. All you have to do is put in the kind of coffee or tea that you want into the medium sized glass beaker, add some ice water to the top and then set the brass fitting for your desired drip time. The recommended drip cycle for the best results would be three to four hours for 32 ounces. That's all there is to using this cold drip coffee maker. Nothing could be simpler for producing high-quality coffee or tea.
Intimidated Yet?

Customer Ratings & Details Click Here

Store and Reheat
After you have made your cold drip coffee with this cool coffee maker you can actually keep in your refrigerator for up to seven days for reheating at a different time. This is a great feature because this means that you won't be wasting any of your great tasting coffee that this cold drip coffee maker made.
This Badass Coffee Maker Comes In Two Sizes
Yama Glass Coffee Maker Specs & Details Click Here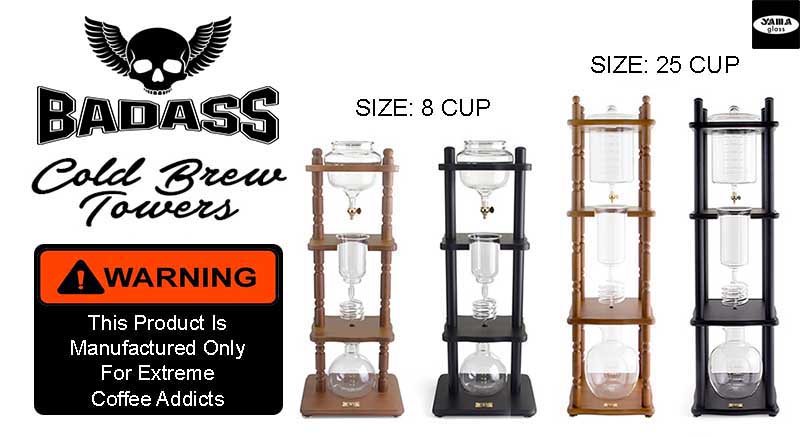 Yama Glass Cold Brew Drip Coffee Maker Price

Tastes Great
The coffee that is made with this cold drip coffee maker comes out tasting incredible and is totally acid-free so you're never going to have any bitterness that just makes coffee taste horrible. It also will make great tasting tea for you as well. It's recommended that for the coffee you should use a very fine grind and herbal teas and green teas are the best to be used in this insane coffee maker!
---
If you don't have the space to place this extremely insane coffee maker in your kitchen not to worry, because this BAD BOY has a little brother that is just as insane and cool called The Yama Silverton Hot & Cold Brew Drip Coffee Maker. But a warning to the average Joe who gets his coffee from McDonald's, This is something that you should not even think of getting. Just watch and be amazed!
Think You've Got What It Takes To Own This Badass Cold Brew Drip Coffee Maker? Than were ready to help you out. CLICK HERE for the best price & order it today! You can have this bad boy delivered to you today and be the king of all the baristas in your entire city, not to mention all the females it will impress. Just having this Yama Glass Silverton Cold & Hot Brew Drip Coffee Maker in your kitchen makes a statement about you!
Yama Silverton Cold Brew Drip Coffee Maker Details & Specs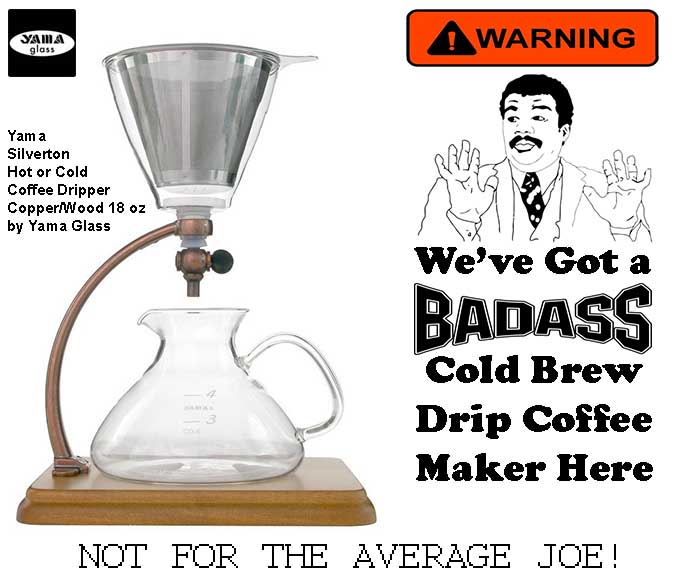 ---
No Filter Worries
The reason why you don't have to worry about any coffee filters with this cool coffee maker is that it comes with a permanent ceramic filter and it's one that can be used over and over again. No more worries about messy filters that often inhibit the taste of your coffee.
Pros
Makes great rich tasting coffee
Fun to use
Has a great and interesting design
Doesn't take up much room
Makes great tea as well
Easy to use
A "Dream Come True" for hardcore coffee addicts
Cons
Glass beakers tend to be fragile
Water nozzle a little difficult to control exactly for beginners
Not meant for the average joe
Only coffeeholics with deep pockets can afford it
Still thinking about whether you should purchase this bad boy or not? Well, we'll make it easy for you. Read these customer testimonials and see what they have to say about it.

Cold Brew Drip Coffee Maker Details
Think you've got what it takes to own one of these insane coffee makers? Well, your in luck! Click the link below and get it at the best price & delivered to your home today.


---


WHAT TO READ NEXT:
The Best Coffee Makers For Home Use Ranked
Coffee Maker Buying Guide (For Beginners)
Best Drip Coffee Makers Ranked
Best Espresso Machines Under $100 Ranked
Best Espresso Machines Under $500 Ranked
Top Home Use Coffee Grinders Ranked
Commercial Use Espresso Machines Reviewed
Commercial Use Coffee Makers Reviewed
Commercial Use Coffee Grinders Reviewed
Best Kitchen Blenders Ranked & Reviewed
[pt_view id="a669ee8t7h"]
---
Ref: Yama Glass Co. – Prima Coffee