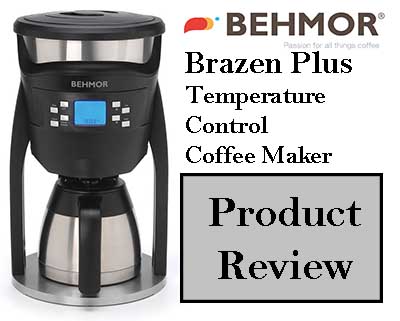 Behmor Brazen Plus Coffee Maker Review
Temperature Control Coffee Maker
If you have a passion for all things coffee then the Behmor Brazen Plus coffee maker is one that has you in mind. This is a company that believes not just in creating superior tasting coffee but they also design coffee makers for those who are filled with a passion for coffee. To find out everything you need to know about Behmor Brazen Plus Temperature Control Coffee Maker, continue reading our product review below.



---
Behmor Brazen Plus Review
---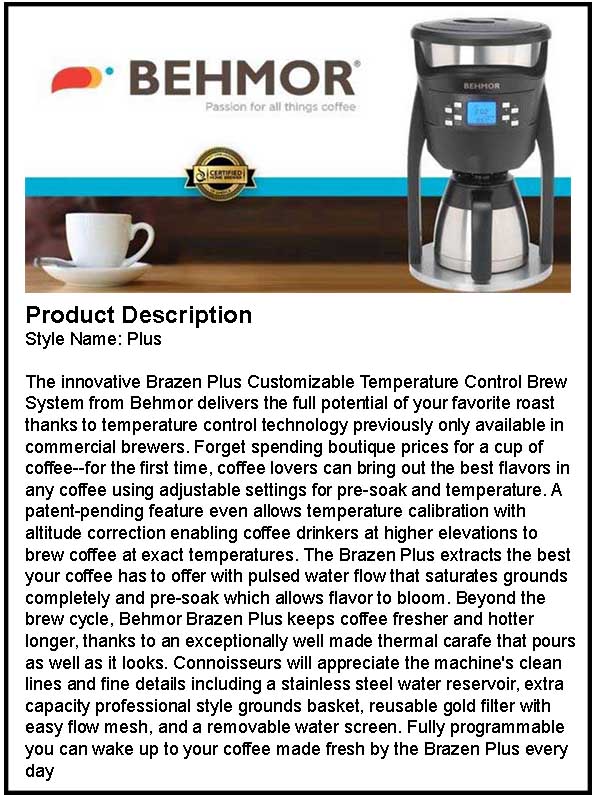 Product Specs & User Manual (PDF) CLICK HERE

You Have the Control
The Behmor coffee maker was designed for you, the coffee drinker to have total control over the brewing of your coffee. This Behmor Brazen Plus is fully customizable, has a temperature control so you can brew the best tasting and ideal temperature for this eight cup coffee maker. It allows you to have the temperature from 190° to 210° F because designers of the Behmor coffee maker realize the importance of the right temperature for various styles of coffee.
---
---
BEHMOR BRAZEN PLUS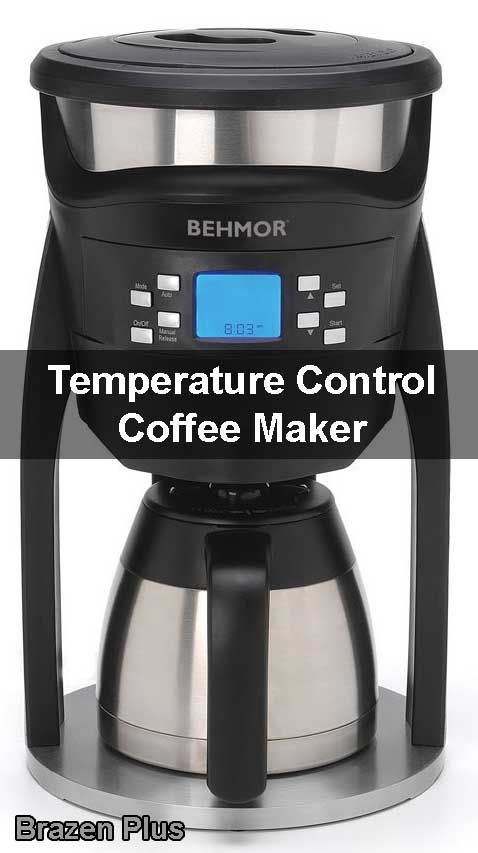 You can program the pre-soak option so that you can get your ideal coffee flavor after the Behmor coffee maker is done brewing. You'll love how the pulsed water flow gives you superior coffee extraction. The pulsed water flow with this machine is the key to great brewed coffee because it fully saturates all of the coffee grounds. The pulse creates turbulence in the grounds that enables them to get fully saturated.
BEHMOR Brazen Plus Features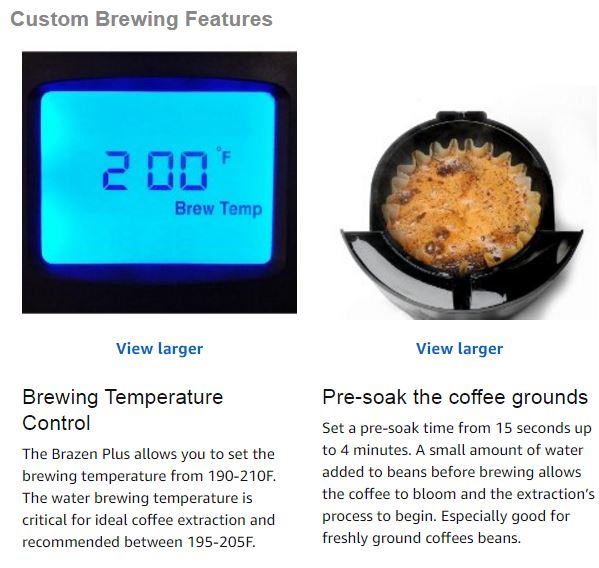 Get More Details On This Product (Click Here)
Wake Up to a Fresh Brewed Pot
You'll love the idea of waking up in the morning to a fresh pot of coffee waiting for you. The Behmor Brazen Plus lets you program the coffee maker to make coffee for you anytime in the morning so you don't have to wait for that first cup of coffee in the morning.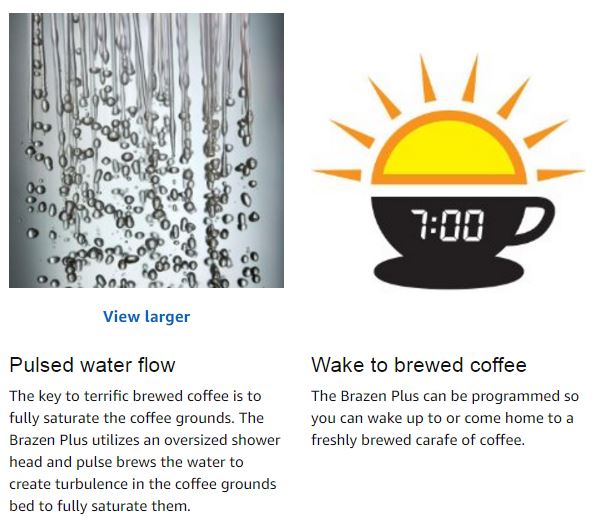 Other Great Features
You also will love some of the other great features that come with this Behmor coffee maker:
Thermal Carafe – The Brazen Plus comes with a nice looking thermal carafe that you won't have to worry about breaking and the double walled stainless steel carafe helps to keep your coffee nice and warm for hours without re-warming it.
Stainless Steel Water Reservoir/Heater – This great Behmor coffee maker has a great stainless steel water reservoir that is also used as the machine's heater. The reservoir is easy to get to for filling and for cleaning by descaling it. Since the heater is the reservoir no more need to wonder if the coffee maker needs descaling or not since it's easily seen by the naked eye.
Flat Bottom Filter Basket & Gold Filter – The Behmor Brazen Plus is equipped with an oversized basket that has a flat bottom for better extraction than V-shaped baskets. It also comes with a permanent gold filter that can also be removed if one wants to use paper filters.
Great at High Elevations – Many coffee makers find higher elevations challenging but not this Behmor coffee maker. This coffee maker tends to make much hotter coffee than others at higher elevations.
---
Behmor Brazen Plus Coffee Maker Features
Behmor Brazen Plus Spec Sheet (PDF)
Behmor Brazen Plus User Manual (PDF)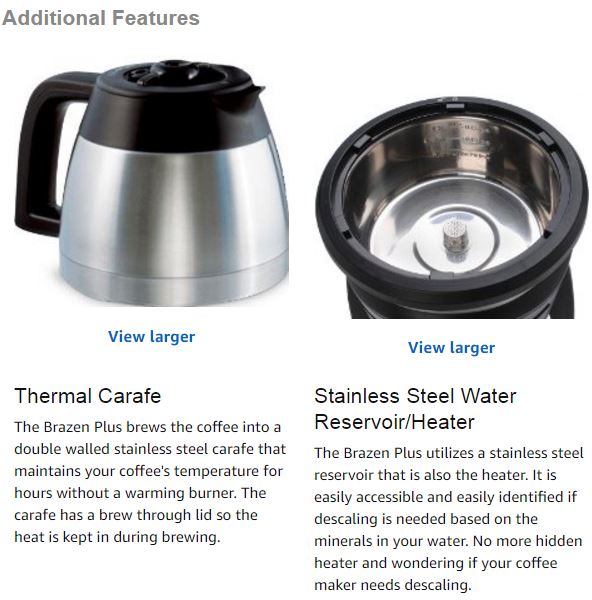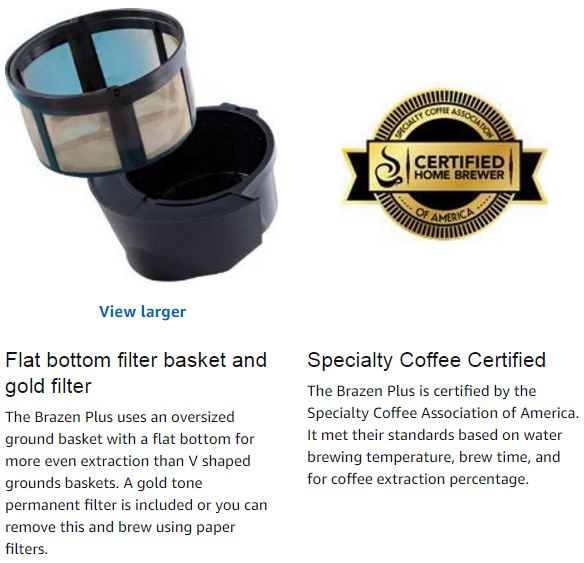 BEHMOR Brazen Plus Coffee Maker Details & Specs (CLICK HERE)
---
---
Behmor Brazen Plus Pro's & Cons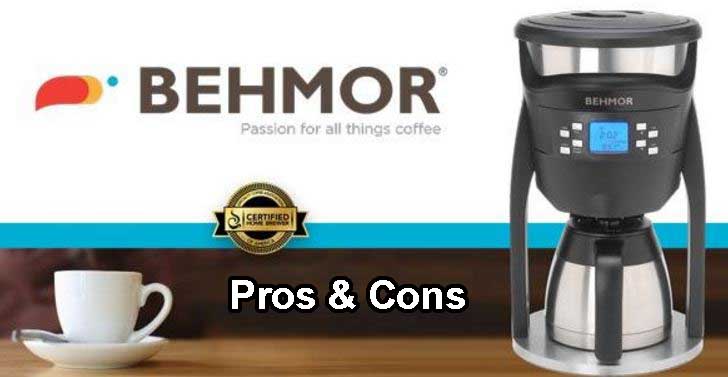 Behmor Brazen Plus: Pros
Easy to use
Nice design
Stainless steel thermal carafe keeps coffee warm for hours
Stainless steel water reservoir that's also its heater
Flat bottom coffee basket for better extraction
Can use permanent gold filter or paper filters
Works great in higher elevations
Behmor Brazen Plus: Cons
Complaints of water being left over in reservoir after brewing
Carafe spout tends to drip some
Some reservoirs have been known to leak due to design flaw
---
Behmor Brazen Plus Customer Ratings & Reviews (CLICK HERE)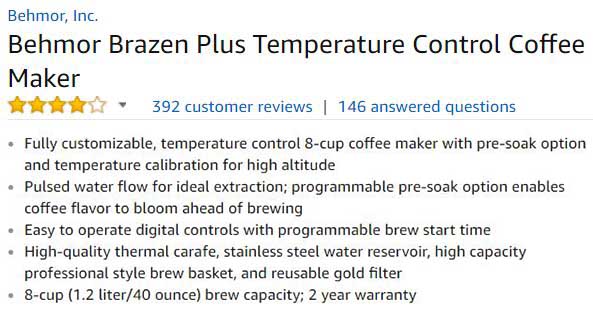 Want the best price on Behmor's Brazen Plus Coffee Maker? Simply Click the link below and get the best price right now from the world's top e-commerce site (Amazon.com). Have your temperature control coffee maker delivered to you today!

---


WHAT TO READ NEXT:
Top Home & Office Use Coffee Maker Reviews
Best Coffee Grinders For Home & Office | Ranked & Reviewed
Top Espresso Machines Reviewed
Best Espresso Machines Under $100 | Ranked
Best Espresso Machines Under $300 | Ranked
Top Commercial Coffee Machines Reviewed
Top Commercial Espresso Machines Reviewed
Best Drip Coffee Makers Ranked
[pt_view id="a669ee8t7h"]
---
Ref: Behmor