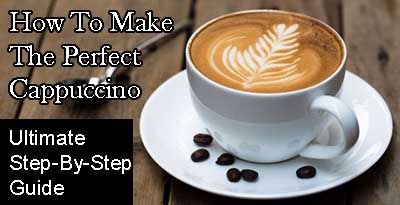 How To Make Cappuccino
If you love a great tasting cup of cappuccino but you don't want to go stand in line at your local coffee house to get one, ever consider making them in your own kitchen? What? You don't know how to make cappuccino? Well, that really isn't an excuse because you can learn how to make cappuccino yourself and stop paying those high prices at the coffee house.



Below in our "How to Make the Prefect Cappuccino | Ultimate Guide" you'll find the simple steps to learn how to make cappuccino.
---
How To Make The Perfect Cappuccino Guide
---
Step #1 Make the Espresso
How to Make Cappuccino With a Moka Pot
Bialetti Coffee Maker – Moka Pot | Expert Review
Making your espresso in a Moka pot is done like this:
Fill the bottom chamber of the Moka pot with water and put the strainer on top.
Fill the strainer with your coffee.
Screw the top of the Moka pot on tight and set it on your stove on low heat.
Heat the espresso until you hear some gurgling and the water is boiling.
Turn off the heat once the Moka pot is filled with your espresso.
Note: Try not to pack the espresso down in the strainer, it could clog the pot. Heat the pot for about 5 to 7 minutes.
Making Cappuccino With Moka Pot Instructions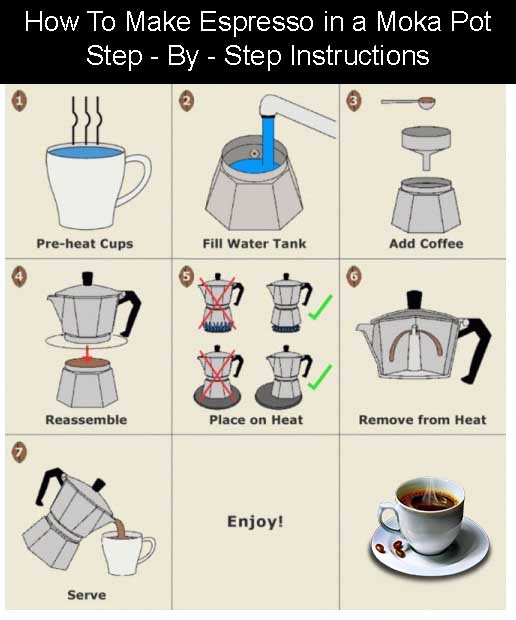 Moka Pot Price & Details (CLICK HERE)
What Now? You Don't have a Moka Pot? It's one of the most common and important espresso equipment's found in any espresso/cappuccino lovers home. Well not to worry we have you covered. Click the link below and find the best price on a Moka Pot right now and have it delivered to you today.

Editors Pick: 
Bialetti Stovetop Moka Pot Full Product Review
Bialetti 6-Cup Stovetop Moka Pot Espresso Maker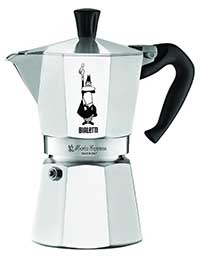 ---
How to Make Cappuccino With a AeroPress
AeroPress Coffee & Espresso Maker Price
AeroPress Coffee & Espresso Maker Full Review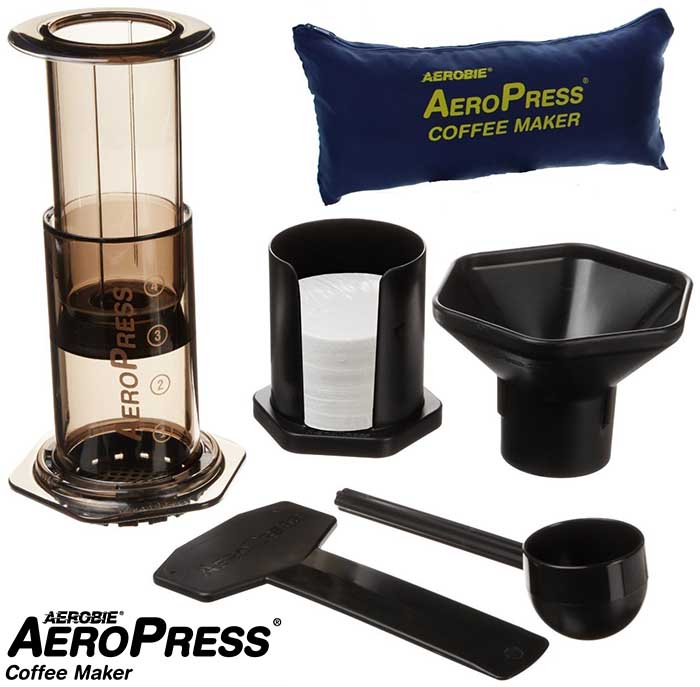 Making your espresso in an Aeropress is done like this:
Put the filter in the filter cap and twist it onto the chamber.
Put the chamber on top of your glass you are serving the cappuccino in and then put one big scoop of coffee in the chamber.
Pour boiling water up to the specified mark.
Stir the espresso for 10 seconds and then put the plunger in the chamber.
Slowly press the plunger down until it hits the coffee grounds.
Note: Make sure to use fine ground coffee in the Aeropress.
Making Espresso With AeroPress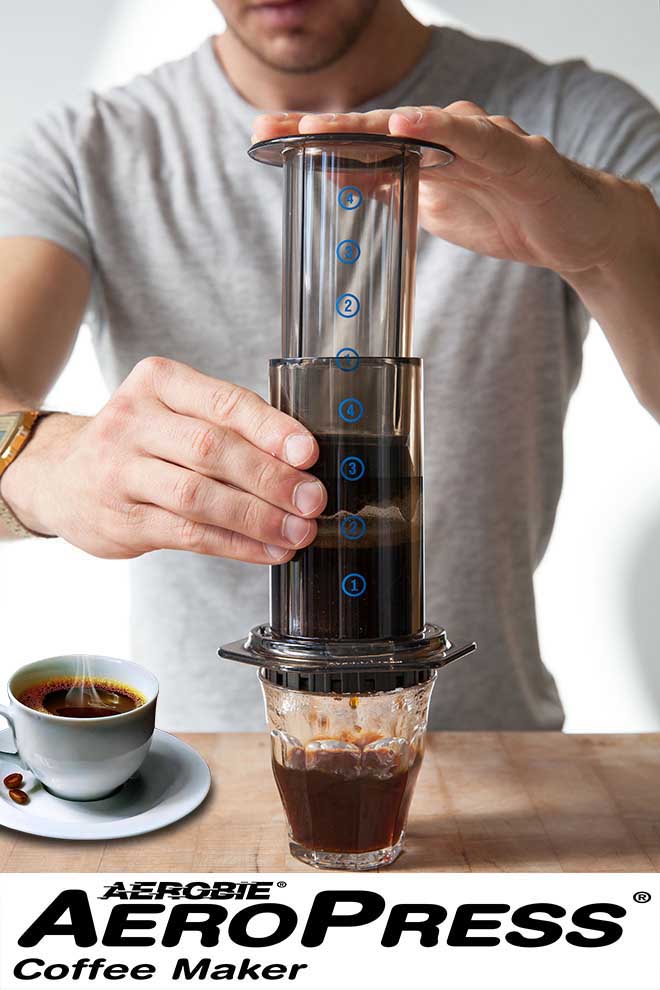 AeroPress Details | Specs | Price
AeroPress has become a household name for all coffee & espresso lovers who just don't have the time for the hassles of a full espresso maker. This easy to use espresso maker is making waves with customers. Requires no electricity & can be used anywhere you can imagine. If you don't own a AeroPress you should really consider buying one if you truly love your coffee/espresso. Below you will find a link to purchase one at the best price.

Editors Pick:
Aeropress Coffee and Espresso Maker (Product Review)
AeroPress Coffee & Espresso Maker Price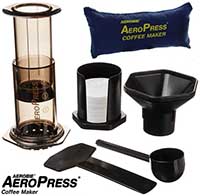 If your not into AeroPress portable coffee & espresso maker then here are the other best options for you.

MiniPresso GR Espresso Maker Price


Staresso Portable Coffee Make Price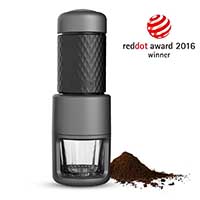 HandPresso Wild Hybrid Portable Coffee Maker Price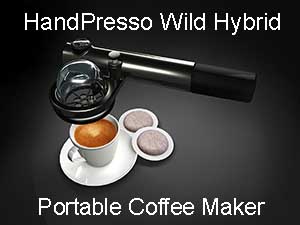 ---
How to Make Cappuccino with an Espresso Machine
Mr. Coffee Cafe Barista Expert Review
Mr. Coffee Cafe Barista Espresso & Cappuccino System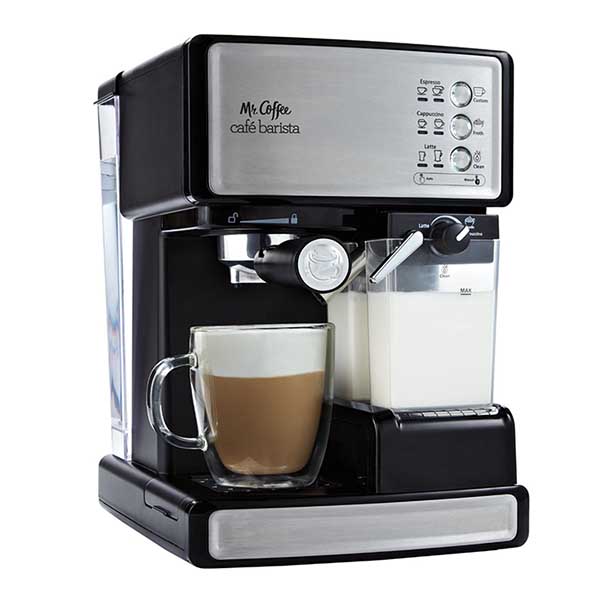 Mr. Coffee Cafe Barista System (Details & Specs)
Using an Espresso Machine
Making your espresso in an espresso machine is the easiest of course. When it comes to how to make cappuccino, this is the least difficult. Just follow the instructions that come with your espresso maker.
Heating the Milk
When it comes to how to make cappuccino the milk is key. Even though you can use any type of milk you want, just remember that using whole milk is going to steam easier and will create the best foam for making a great cappuccino. Also, if you use skim milk, it often will separate more.
When it comes to how to make a cappuccino you will want to take your milk and pour it into a pitcher that's been chilled. Make sure to pour in more milk than you are really going to drink. For instance, if you're making an eight-ounce cappuccino you'll want 10 to 12 ounces of milk.
A chilled pitcher helps make the milk steam longer.
Before putting the wand in the pitcher turn it on for a brief time and clean out any water that might be in the wand. Once it steams a bit then turn it off and put it in the pitcher with milk. Turn back on and tilt the pitcher at a slight angle so the milk will swirl and heat. If you've never steamed milk before clip a thermometer inside of the pitcher this way you can keep track of the milk as it heats. It's important to note that milk continues to heat up even after you've stopped the steaming.
Occasionally you should tilt the wand close to the top of the milk. This helps add air to the milk and this makes the foam. Do this only for a few seconds. Once the milk reaches 150 to 160

°

F turn the wand off.
Mr. Coffee Cafe Barista Cappuccino System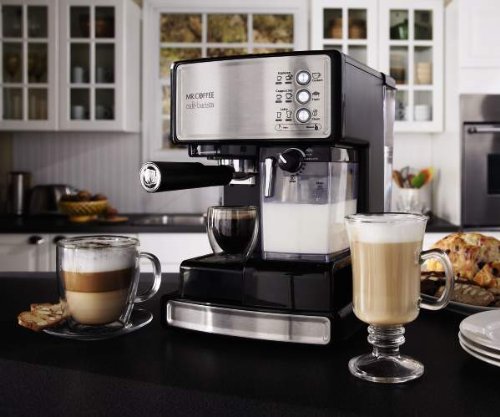 Mr. Coffee Cafe Barista System (Details | Specs | Price)
No Wand with Espresso Machine or Other Espresso Source?
If you don't have a fancy steam wand you can froth milk another way you can try warming your milk in your microwave. Take a small mason jar with a lid and fill it at least half full, put the lid on and then shake it for up to a minute and then remove the lid and microwave for 30 seconds.

Don't want to use the microwave? Then you can warm the milk on the stove and use a handheld wire whisk to make your foam. While the milk is heating whisk until you get the amount of foam you want.
Don't Have An Espresso Machine? (Read Below)

Don't have a espresso maker at home? Don't worry we've got you covered. Click the links below to either read our expert reviews on some of the best espresso makers in the market right now or if you would like check out our "EDITORS PICK" for the best cappuccino system for you kitchen or office.
Editor's Pick: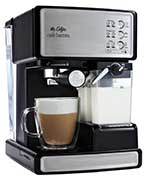 Want to check out all of your espresso machine options before you purchase the perfect one for your kitchen or office? Take a look at out expert In-Depth reviews of the most popular espresso machines in the market right now! Click the reviews link below!
---
---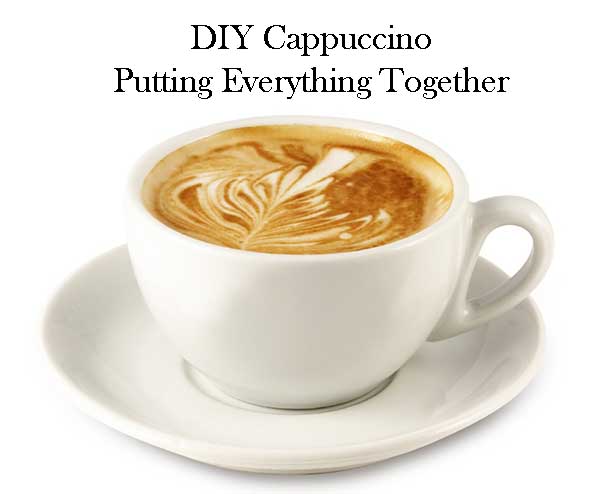 How to Make Cappuccino – Putting it All Together
Remove large bubbles by gently tapping the container of steamed milk on your counter. Then swirl the container a little to keep the milk and foam from separating before pouring it.

Pour your freshly made espresso into your cup. Consider warming your cup before doing so. This helps keep your beverage warmer for a little longer.

Hold your cup of espresso in one hand and tilt it to the side and slowly pour your steamed milk into the middle of the espresso. As your cup fills up very gradually move the cup. You want it level and then pour a little faster to get the foam on top of the beverage.

Serve your cappuccino right away.
---


WHAT TO READ NEXT:
Best Espresso Makers Under $100 Ranked
Best Espresso Makers Under $300 Ranked
Best Espresso Makers Under $500 Ranked
Best Espresso Makers Under $1000 Ranked
Top Home & Office Use Espresso Machine Reviews
Portable Espresso Maker Reviews
Espresso Machine Buying Guide (For Beginners) 
Best Home Use Coffee Maker Reviews
Top Coffee Grinder For Home & Office Use | Reviews
Commercial Use Coffee Maker | Product Reviews
Commercial Use Espresso Machine | Product Reviews
Commercial Use Coffee Grinder | Product Reviews
[pt_view id="a669ee8t7h"]
---