Great Tasting Coffee Date Bread | Recipe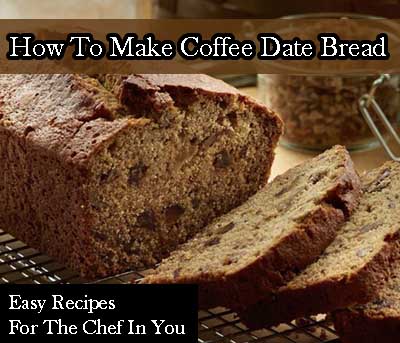 Quick Coffee Date Bread Recipe
With the holidays once again just around the corner, it's always nice to be able to have a few unique recipes you can use to make delicious foods for that special time of the year. If you are looking for something that is going to make a great treat or a great gift to give to others, then you'll really enjoy this great tasting coffee date bread.



This recipe for coffee date bread makes a nice dark and incredibly moist bread. This is a recipe that you'll love serving at every holiday meal and then you can even enjoy the leftovers the next morning at breakfast.
---
How To Make Coffee Date Bread
---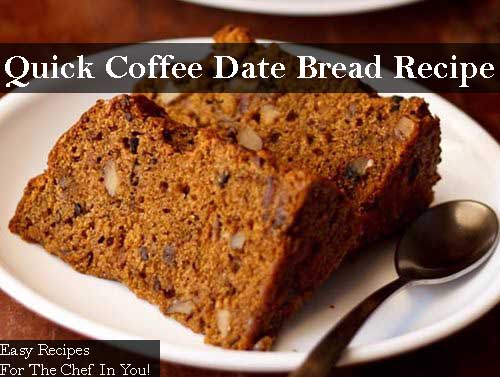 Ingredients Needed for Coffee Date Bread
1 cup of pitted and chopped dates
1 teaspoon of baking soda
1 cup of very strong brewed coffee
2 tablespoons of softened butter
1 cup of sugar
1 egg
1 teaspoon of vanilla extract
1 ½ cups of all-purpose flour
1 teaspoon of salt
1 cup of chopped pecans
Directions for Making Coffee Date Bread
Prep Time – 20 minutes
Cook Time – 1 hour
Ready In – 1 hour and 20 minutes
First, you'll want to pre-heat your oven to 350

°

F for your coffee date bread. Then grease a loaf pan that measures 8" x 4". Make sure that you also line the bottom of the pan with some parchment paper before putting the coffee date bread in the pan.

Now take the dates for the coffee date bread in a small bowl and sprinkle the dates with the baking soda. You'll want to heat the coffee for the coffee date bread to the point of boiling and then pour the boiling coffee over the dates and the baking soda. Then put the bowl of dates and coffee aside.

Take a medium bowl and mix the butter, sugar, and egg well until the mixture is blended well for your coffee date bread. Next stir in your vanilla, make sure you use real vanilla extract for this coffee date bread for best results. Now blend in the flour and salt and then fold in the pecans and the date mixture to complete the coffee date bread batter. Transfer the coffee date bread to the prepared loaf pan.

Put the coffee date bread in the preheated oven for an hour. Make sure that the top of the coffee date bread loaf springs back when you touch it lightly. When it's ready, take the coffee date bread out of the oven and let the coffee date bread stand for at least five minutes before you take it out of the loaf pan. Take the parchment paper off the bottom of the coffee date bread and let it cool some more on a wire rack.
The Final Product
Once your coffee date bread you can serve it as an addition to a great holiday meal, eat as a snack or serve as a healthy and great tasting breakfast addition. No matter how you serve it, everyone will enjoy this great tasting treat. Since it's so simple to make you'll no doubt be able to make several loaves to serve to your family and to hand out as gifts for all your friends and neighbors.
---


What To Read Next:
How to Make French Toast – Step-by-Step Guide
Viagra Coffee: Everything You Didn't Know
How to Make Pancakes | Step-by-Step Guide
How to Hard Boil Eggs | The Ultimate Guide
Wait! Keep That Leftover Coffee | DIY Leftover Coffee Recipes
DIY Starbucks Unicorn Frappuccino Recipe
Coffee Cake Recipe | Step-By-Step Instructions
Easy DIY: Recipe for Cold Brew Coffee
6 Coffee Cocktail Recipes You Must Know
Cold Brew Coffee Recipe: Vietnamese Iced Coffee
Kahlua Recipes: Frozen Mudslide
Cold Brew Coffee Recipe: Boozy Biscotti Iced Coffee
---
---
Ref: Coffee Date Bread Recipe – Coffee Date Bread Recipe
Please follow and like us: