How to Make Homemade Cappuccino with Instant Coffee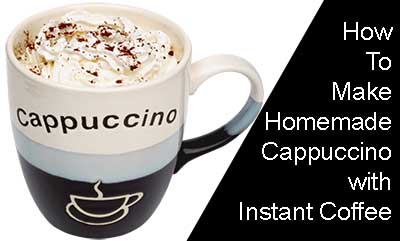 How To Make Cappuccino
Do you ever wish you could make homemade cappuccino without having to pay a ton of money for one of those fancy espresso/cappuccino machines? Or do you get tired of spending all your money on a cup of cappuccino at your local coffee house? Well, you can make homemade cappuccino quite easily and with a variety of easy shortcuts. You can use what's known as the Indian method of beating instant coffee with some sugar and water before adding the milk or you can just shake it up with some heated milk in a jar and add it to some instant coffee. But, if that's too much work, you can even go out and fix some ready-made mix where you just need hot water.



In this article, we'll go over these different shortcuts for making homemade cappuccino with ordinary instant coffee and no fancy espresso machine. Before you turn your nose up at using instant coffee for homemade cappuccino, you might want to try it first before passing judgment.
---
How To Make Cappuccino
---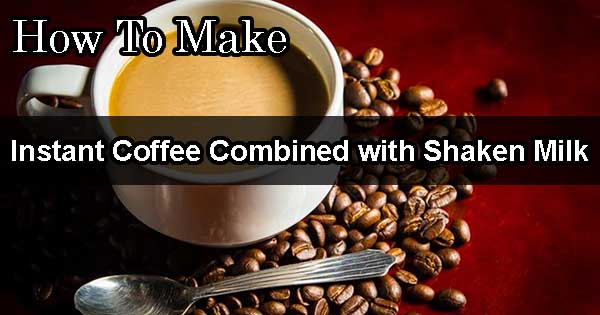 Instant Coffee Combined with Shaken Milk (One serving)
Ingredients Needed for This Method
2 teaspoons of instant coffee (some say Taster's Choice to be the best to use for homemade cappuccino)
1 cup of water
Sugar to taste
Milk to taste
Directions for This Method of Making Homemade Cappuccino
The first thing you'll want to do when making this type of homemade cappuccino is to boil a cup of water in your microwave, a pot, or kettle. Take the boiling water and add your coffee and the desired amount of sugar you want to add.
Depending on the size of your coffee mug, the amount of milk you will use will vary. For your own personal tastes, you can reduce the amount of coffee or water as you wish.
The next thing you will want to do is to pour the amount of milk you want into a microwave safe bowl and heat the milk just until it starts to boil. Remove it from the microwave as soon as it starts to bubble a little and rise up in the bowl.
The time could vary depending on how much milk you are using as well as the kind of microwave you have. Normally it should take you less than 60 seconds to get it to boil.
Now you want to froth the milk. Pour your milk into a jar that has a lid that will twist on tight. Make sure when making the homemade cappuccino that the jar is big enough to hold enough milk to fill the jar up halfway. Put the lid on tight and then shake the jar very vigorously for 20 seconds or until the milk for your homemade cappuccino starts to form a froth on top.
You May Be Interested In: A Brief History Of Coffee
Finally, add your frothed milk to your instant coffee. Pour the milk into your coffee mug. Take a spoon to stir it into your coffee to make your homemade cappuccino. Then scoop the foamed milk out of the jar and on top of your coffee. Sprinkle a little cinnamon and/or nutmeg over the frothed milk. Drink and enjoy your homemade cappuccino.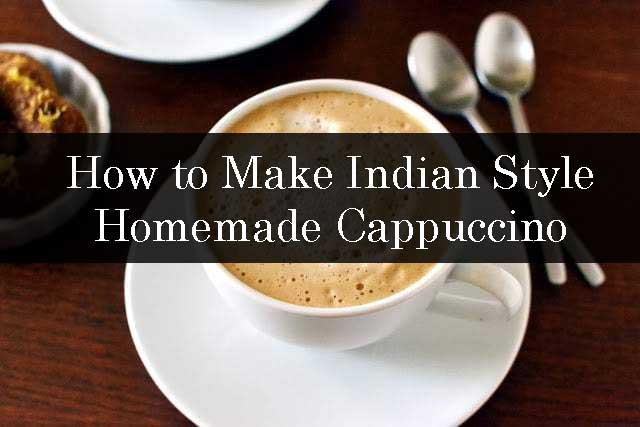 How to Make Indian Style Homemade Cappuccino (One serving)
Ingredients Needed for This Method
1 ½ teaspoons of instant coffee
1 tablespoon of sugar
¾ teaspoon of water
1 cup of milk
Directions for This Method of Making Homemade Cappuccino
The first thing you'll want to do when using this method for making homemade cappuccino is to make your coffee mix. While your milk is heating up, make your coffee mix. Combine the coffee and the sugar in a coffee mug. Then you'll want to add the ¾ teaspoon of water. Beat this mixture with a spoon for about 5 minutes or until it turns light brown.
If you have instant espresso on hand you can use ½ teaspoon of regular instant coffee with the ½ teaspoon of instant espresso instead for making the kind of homemade cappuccino.
Heat one cup of milk in a pot and put the pot of milk on a burner that is on medium-high. Make sure to keep an eye on the milk and wait for it to start to bubble and rise to the top of the pot. As soon as it does this remove it from the stove.
You May Be Interested In: A Brief History Of Espresso
Add your heated milk to the coffee mixture in your coffee mug. Stir the mixture and work up a nice froth. Sprinkle some of your instant coffee granules over the froth if you like and then enjoy some homemade cappuccino using the Indian method.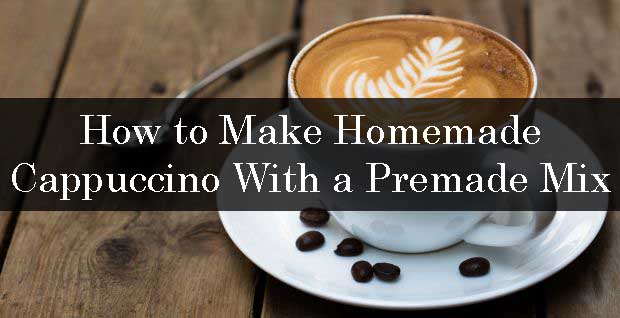 How to Make Homemade Cappuccino With a Premade Mix (24 servings)
Ingredients Needed for This Method
1 cup of powdered non-dairy creamer
1 cup of instant chocolate drink mix
¾ cup of instant coffee
½ cup sugar
½ teaspoon of cinnamon
¼ teaspoon of nutmeg
Directions for This Method of Making Homemade Cappuccino
The first thing you'll want to do for this method of homemade cappuccino is taking a container with a lid and just add and mix all of the ingredients listed above and put the lid on and set aside for when you want to make some homemade cappuccino.
When you want to make a cup of cappuccino just follow the directions below.
For each cup of homemade cappuccino, you just take two tablespoons of your cappuccino mix and put it in a coffee mug. Boil ¾ cup of water and pour the boiling water into your mug and stir well. That's all there is to it.
---

WHAT TO READ NEXT:
Best Budget Espresso Machines Under $100 Ranked
Best Budget Espresso Machines Under $200 Ranked
Best Budget Espresso Machines Under $300 Ranked
Best Drip Coffee Makers Ranked
Please follow and like us: