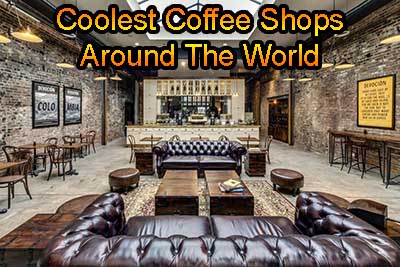 Coolest Coffee Shops Ranked
The Coolest Coffee Shops Around The World – You Must Visit | Anyone who loves coffee probably visits a coffee shop at least occasionally and probably finds many of them the same old same old. A few tables, the smell of great tasting coffee and filled with a ton of people that are in a hurry to go to work or wherever. However, have you ever wondered if there were some coffee shops that cater to the unusual or are just cooler than other coffee shops? Well, if you look hard enough you can find some of the coolest coffee shops. Here are just a few that we discovered during our tour of the world.



---
The Coolest Coffee Shops
---
Coolest Cafe In Paris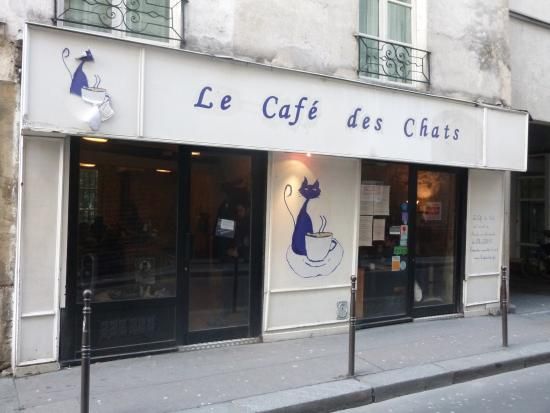 Cafe des Chats (Cat Cafe)
Customers who go to this coffee shop enjoy getting out of the rush in the city of Paris to order great coffee and croissants at the same time they are kept company by a dozen or so resident cats. This is one of the coolest coffee shops found in the heart of Paris' chic Marais district.
Customers not only get to relax and enjoy a cup of coffee but they also are entertained by a dozen cats who weave in between all the tables, curl up in armchairs or in hop on customers laps for a little attention.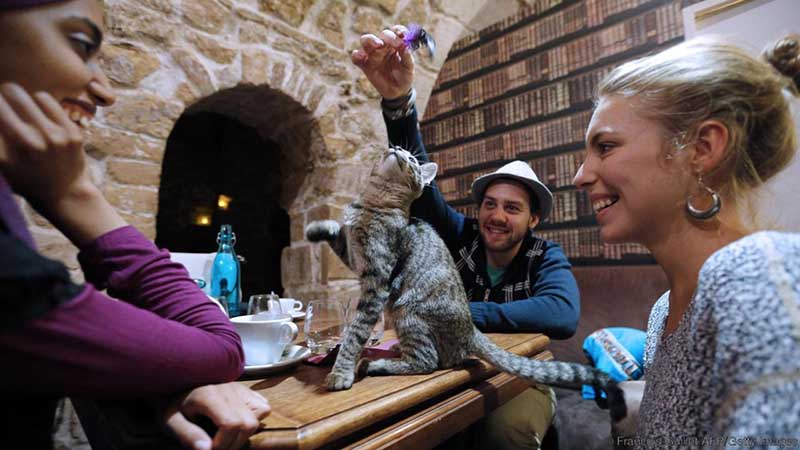 The whole idea of this coffee shop is to target those who live in Paris and can't keep their own pets in their cramped city apartments. The idea coming from this coffee shop may seem a little eccentric but the owner believes it offers their customers health benefits from what they call "purr therapy".
---
The Coolest Cell Phones You Can Buy Now!
---
Cafe des Chats (Cat Cafe) Video

All of the cats were adopted from rescue centers and have been given a home where they have been nursed back to health and in return they give joy to their owners and customers alike, making this one of the coolest coffee shops around.
---
Coolest Cafe In Tokyo, Japan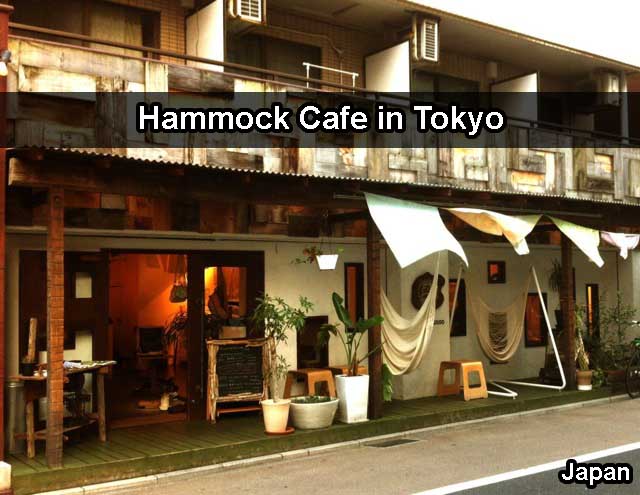 Hammock Cafe (Mahika Mano)
Looking for a spot to not just enjoy a cup of coffee but also to completely relax by doing so? Well, you can do that at the Hammock Cafe in Tokyo. This coffee shop not only serves great coffee but it is also an art gallery that allows their customers to sip, relax, and sway in hammocks.
---
The Coolest Coffee Makers You Can Buy Now!
---
At this coffee shop, you see hammocks hanging from the ceilings that invite those passing by to stop in, order a tasty drink, and then just sit back and swing away in their comfy hammocks. As soon as you walk into this coffee shop the first thing one notices is that there simply are no chairs anywhere. It may seem like a crazy idea to use hammocks instead of chairs but the minute you sit down in one you get it immediately and you suddenly realize this is one of the coolest coffee shops to enjoy great beverages plus some great artwork.
---
The Coolest Cafe In Spain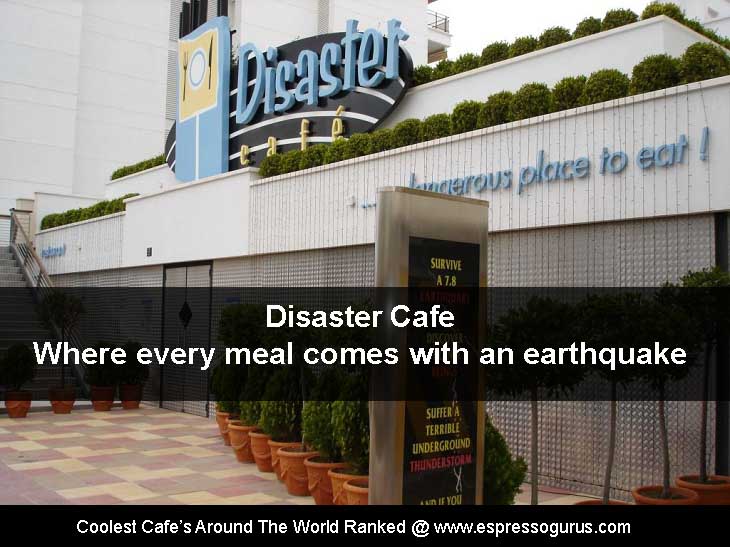 Disaster Cafe
Most of us would freak out if we suddenly found ourselves in the middle of a 7.8 earthquake during our lunchtime. However, at the Disaster Cafe in Lloret de Mar, Spain, earthquakes happen every day and it takes all you can to try and keep from spilling your food and drinks in this coffee shop.
This may sound really weird, when most people are terrified of earthquakes, there are people in this town that pay to experience a simulated 7.8 earthquake while enjoying their favorite meal. This is truly a unique coffee shop and one that deserves to be called one of the coolest coffee shops in the world.

If you look at this coffee shop from the outside it looks pretty mundane and normal and it sure doesn't show any warnings on the outside of what goes on on the inside. To experience the fun stuff customers take an elevator down to a cave-like restaurant. The first warning you get that something is strange about the place is that all the staff are wearing helmets and other safety equipment. You'll also notice that the plates the food comes on are much heavier than what you are used to. But the food is so good no one pays much attention to that. However, with the Disaster Cafe, you need to be on your toes at all times because they never let you know when disaster is going to strike. At any time during your coffee or meal disaster can strike and it's always a simulated 7.8 earthquake that really shakes the place, lights go out, chairs and tables move all over and all you can do is ride it out until it's over.
Just remember to wear clothes you don't mind getting dirty because accidents do happen and quite often. Pretty cool coffee shop if you are a thrill seeker.
---
Coolest Coffee Shop In America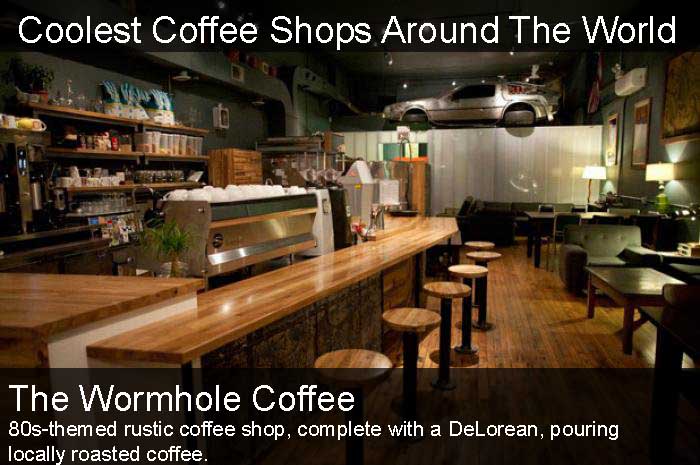 Wormhole Coffee Shop
Now for one closer to home. The Wormhole Coffee Shop is a cool coffee shop especially for those who are big fans of the Back to the Future series of movies as well as other epic movies. You'll find this cool coffee shop in Chicago. It's definitely one of those coffee shops that grabs your attention.
This cool coffee shop features all kinds of memorabilia from a variety of different classic and epic movies. The main centerpiece of this coffee shop is the DeLorean that the owner turned into the time-traveling car in Back to the Future. The Wormhole Coffee Shop promises to please almost any customer when it comes to their movies favorites and so far they haven't disappointed a single customer who comes to visit.
---
The Coolest Gadgets You Can Buy
---
Coolest Coffee Shop In America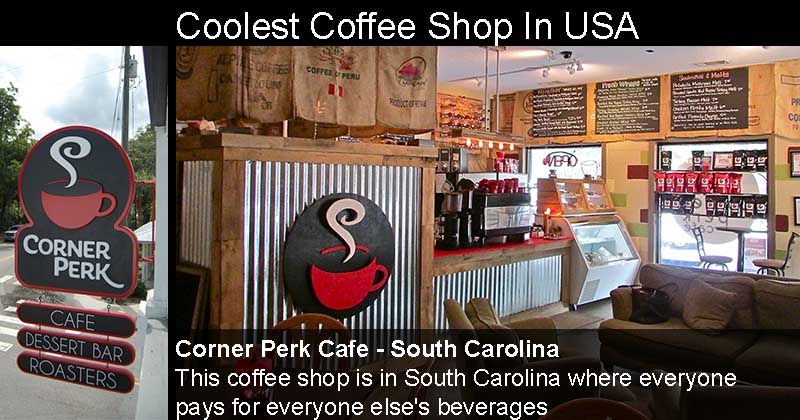 Corner Perk Coffee Shop
This is a coffee shop in South Carolina where everyone pays for everyone else's beverages. You know just like in the movie Pay It Forward? Well this idea for this coffee shop started in 2010 in this small coffee shop had a customer that not only paid her own bill but left $100 extra and instructed them to pay for everyone's orders after she left until the money ran out. This woman, who remains anonymous tends to come back every few months donating money each time.
It took a little time, but the word spread about what had started at this little coffee shop and because of its customers have been leaving extra money behind to pay for others' food and drinks. Some people in fact just stop by and donate money and nothing. If this isn't one of the coolest coffee shops around, I don't know what is.
---

WHAT TO READ NEXT:
The Best Budget Espresso Machines Under $500 Ranked
The Best Budget Espresso Machines Under $1000 Ranked
[pt_view id="a669ee8t7h"]
---
Ref: Cafe des Chats (Cat Cafe) – Hammock Cafe (Mahika Mano) – Disaster Cafe – The Wormhole Coffee Shop – Corner Perk Coffee Shop