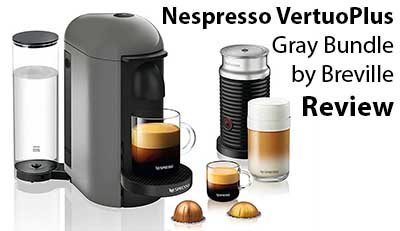 Nespresso VertuoPlus Review
Nespresso VertuoPlus By Breville
Nespresso VertuoPlus by Breville Review: A lot of people who love coffee prefer coffee machines that use coffee capsules because of their convenience. However, there are a variety of different coffee makers on the market today to choose from. Because of this, it can be confusing when it comes to making a choice. This is why we'll be helping you out with this. Instead of wasting hours of your time online going through hundreds of Nespresso machine models comparing specs and features you can simply focus on the best available choice out there. So, go ahead and grab yourself your favorite cup of Joe and enjoy reading Espresso Gurus Expert Review of the Nespresso VertuoPlus Gray Bundle by Breville.



---
Nespresso VertuoPlus Review
---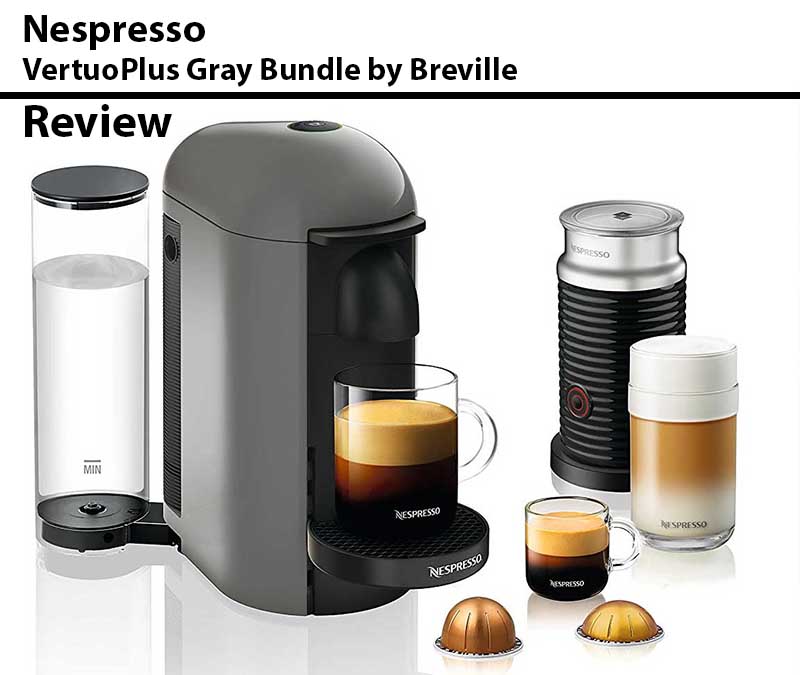 Details – Specs – Testimonials
Nespresso: Convenient Capsules
In our Nespresso VertuoPlus review, we've discovered that this coffee maker has been specially designed to be used with Nespresso capsules. This coffee machine enables you to brew fresh coffee that has a nice crema along with being great tasting authentic espresso as well.



About the Machine
In our Nespresso VertuoPlus review we found that the VertuoPlus includes a powerful motorized head that helps to produce great tasting coffee. It also has Centrifusion Extraction Technology that was developed by Nespresso. This type of technology enables this coffee maker to spin up to 7,000 rotations every minute. This allows it to blend the ground coffee in the capsules with the water in order to produce the perfect cup of coffee each time you use it.
Nespresso VertuoPlus Specs & Features
Full Details & Specs Click Here

Details – Price – Order – Specs
---
Nespresso VertuoPlus Review
---
Nespresso: Multiple Cup Sizes
While conducting our Nespresso VertuoPlus Review we were pleased to find out that even though this coffee maker uses only capsules it doesn't limit your choices in coffee cup sizes. The Nespresso VerutoPlus offers three different capsule sizes that let you choose from a 14-ounce Alto cup size, 8-ounce cup, and 1.35-ounce espresso size. Each of these capsules will give you great tasting fine roasted and ground coffee that's sealed in a single serve capsule to keep its freshness.
Also Read:
Intelligent Extraction System
Our Nespresso VertuoPlus review also discovered that this coffee brewer uses an intelligent extraction system that has the ability to actually recognize every individual capsule and its specialty. It can do this because of a special bar code that can be found on the rim of the capsule. What this means for you is that each individual coffee capsule has its own brewing parameters will be adjusted by the machine depending on the Grand Crus is selected. This means that you never have to change the machine's settings to get a great cup of coffee. Everything is done with just one touch of a button.


Easy to Use One-Touch Brewing System
We were happy to discover during our Nespresso VertuoPlus Gray Bundle by Breville review just how easy the machine is to use. You don't have to know a thing about brewing specialty style coffees. Instead, you'll be able to create great tasting freshly brewed coffee or espresso with the simple touch of one button. After you pop the capsule in you just need to push the button and the capsule is analyzed by the machine to brew the type of coffee you've chosen. It also automatically ejects the capsule right after it's done brewing your coffee after a very short pre-heat time. The cup support that's included with this coffee maker will adjust to four different positions in order to accommodate different recipe and cup sizes. There is also a deluxe version of this coffee maker that has an extra large capsule and water container.


Nespresso VertuoPlus: Added Bonuses
During our Nespresso VertuoPlus review, we were pleased to see that this coffee maker also includes their Aeroccino 3 Milk Frother. This frother enables you to create a smooth and finely textured cold or hot milk froth in order for you to create some of your favorite coffee recipes. Along with the special milk frother, Nespresso VertuoPlus includes a complimentary welcome gift of 12 coffee capsules.

Capsules Provide High-Quality Coffee
While conducting our Nespresso VertuoPlus Gray Bundle by Breville review we were pleased with the high standards of their selection of coffee. Once they choose their high-quality coffee they put the coffee in hermetically sealed capsules that are made of aluminum and are recyclable. Because they are hermetically sealed ensures that the freshness is locked in and provides you with great tasting coffee. You can choose from 12 different freshly brewed coffees along with four different authentic Espresso Grands Crus giving coffee drinkers plenty of choices to satisfy their different taste preferences.
Click the link below to order or just check out the different variety of flavors of coffee available.
---
Nespresso VertuoPlus Pros & Cons

Nespresso Customer Testimonials
Nespresso VertuoPlus: Pros
Easy to use
Convenient coffee capsules
Different cup sizes available
Easy to clean drip tray
60-ounce water tank
Milk Frother
Nespresso VertuoPlus: Cons
---
Where To Buy & Get The Lowest Price?
If your wondering where to buy the Nespresso VertuoPlus by Breville then your in luck. Take advantage of Espresso Gurus Exclusive Price Link below and get a discounted price for a limited time. Best of all you can have the Nespresso VertuoPlus delivered to you today.
Espresso Gurus Exclusive Price Link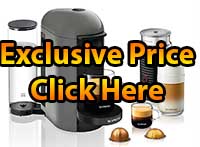 ---

WHAT TO READ NEXT:
Home & Office Coffee Maker Reviews
Best Drip Coffee Makers Ranked
Best Cuisinart Coffee Makers Ranked
Commercial Coffee Machines: Complete Reviews
Home & Office Espresso Machine Reviews
Best Espresso Machines Under 300 | 2017 Detailed Guide
Best Espresso Machines Under 200 | 2017 Detailed Guide
Best Espresso Machines Under 100 | 2017 Detailed Guide
[pt_view id="a669ee8t7h"]
---
Ref: Breville – Nespresso VertuoPlus