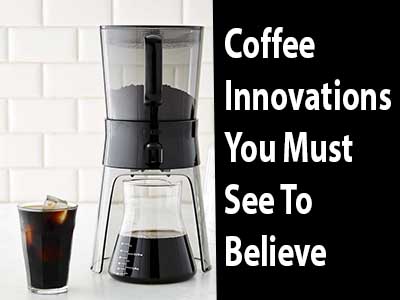 Coffee Innovations
Latest Coffee Innovations You Must See To Believe: For most people who simply can't live life without their coffee, they are always on the lookout for new coffee innovations. Whether it's a new coffee flavor, new coffee ideas, or new coffee creations and gadgets, they're looking for something new and great. In this post, we'll cover a few of the new coffee innovations and ideas that we've found to be interesting and useful.



---
Coffee Innovations You Must See To Believe
---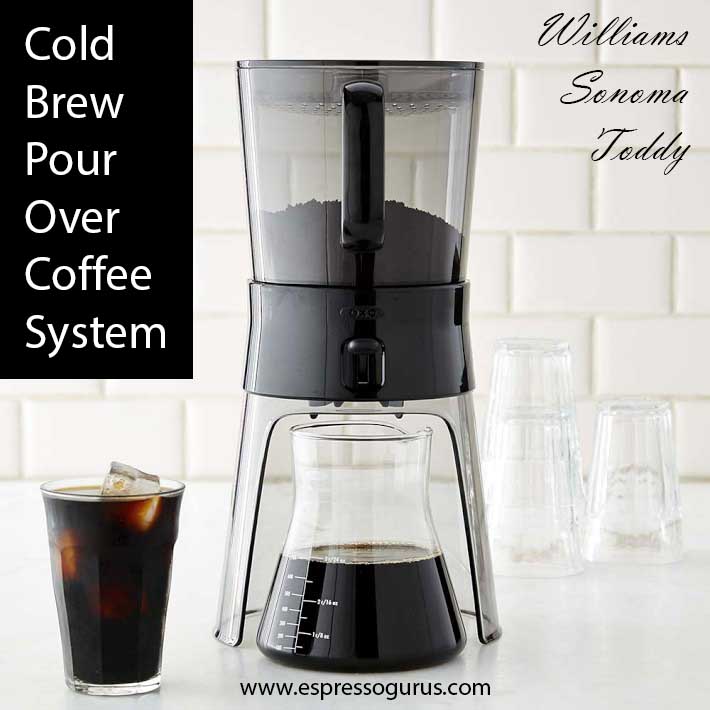 Innovative Coffee Products
Williams Sonoma Toddy Cold Brew Pour Over Coffee System
This coffee gadget is a cold brew system that's devoted to all coffee lovers. It has its own exclusive method of extracting all the natural flavors of your coffee while it leaves behind all the undesirable bitter acids and oils. The result you get is a really smooth coffee that is robust and has a truly pure tasting coffee.

This little coffee gadget makes a concentrated cold-brewed coffee and tea that you can store in its separate container in your fridge for two weeks. The coffee beverage has 67% less acid than other coffee brewed with more conventional methods. It also allows you to dilute the coffee concentrate down one cup at a time so you can get it to your preferred strength.
This sleek little coffee gadget includes the brewing container with a handle, glass decanter and lid, two filters that are reusable, rubber stopper, a recipe guide and full instructions that are simple to follow. The best part, it's less than $40.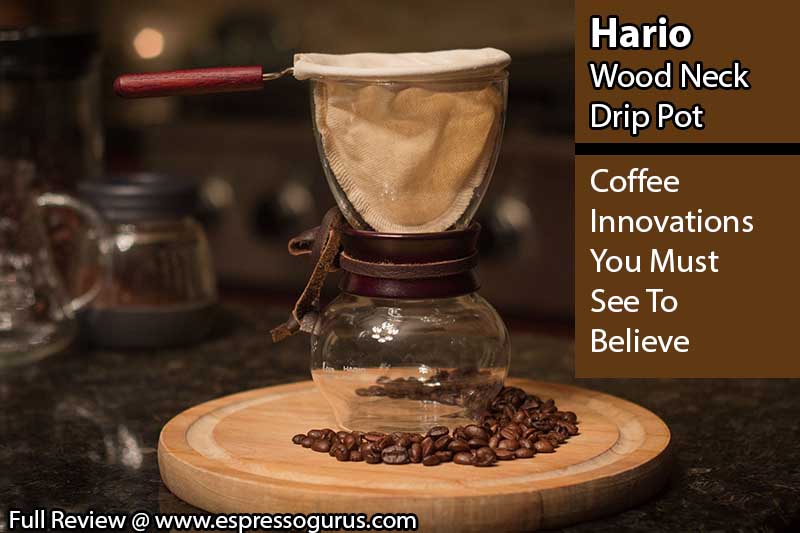 Innovative Coffee Brewer
Hario Wood Neck Drip Pot
Since drip coffee has really hit the coffee world with a head of steam it stands to reason that a lot of people might be interested in making it for themselves in their own kitchens. One coffee gadget that caught our eye was the Hario Wood Neck Drip Pot. This is a nifty little two cup drip pot that produces some great tasting drip coffee. It has a cool looking tempered glass pot that has a wood neck that makes it easy to pour without burning yourself. It also comes with a flannel filter, that's right a filter made from flannel. They claim this is the secret to the great tasting coffee that you get from this little drip pot. You can buy one right now at amazon.com for less then $50. Click Here to order or get the latest price.
DIY Creamy Mocha Popsicles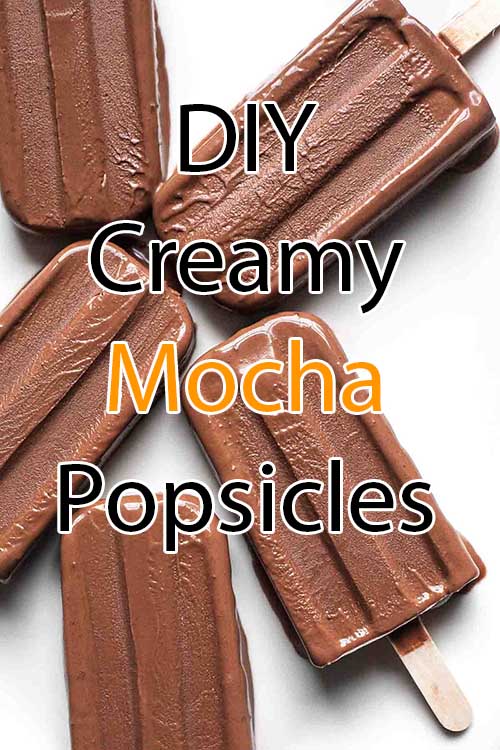 Creamy Mocha Popsicles
For those people out there who love iced coffee especially during those warmer months, you ever considered a frozen coffee treat? Well, why not? Here's a delicious coffee idea that you can make yourself called Lavazza Creamy Mocha Popsicles. This recipe makes ten and takes only 15 minutes of preparation time and about six and a half hours in the freezer before you can eat them.



Ingredients
1 cup of sugar plus 2 tablespoons
1 cup of Lavazza Qualita Rossa ground coffee (other coffee of your choice can be used)
3 ½ cups of water
5 ounces of dark chocolate, chopped
2 cups of heavy cream
10 popsicle molds
Directions
Take the sugar, coffee, and water and mix together in a saucepan and bring it to a boil. Let the mixture simmer for four minutes. Make sure to stir continuously. Next filter the mixture with either a clean kitchen towel or some cheesecloth.
In a mixing bowl mix together the chocolate and the hot coffee syrup you just made. Stir until it's totally melted. Let this rest and cool off. Refrigerate this mixture for about two hours.

Take a medium bowl and mix the heavy cream with two tablespoons of sugar. Mix lightly until it forms soft peaks. Add the cream to your cold coffee syrup and mix gently. Now pour mixture into the molds and put in the freezer for at least four hours.
Enjoy!
Innovative Coffee Ideas In Taiwan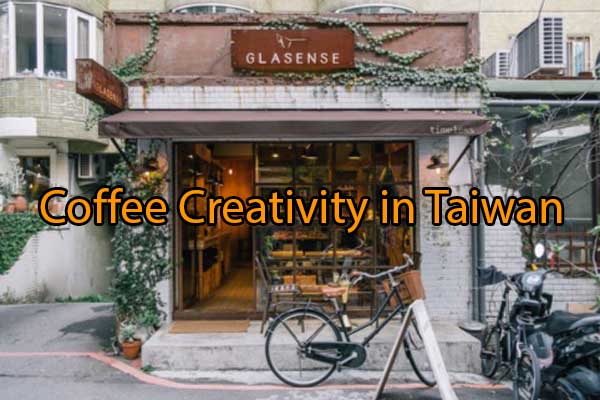 Coffee Creativity in Taiwan
More than likely you'll never get to do something like this, but we thought it was cool enough to mention in this post. Believe it or not, in Taiwanese convenience stores there are latte machines that will take a photo of you and then will print it on top of your coffee with a tasty edible brown powder. Now that's taking coffee ideas to new heights in creativity!
Print Your Picture On Coffee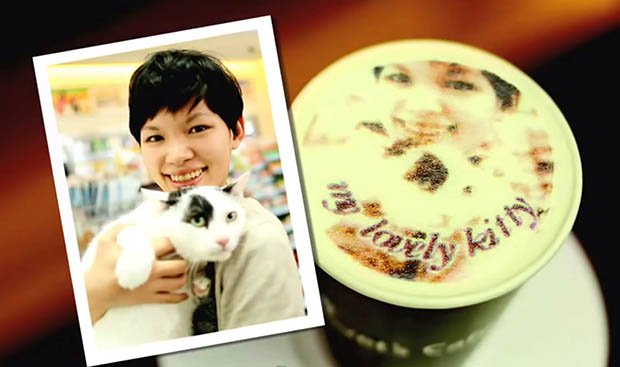 With that we leave you to ponder what will be the next coffee innovations coming out next year.
---



WHAT TO READ NEXT:
Best Espresso Machines Under 1000 | Buying Guide
Best Espresso Machines Under $500 Ranked
Espresso Machine Buying Guide – For Beginners
Here's The Coolest Cold Drip Coffee Maker You've Never Seen!
KEG STORM Nitro Cold Brew Coffee Maker | Review
5 Iced Coffee Ideas, The Family Will Love You For!
[pt_view id="a669ee8t7h"]
---
Ref: Williams Sonoma