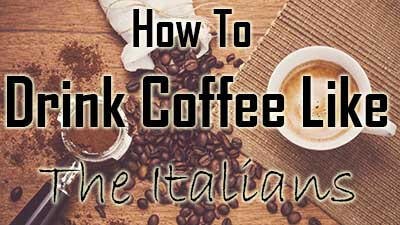 Coffee Drinking Rules
Have you ever wondered what makes the Italian coffee culture so special?
The charming cafes in centuries-old squares, the friendly gossip at the bar with the barista, the enticing smell of that perfect espresso…
Well, the Italian habits and customs around coffee have been developing for centuries. Their way of life today is inextricably linked with this popular drink, and quite possibly no one else knows how to enjoy it as the Italians do.
There are many unwritten
rules of coffee drinking in Italy
, and you can
explore the Med Cruise Guide's infographic that organized them into 10 key rules
that can help you avoid looking like a tourist and enjoy coffee like the locals do (see below).

Rules For Drinking Coffee Like The Italians
Here are just a few of many rules around enjoying coffee in Italy:
Espresso is drank at the bar, and you'll pay double if you want to sit at a table and not chat with the barista
The most popular coffee in Italy is espresso. It is served in a tiny cup that Italians order at the bar and methodically sip while exchanging the latest political scandal with the barista.
The tiny amount of espresso you get in your cup means it is very low on calories (around 3 caloriesper ounce when served without sugar) making it a very healthy type of coffee that does not pose the risk of adding weight.



Another, more social, benefit of such a tiny dose in your espresso cup means that you will definitely end up having more than a few espressos during the day. In fact, that is precisely what Italians do.
Instead of taking large cups of coffee they can sip for much longer periods of time, they award themselves with several breaks throughout the day, and head out for another espresso at a local café.
This offers them a chance to socialize with friends, baristas, and other friendly people at their café of choice, making their days more tolerable. It's not uncommon for Italians to consume up to 7 even espressos per day.
However, if you opt for sitting at a table outside the café, expect to pay double or more compared to what you would pay at the bar. That's the price for not adhering to the rule! 🙂
Cappuccino is a breakfast drink
Do not make the mistake of ordering the cappuccino after breakfast. It belongs to the family of coffees with milk, and such coffees are only consumed in the morning.
The reason is that digestion is made more difficult by milk, and Italians take good care about their health and nutrition. Tourists might often fall into the trap of ordering latte macchiato (another milky coffee) after lunch or in the evening, and quickly lose the barista's respect.
You should know your way around Italian types of coffee
The sheer number of different types of Italian coffee can be quite daunting to figure out and to know when to order what. It is the evidence of the level of art and improvisation these coffee lovers have developed over the centuries.
Italians mix espresso as the basis with many different things, and get all sorts of results.
For example, one of the favorite summer coffee drinks is cafféshakerato. This is basically an espresso on ice, but served in a martini glass, of all things. It is a cool drink enjoyed outside, during hot Italian summer days (and now you can look cool when you order it on your next trip to Italy 🙂 ).
Or what could caffémarocchino possibly look like? This heavenly drink is a mix of espresso, cocoa powder and milk foam, all in one. Known as espressino in the south of Italy, this again goes to show what artful, imaginative paths Italian coffee types have taken.
You're now ready to enjoy coffee as Italians do
The coffee culture in this fascinating country takes some getting used to, with its unusual rules and delightful coffee types.
Hopefully this post and the infographic will give you a head start in learning how the Italians do it, and you can start enjoying a good cup of espresso like the locals do on your next trip to Italy!
---
How To Enjoy True Italian Coffee Culture?
As you know by now, the most popular drink in Italy is espresso. If you really wanted to enjoy the Italian coffee drinking culture the best thing for you to do would be to actually plan a trip to Italy. Italy is located in Europe and is easily one of the safest countries to plan your holidays for. One of the best sites that Espresso Gurus recommends for people to pay a visit to before they plan their trip is MedCruiseGuide.Com. This is a wonderful site that is filled with relevant and very helpful information for any traveler. It explore all the necessary questions you need to ask before you plan to travel to any country. Best of all this website is not just dedicated to Italy but the entire world. So if your planning to take your holiday's to the next level don't forget to visit Med Cruise Guide or as we like to call it travelers insurance. You'll be glad you did.
However if you can't go on a world tour to enjoy the coffee culture, then the next best thing is to turn your own kitchen into a coffee bar. Below you will find some of the most important coffee equipment you will need to turn your kitchen into a Italian coffee house.


---
What To Read Next?
Espresso Equipment:
Coffee Equipment:
Coffee Grinder Equipment:
Commercial Use Coffee & Espresso Equipment:
---
Ref: medcruiseguide.com