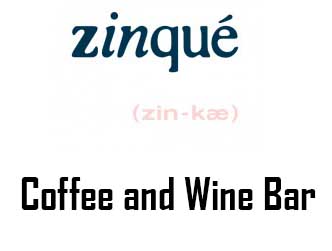 Zinque Coffee and Wine Bar
If you're looking for a coffee shop that's a little bit different, then you might want to take a look at the Zinque Coffee and Wine Bar that's located in Venice, CA. This is a coffee shop that is a laid back coffee bar during the day and turns into a wine bar at night.
Owner Knew What He Was Doing
The owner, Emmanuel Dosseti, knew exactly what he was doing when he decided to open up his coffee shop that included free Wi-Fi, unique and inspiring architecture along with open-air seating. This is the ideal environment for a place like Venice which is on the coast.



Patio During the Day
During the day, you can enjoy the great weather while sipping on your favorite coffee beverages. Their lattes become works of art from their top notch barista . The open patio offers a great place for customers to not only during enjoy the coffee and something great to eat, but it gives them a comfortable place to get together with friends or with fellow employees to relax.
Patio During the Night
The lovely little patio at night is transformed by the warm breezes flowing through the patio and quaintly accented with twinkling white lights that transforms the coffee bar immediately into a charming wine bar where customers can relax after a hard day at work and sip on their favorite glass of wine. The wine bar patio also offers a comfortable outdoor gathering spot in front of their outdoor fireplace.
More Than Just Coffee and Wine
Zinque Coffee and Wine Bar offers their customers far more than just coffee and wine beverages to enjoy. They also offer three different menus that their customers can choose from.
Brunch Menu
Their brunch menu offers a variety of different egg dishes from soft scrambled with parmesan and herbs to quiches and even tasty grass fed hamburgers. They also offer a variety of pastries that include, tarts, banana bread, muffins, brownies, croissants, and cake.
On top of serving coffee and wine they also include a few brunch cocktails that include Bloody Marys, Margaritas, and Sangria.
Lunch Menu
Their lunch menu offers a variety of foods from grass fed beef burgers, lettuce wraps, quiche, salmon, soups, salads, other sandwichs and Tartines served on Poilane bread.
Dinner Menu
Customers can enjoy a variety of wines and beers that they can enjoy a variety cheeses, salads, Tartines, veggies, and platters of food that include burgers, seafood, quiches, and delicious desserts.




Prices
Amazingly, when you consider the location of this coffee shops, the prices for the most of the food they offer are reasonably priced, making it a great place to visit for most people.
More Information
They have three different locations. The one located in Venice, one in Newport Beach, and West Hollywood.
All of their locations offer their customers the ability to order online for take out food as well as delivery orders along with catering for special events.
If you want more information on their prices, what they have to offer, and their exact location, you can check out their website



---
What To Read Next?
Espresso Equipment:
Coffee Equipment:
Coffee Grinder Equipment:
Commercial Use Coffee & Espresso Equipment: