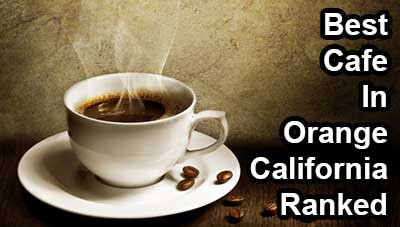 Orange, California Best Cafe Ranked
If you're looking for a coffee shop that makes you feel like you have been transported to a quaint cafe in Italy, the Cafe Lucca won't disappoint. The Cafe Lucca was a vision that was sparked from a vacation to the quaint town of Lucca in Italy. So inspired by this little town, the owners of Cafe Lucca decided to open up a coffee shop in Old Town Orange, CA just a few steps away from the historic Plaza Square and the Plaza Park.



Old Towne Orange itself is a charming area of Orange and you'll find the streets are filled with art galleries, antique shops, fine dining, tea houses, and coffee houses, like Cafe Lucca. It's a really nice area to take a leisurely walk and take in the sites. Cafe Lucca fits in perfectly with its offering of the old world charm and warmth of old Italy.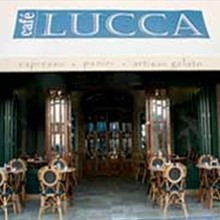 ---
Best Cafe In Orange, California Ranked
---
Their Focus
The main focus of Cafe Lucca is creating a cafe that is oozing with charm and uniqueness. They offer specially blended Italian coffee that's roasted to perfection in an old world style. They also include a variety of foods that will please everyone. All their foods including their homemade gelato is made with all the freshest ingredients right in their own kitchen.
They invite all to come and experience the charm and tradition of the goodness found in old world Italy right in the middle of a city located in California. Both the interior and exterior definitely give you a feeling of being taken to another time and place.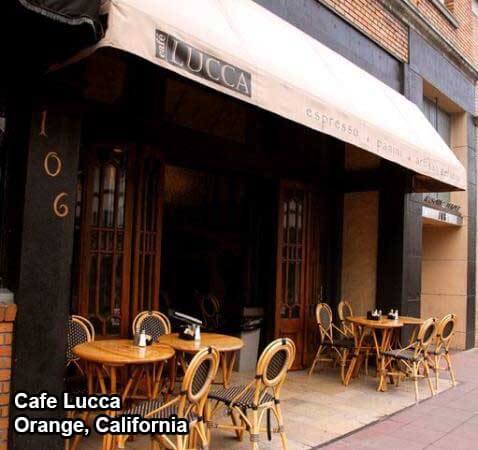 Menus
They offer their customers not just great tasting Italian coffee but three different wonderful menus to choose from. Morning, Mid-Day, and Evening. Here are just a few examples of what you can expect to find on them.
Morning
Egg Dishes – Hearty Scramble, Garden Scramble, Eggs Biscuits and Gravy, Egg Benedicts, Omelettes, and Egg Benedicts.
Lighter Fare – Breakfast Croissants, Breakfast Wraps, Breakfast Paninis, Parfaits, and Lox & Bagel.
Pancakes & More – Traditional Pancakes, Specialty Pancakes, Belgian Waffles, and French Toast.
Mid-Day
Each day the Cafe Lucca creates four delicious soups to choose from along with a variety of salads customers can enjoy as well as their own specialty sandwiches and pasta.
Soups – Hearty Tuscan, Garden Tomato Basil, Grandmother's Peasant Soup, and Portobello Mushroom.
Salads – Roma, Naples, Bellagio, Verona, Mediterranean, Caprese, Al Fresco, Venice, and Padova.
Pasta Dishes – Mac & Cheese, Lasagna Bolognese, and Vegetarian Lasagna.
Paninis – Milan, Genoa, Sorrento, Palermo, Vinci, San Remo, Arezzo, Cecina, and Positano. (all served with pasta salad)
Sandwiches – Parma, Radda, Florence, Cortona, Siena, Pisa, Caprese, and Sicilian. (all served with pasta salad)
Misc. – Kobe Beef Burger with sweet potato fries, New England Crabcakes, and Aunt Nancy's Chicken Pot Pie.
Check This Out!

Evening
Their evening menu has a very good variety of delicious foods that include starters, salads, pasta dishes, meat dishes, and desserts.
Starters – Toasted Ravioli, Bruschetta, and Calamari Fritti
Salads – Same as their Mid-Day menu
Carne & Pesce – Pork Chop Dinner, Rack of Lamb, Beef Tenderloin, Veal Picatta, Chicken Marsala, Chicken Parmesan, Fish Soup, Salmon Dinner, and Halibut Dinner.
Pasta – Lucca's Signature Raviolis, Chicken Rigatoni, Sausage Rigatoni, Fettuccine Alfredo, Pasta Margarita, Eggplant Parmesan, Linguini with Pesto, Scampi, and more.
Desserts – Panna Cotta, Cheesecake, and Homemade Gelato.
They also sell fresh coffee and espresso beans for you to enjoy in your own home.
More Info
If you are interested in visiting Cafe Lucca or finding out more about this coffee shop and their delicious coffee and food feel free to visit their website at http://www.cafelucca.com/.
---
What To Read Next?
Espresso Equipment:
Coffee Equipment:
Coffee Grinder Equipment:
Commercial Use Coffee & Espresso Equipment:
---
Ref: HuffingtonPost