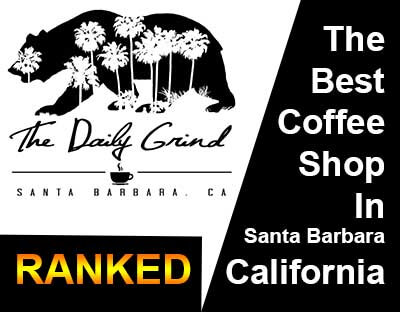 The Daily Grind is a nice little coffee shop that opened their doors in Santa Barbara, CA in 1995. They took an old gas station and transformed it into a quirky little coffeehouse. However, The Daily Grind is a lot more than just a coffeehouse or coffee shop. They prefer to take a family approach to their business and this is how they treat all of their customers. This makes for a very welcoming place for who visit. They have two different locations both of them located on De La Vina Street.



---
Best Coffee Shop In California Ranked 2018
---
Wonderful Setting
You can choose to sit inside of their open-air cafe to enjoy delicious coffee and great tasting food, or you can sit outside on their cozy and plant-filled patio any time of the year since the climate in Santa Barbara is mild nearly all year round.
The staff is welcoming and make every customer feel special. It's a great place to gather with family and friends or to join up with business associates for a comfortable business lunch. Customers can enjoy great tasting coffee and food while enjoying a place that is decorated with everything from license plates, bikes, and a variety of other unusual and interesting items.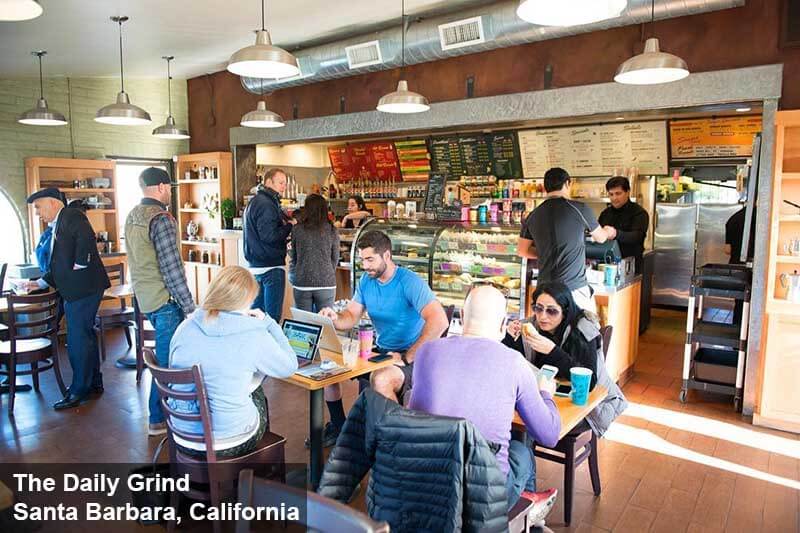 Espressos/Juices/Smoothies
The Daily Grind serves great tasting fresh brewed coffee as well as a variety of espresso beverages, juices and a large variety of smoothies that are popular with the locals. Some of the smoothies they create include:



Fiesta Freeze – Bananas, strawberries, and apple juice
Centurian – Bananas, pineapple, and coconut juice
Fats Domino – Blueberries, strawberries, and apple juice
San Andres Shake – Java juice, chocolate frozen yogurt, non-fat milk, and espresso beans
Hawaii 5-0 – Mango juice, strawberries, pineapple, and frozen yogurt
King Kong – Bananas, peanut butter, chocolate non-fat milk protein powder and non-fat frozen yogurt
Peachy King – Peaches, pineapple, non-fat frozen yogurt, peach juice
Food Menu
Customers can also enjoy a great choice of foods from their food menu that includes a few breakfast items and a nice lunch menu. For breakfast the locals can enjoy breakfast burritos and sandwiches that include:
Spinach Burrito – Eggs, feta cheese, spinach, potatoes, and salsa
Chorizo Burrito – Chorizo, potatoes, eggs, and salsa
Bacon or Ham Burrito – Bacon or ham, potatoes, eggs, cheddar cheese, and salsa
Bagel Sandwiches – Choice of bagel, ham or bacon, eggs, tomatoes, and cheddar cheese
Lox Bagel Sandwich – Choice of bagel, lox, tomatoes, onions, avocado, capers, and cream cheese
Check This Out!

When it comes to lunch customers can enjoy a nice choice of sandwiches, salads, or soup and salad combos. Some of the great choices include:
Gemini – Oven roasted turkey, ham, cheddar, provolone, pesto, may, and Dijon mustard with choice of bread
007 – Roast beef, provolone, mayo and Dijon mustard on choice of bread
Mission Impossible – Pastrami, jalapeno, jack cheese, mayo, and Dijon mustard with choice of bread
Local Favorite – Avocado, tomato, red onion, bell pepper, cucumber, sprouts, swiss, cheddar and pesto on choice of bread
The Portobello – Portobello mushrooms, grilled spinach, and onions in olive oil, feta cheese, tomato on a toasted focaccia bread
Veggie Salad – Mixed greens, tomato, bell peppers, cucumber, red onion, carrots, croutons with Ranch dressing
Caesar Salad
Spinach Salad – Spinach, bacon, red onion, boiled eggs, pepper jack cheese with tomato poppy seed vinaigrette
Mediterranean Salad – Mixed greens, red onion, sun-dried tomato, artichokes, portobello mushrooms, feta cheese with balsamic vinaigrette
BBQ Chicken Salad – Mixed greens, BBQ chicken, avocado, corn, tomato, green onion, jicama, pepper jack cheese, tortilla strips with cream BBQ Ranch
More Information
If you are interested in visiting The Daily Grind or want to find out more about The Daily Grind, you can visit their website at http://www.dailygrindsb.com.
---
What To Read Next?
Espresso Equipment:
Coffee Equipment:
Coffee Grinder Equipment:
Commercial Use Coffee & Espresso Equipment:
---
Ref: Huffington Post