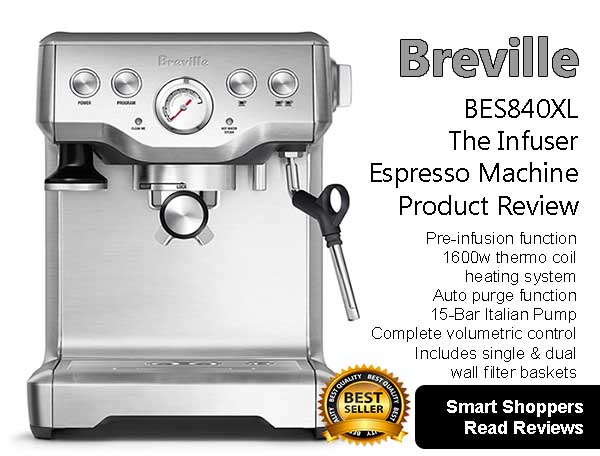 Breville BES840XL the Infuser Espresso Machine (Price)
---
Breville BES840XL The Infuser
If you are looking for an espresso machine that produces espresso that has a very well balanced flavor that is drawn evenly from all the coffee grounds, the Breville bes840xl the infuser espresso machine could be the one that gives you just what you are looking for. Continue reading our review of Breville Infuser to find out what this espresso machine has to offer its users and other points you should be aware of before purchasing Breville infuser espresso machine. We already can assume your a smart shopper because smart shoppers read reviews and make informed purchases. So get your self a cup of coffee and go through our expert review of the awesome Breville infuser.




The Breville Infuser: Technology Explained!
This Breville bes840xl the infuser espresso machine is one that has a system that starts off with very steady and low pressure so that it gently expands the coffee grinds. This is what will help to fill up any gaps, cracks and irregularities that might be in the coffee puck. This is all done before any full pressure will be applied. This even pressure is always applied to every part of the coffee puck and this is how the optimal flavor can be extracted from your coffee. If you have a friend who currently owns one of these amazing espresso machines you can get a taste test and experience Breville's Infuser technology first hand.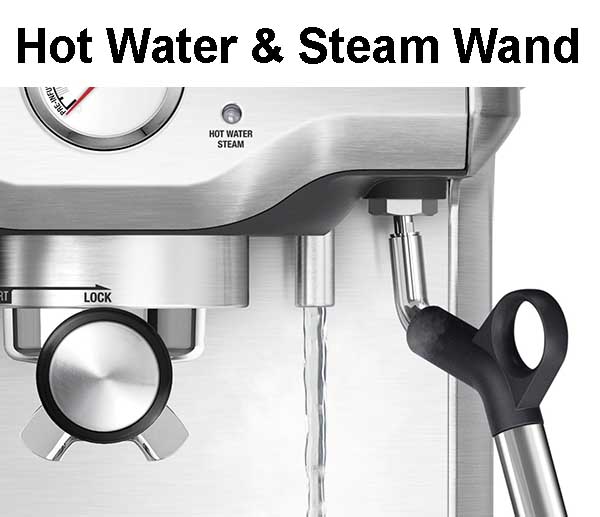 Breville BES840XL the Infuser Espresso Machine (Price)
Breville BES840XL Has Many Automatic Features
You will love how the Breville BES840XL offers you automatic features such as temperature settings and volumetric controls that you can program. Some important key features to mention that sets this espresso machine apart from others like is its pre-infusion technology, the PID temperature control and its thermo-coil heating system.
BES840XL Includes A Cup Warmer
You'll also like that it has a nice cup warmer on top of the Breville bes840xl so that you can make sure that the cups you serve your espresso in are always nice and warm when pouring the espresso in. This helps to maintain the excellent flavor of the espresso. Breville the infuser also has a really nice feature that actually will remove any excess water that might be in the filter basket after the coffee has been extracted. This means that the used coffee grounds will form a nice dry puck that makes it a lot easier for you to clean up.
Breville Infuser: 61 oz Removable Water Tank
If you prefer a machine that can produce a larger amount of hot coffee beverages than most you'll pleased to know that the Breville bes840xl has a removable water tank that holds up to 61 ounces of water. This water tank also has its own replaceable water filter and this will help to cut down on both scaling and impurities to ensure that your espresso drinks always taste wonderful. As you can see some of the features on Breville's infuser are not to be found on other espresso machines in its price range.




Thermocoil Heating System Of Breville Infuser
The thermocoil heating system for this Breville bes840xl is a wonderful system that will circulate the water through a coil that is heated and gives you the ability to have heated water on demand so there is a far better consistency in the temperature of the water. It's through Breville Infuser's PID technology that the temperature can be regulated.
Moniter Extraction Pressure With Breville BES840XL
Breville infuser espresso machine also has a convenient espresso pressure gauge that lets you be able to actually monitor the extraction pressure and this means that you know whether or not it's being over or under extracted.
BES840XL Comes With Volumetric Controls
The Breville bes840xl also comes with volumetric controls and this allows you to set your own shot volumes. You can use preset volumes or you can override them manually to fit your own personal tastes. After you've decided what volumes you prefer most, you can actually program those into Breville infuser so that your customized settings remain there for future use.
Separate Steam Wand & Hot Water Tap Designed Into Breville Infuser
So that you can froth milk in order to make other great tasting coffee beverages it has an easy to use steam wand that makes frothing milk effortless and you can make delicious tasting cappuccinos and lattes that will impress all your family members and friends. Using this wonderful machine will surely make you look like a professional barista to anyone you serve in your own home.
Available In 3 Colors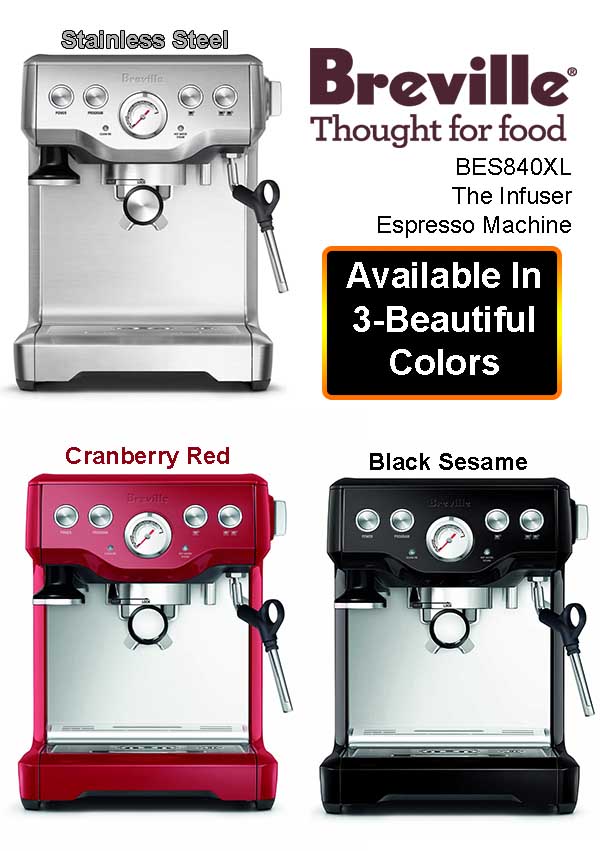 Breville BES840XL the Infuser Espresso Machine (Price)
---
Breville Infuser Customer Ratings

Over 300+ Satisfied Customers Can't Be Wrong!
---
The Verdict: Breville BES840XL The Infuser Espresso Machine
Breville infuser is an absolute must buy for anyone looking for an espresso machine that not only provides quality product but also looks great in your kitchen or office. With all of BES840XL's advanced technology improvements you can't go wrong with this espresso machine. A cup warmer on the top, separate steam wand and hot water tap and volumetric controls are just some of the features that are often overlooked by users when purchasing a new espresso machine. These features add value to the espresso machine and a user only realizes their true value when they make the mistake of buy a espresso machine without these features. A lot can be said about this great value for the money espresso machine but one of the points that stand out to us at Espresso Gurus is Breville BES840XL's Infuser Technology. This is rare in a espresso machine that is for home or office use let alone in the price range of the BES840XL. If your interested in purchasing this espresso machine we have the best option for you. Click the link below to get it at a discounted price for a limited time. Take advantage of our link below and order your Breville Infuser today.

Breville BES840XL the Infuser Espresso Machine (Price)
---
Want to check out other options before you purchase Breville BES840XL The Infuser Espresso Machine. We have you covered. Take advantage of our expert in-depth reviews. Smart shoppers read reviews and make informed purchases.
WHAT TO READ NEXT?
Best Espresso Machines In Any Price Range
Best Espresso Machines Under 100
Best Espresso Machines Under 200
Best Espresso Machines Under 300
Top Home & Office Coffee Equipment Reviews List
Top Commercial Coffee Equipment Reviews List