BUNN G2HD 2-Pound Bulk Commercial Coffee Grinder Review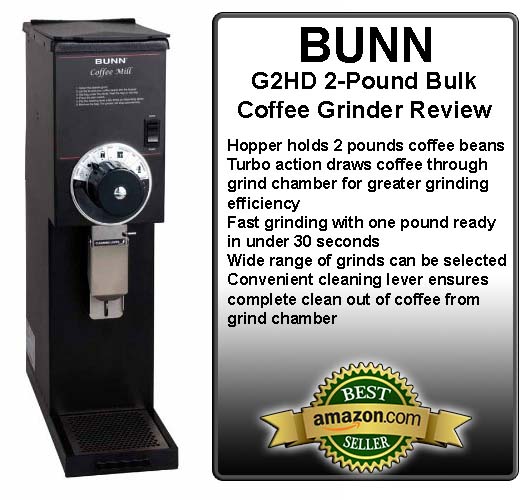 BUNN G2HD 2-Pound Bulk Coffee Grinder (Click For More Details)
BUNN Commercial Coffee Grinder
---
Product Review: BUNN G2HD
If you own a coffee shop or restaurant or if you are planning to open up one in the near future, you might want to take a close look at this BUNN Commercial Coffee Grinder. This might be just the one you are looking for to help you produce extremely good tasting fresh ground coffee for your customers. Having your own coffee grinder is going to make your coffee stand out from other restaurants who continue to use coffee that's already ground when they get it. Any big time coffee drinker can tell the difference.
BUNN G2HD Commercial Coffee Grinder Is Extremely Fast! Grind 1 pound in 30 secs!
If you serve a lot of coffee in your place of business then this coffee grinder by BUNN could be one that will fit right in. The hopper of this coffee grinder can hold up to two pounds of coffee beans and it has a turbo action that actually draws your coffee right through the grind chamber for much faster and greater grinding efficiency. BUNN G2HD coffee grinder is extremely speedy and can grind one pound of coffee in less than 30 seconds, so you never have to wait long for your fresh ground coffee. This in turn cuts down on the time that your customer has to wait for their fresh brewed coffee.
"Coffee lovers always prefer fresh ground coffee." – Espresso Gurus
The smell from BUNN's G2HD Commercial Coffee Grinder's fresh ground coffee before brewing it will permeate your restaurant and once your customers get a smell of that fresh ground aroma they know they can expect to receive a delicious tasting cup of coffee. There's nothing like being able to serve your best gourmet blend, freshly ground and brewed to anticipating customers.




BUNN G2HD Commercial Coffee Grinder provides a variety of grind settings.
You'll also like that BUNN G2HD commercial coffee grinder comes with a huge range of different grind settings that offers you the ability to grind your coffee from a really fine powder that's excellent for espresso to extremely coarse grinds, all depending upon what kind of tasting coffee you want to serve to your customers. The more variety you have, the happier your customers will end up being.
BUNN G2HD Burrs don't crush but grind the coffee for a consistent grind every time.
The burrs on this BUNN G2HD Commercial Coffee Grinder cut the coffee beans with precision and they do not crush the beans in order to get the type of ground coffee you want. This helps deliver a much more consistent grind of coffee each and every time you use it.
The Verdict: BUNN G2HD is a commercial grade heavy duty coffee grinder that is a must have for any successful coffee shop or restaurant.
BUNN G2HD Commercial Coffee Grinder is rather a large sized coffee grinder that measures 21" x 12" x 32" and it weighs 60 pounds. So when considering buying it you should make sure that you know exactly where you want to put it and make sure that you have enough room for it. This way you'll be able to set it up to where it is comfortable for your employees to work with.
---
For further details on BUNN G2HD Commercial Coffee Grinder click the link below.

BUNN G2HD 2-Pound Bulk Coffee Grinder (Click For More Details)
---
WHAT TO READ NEXT:
Best Espresso Machines Under 100 Dollars
Best Espresso Machines Under 200 Dollars
Best Espresso Machines Under 300 Dollars
Commercial Grade Coffee Machine Reviews
Commercial Grade Espresso Machine Reviews
Commercial Grade Coffee Grinder Reviews
---
If you want to search for other options of BUNN commercial grade coffee grinders then use the Amazon search tool below. Find, compare and have it delivered to you today.